The gin and tonic is a perennial, evergreen cocktail that never seems to go out of fashion; equally refreshing in summer as it is comforting in winter.
If you're new to the gin game then you may be wondering how to make a gin and tonic. Equally if you are a gin veteran, do you know how to make a gin and tonic to the very highest standards?
In this guide we look in depth at every part of the process of making a G&T and how to get the very best out of the classic cocktail.
The Perfect Glass for a Gin and Tonic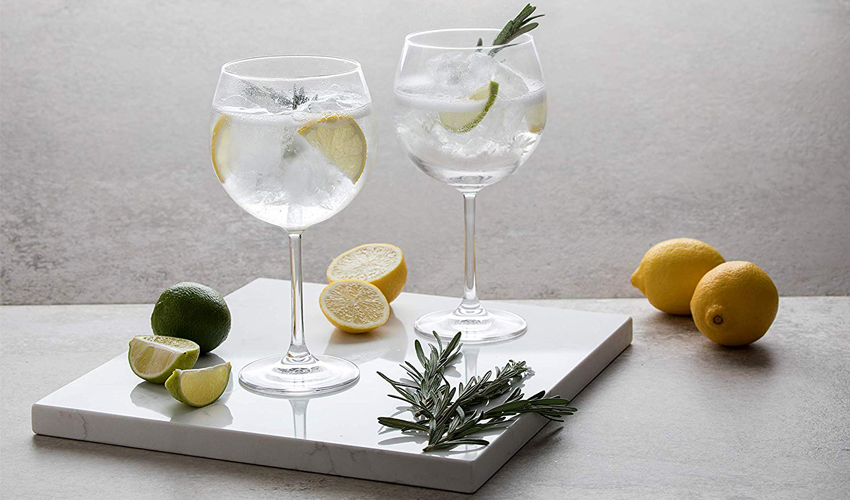 Copa glasses (or balloon glasses) are probably the most familiar looking gin glasses. Spanish bars started the trend for serving G&Ts in this style of glass and they have become the most popular vessels to drink G&Ts from.
This is because the bowl shape allows for plenty of space for ice, garnish and the aromas to infuse. Gin accessories such as a cocktail stirrer can be useful to mix and release aromas.
The thick stem means that your hands won't warm the drink too, leaving them nice and cool for the duration.
A cool tip for summer sipping is to chill your glasses approximately 20 minutes prior to serving. This will keep the drink cooler for longer. Alternatively, larger ice cubes will also have the same effect.
---
The Perfect Gin and Tonic Measurements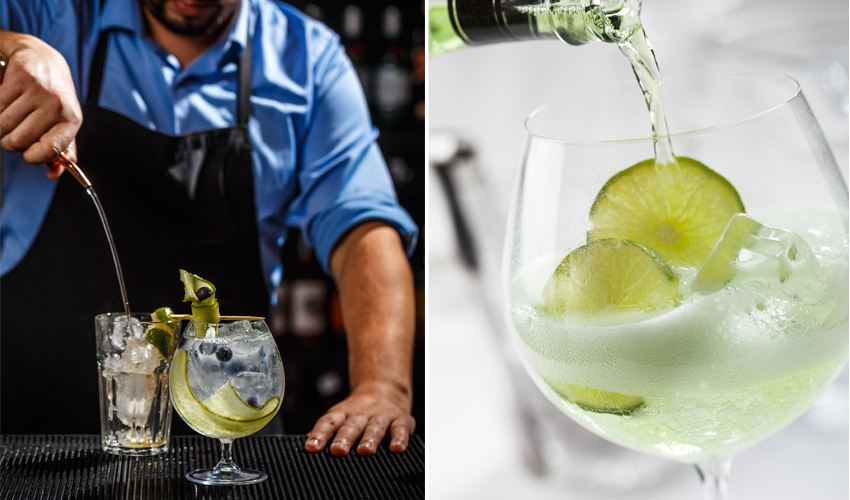 There will always be debate about the correct ratio of gin to tonic in a G&T. And an internal debate might be how rough your day was and consequently how much gin you need!
However across the drinks industry the general consensus of gin professionals is that a 50ml serving of gin is the optimum amount in terms of flavour and potency.
The amount of tonic should be roughly three parts to every one part gin, so a quarter of the cocktail should be gin, equating to around 200ml tonic water. It's worth measuring your ratios to get them right.
If you don't want a measure as strong as that or you've had a really bad day then adjust the amount of gin and tonic water accordingly, sticking to the three parts tonic water to one part gin ratio.
---
Which Gin to Use in a Gin and Tonic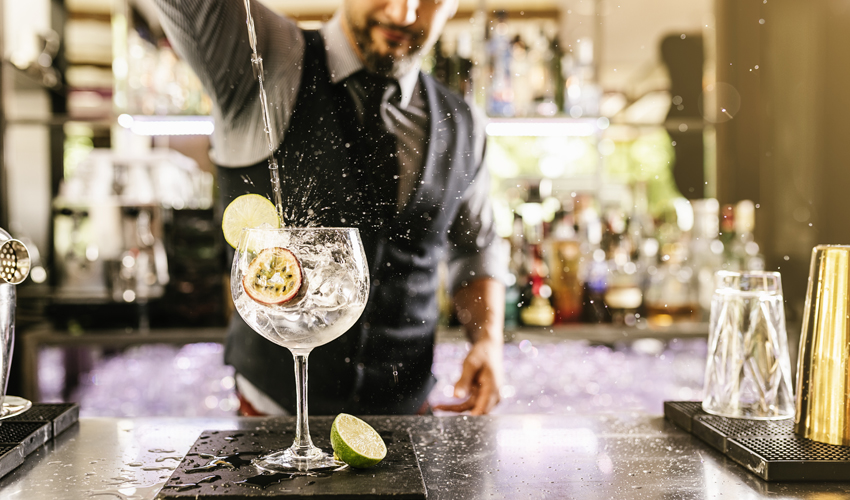 There are so many gins available that it's purely down to personal taste which gin is in your perfect G&T. A juniper-led London Dry style gin will lead to that classic G&T taste that we all know and love.
It's not essential to buy the most expensive gin available to get the best taste because, again, it's down to personal preference. Having said that, along with the tonic, it's the key ingredient so don't skimp if you want great flavour.
The great thing about finding out which gin is best for a G&T is that it's down to trial and error – and that's the fun part as it involves trying lots of gin!
---
Which Tonic for the Perfect G&T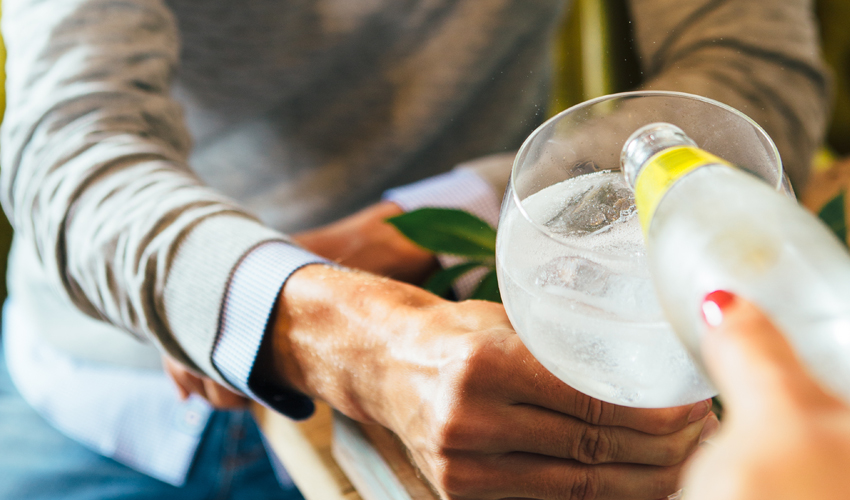 There are perfect pairings of tonic for each style of gin but to keep things simple we'll concentrate on the basics of how tonic water affects a G&T.
Fever Tree is the best-known tonic water, and for good reason – it really is a premium mixer.
We can also recommend Q-Mixers and Fentimans: they will expertly bring out the best characteristics of your gin.
It's best to use freshly opened tonic water. Flat (or going flat) tonic water is not going to cut it.
Therefore, buying smaller bottles of tonic will produce a fresher taste and a glass bottle can also positively impact your G&T as opposed to a larger plastic one.
Finally, stick to tonic water that is relatively unflavoured – let the gin and garnish do most of the talking when it comes to flavour.
---
Choosing the Right Garnish for a Gin and Tonic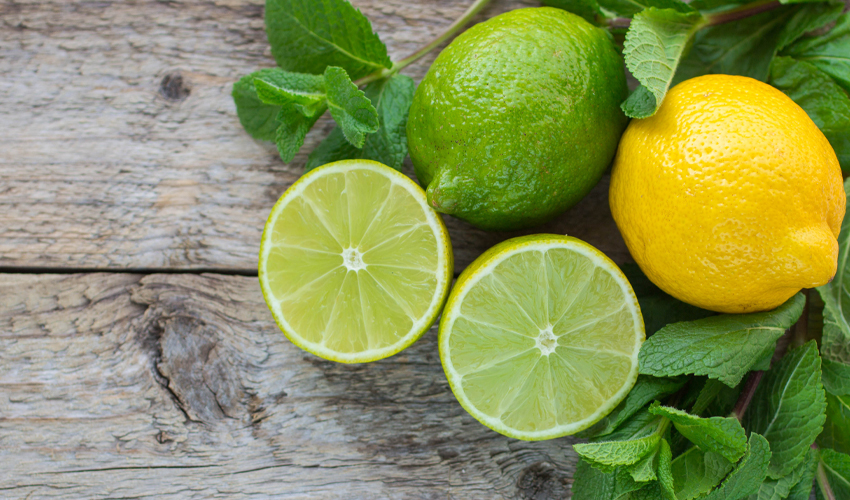 A Gin and tonic garnish is perhaps the part of a G&T which is most open to interpretation and personal preference. You can choose to get really creative without losing the essence of the G&T or you can stick to tried and tested traditional pairings.
When we go back to the birth of the G&T in India, lime wedges were the preferred option and they are probably still the favourite G&T garnish alongside lemon slices. Both provide a refreshing citrus tang.
If you're looking for something a little more warming, perhaps more suited to the winter months, then try star anise or ginger.
It can also be rewarding to match the garnish to the predominant botanicals of the gin, particularly floral gin. For example rose, elderflower and lavender could all be a perfect garnish to match the key botanical.
---
The Perfect Gin and Tonic Recipe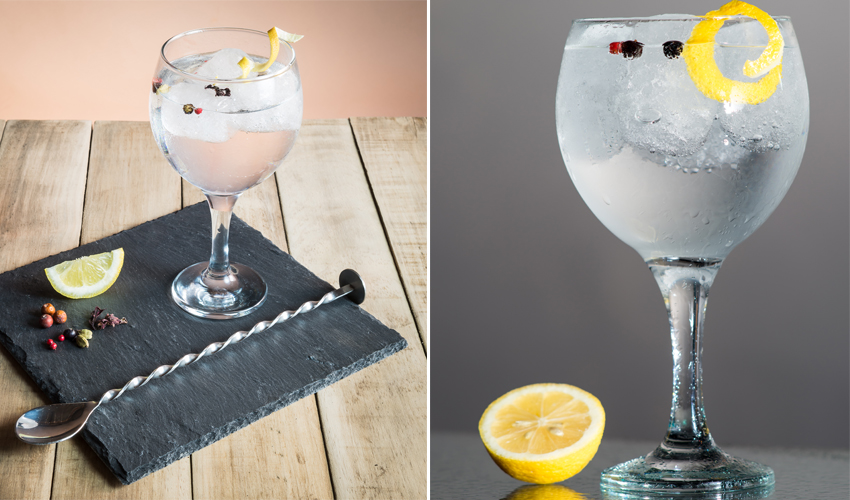 So with all this in mind here's a neat summary of how to make a gin and tonic that will impress any guests and most importantly satisfy your own high standards.
Ingredients:
50ml London Dry style gin
150ml premium tonic water
Ice
Lime wedges or lemon slices to garnish
Method:
Prepare a chilled Copa glass (place in the freezer for 20 mins prior to serving)
Add plenty of ice (pour out any excess water from the glass)
Add the gin
Pour over the tonic and stir well
Add the garnish
If you've mastered the art of how to make a gin and tonic and want to experiment, try these 9 perfect gin and tonic twists that every gin lover should try.
Images from Shutterstock.
---
Follow us on Facebook, on Twitter @theginkin, or on Instagram at @theginkin. If you have a story suggestion email editor@theginkin.com
---
More from The Gin Kin: