Autumn has arrived and that means that Halloween is lurking around the corner. It will soon be party time and, along with getting dressed up in the most gruesome outfits, we're going to need some pumpkin gin cocktails.
As soon as you start seeing those pumpkins on the supermarket shelves it's time to get planning your Halloween cocktails so start stocking up now, it's officially pumpkin party season.
Pumpkin Pie Martini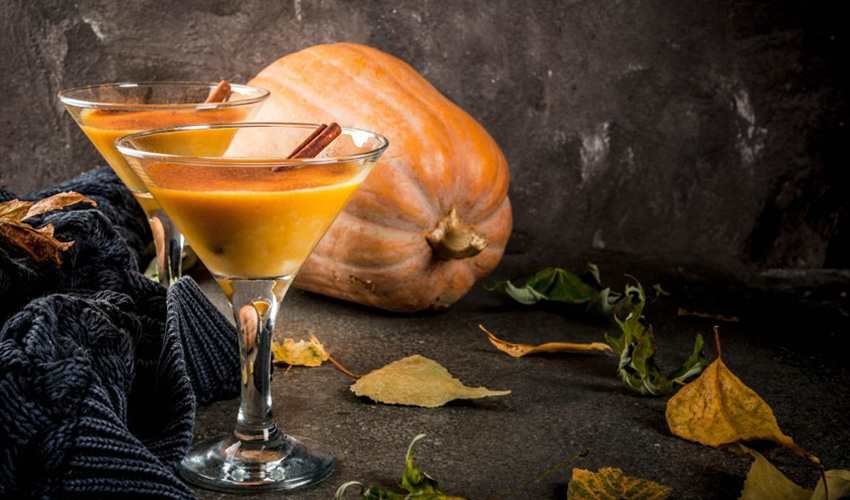 If you're throwing a Halloween party this year, you'll definitely want to add this Pumpkin Pie Martini to your drinks list.
This delicious tribute to everybody's favourite autumnal treat brings together Scottish gin Caorunn and a little pumpkin magic.
Ingredients:
50ml Caorunn Gin
25ml pumpkin and cinnamon vanilla syrup
20ml lemon juice
Cinnamon sticks to garnish
Method:
To make the pumpkin syrup, marinade cubed pumpkin in a container with agave or sugar syrup, vanilla pods and cinnamon sticks. Muddle together to extract the water from the pumpkin, sieve and bottle.
To make the cocktail, add all ingredients to a Boston glass, shake, and double strain. Garnish with cinnamon sticks in a Martini glass.
Image and recipe from Caorunn Gin.
---
A Knight Out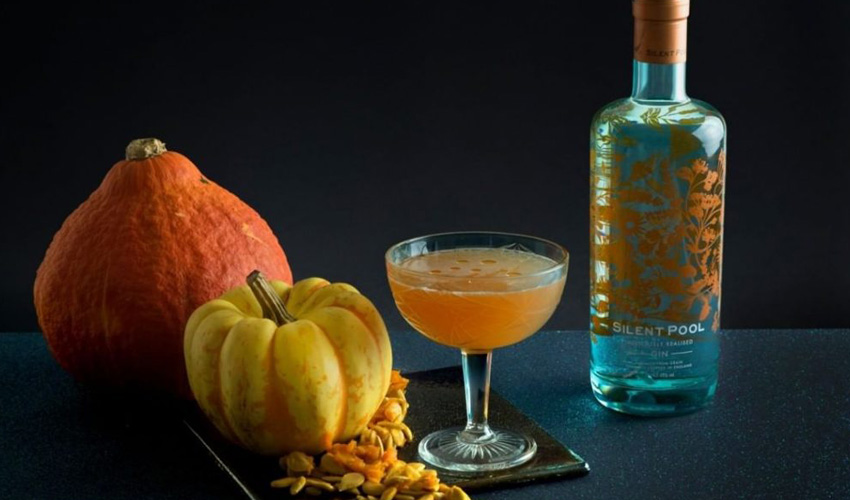 This recipe from Silent Pool Gin is particularly ghoulish, featuring plenty of pumpkin innards in a cocktail sure to impress and frighten party guests.
Ingredients:
50ml Silent Pool Gin
25ml lemon juice
20ml pumpkin seed orgeat (200g of pumpkin seeds + 150g of sugar + 200ml of water)
Method:
To make the orgeat:
Brew the pumpkin seeds and water in a pot over medium heat for 15 minutes.⠀⠀⠀⠀⠀⠀⠀⠀⠀
Strain the pumpkin seeds out of the water.⠀
Add 150g of sugar to the water, stir to dissolve then allow to cool.⠀⠀⠀⠀⠀⠀⠀⠀
Transfer into a clean, dry bottle and store in the fridge for up to a month.
To make 'A Knight Out':
Shake all ingredients together with cubed ice and double strain into a chilled cocktail glass.
Image and recipe from Silent Pool Gin.
---
Pumpkin Gin Sour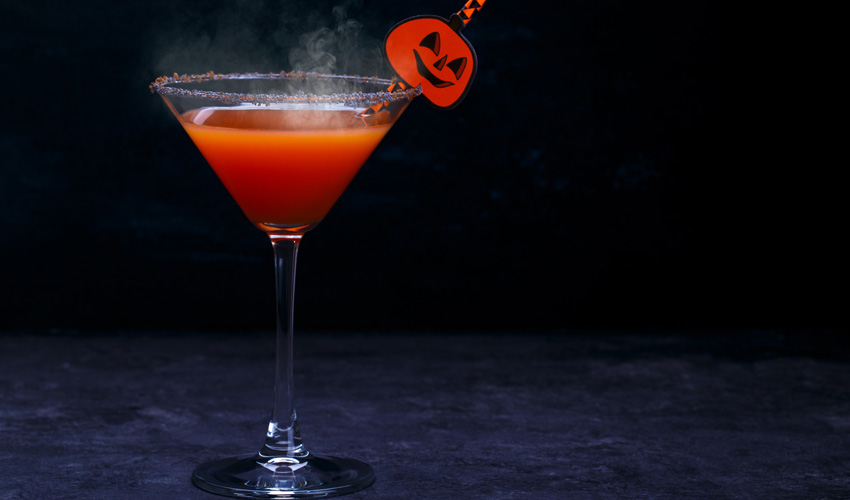 The use of pumpkin butter (a pumpkin version of peanut butter) is intriguing, alongside some ghostly egg white and bitter lemon.
Ingredients:
50ml gin
1/2 lemon, juiced
1 tablespoon of pumpkin butter
1 egg white
1 cup of ice
Method:
Add the gin, lemon juice, pumpkin butter, and egg white to cocktail shaker and shake well for 20 seconds.
Add ice and shake again for 20 seconds.
Strain into a cocktail glass.
---
Pumpkin Gin Fizz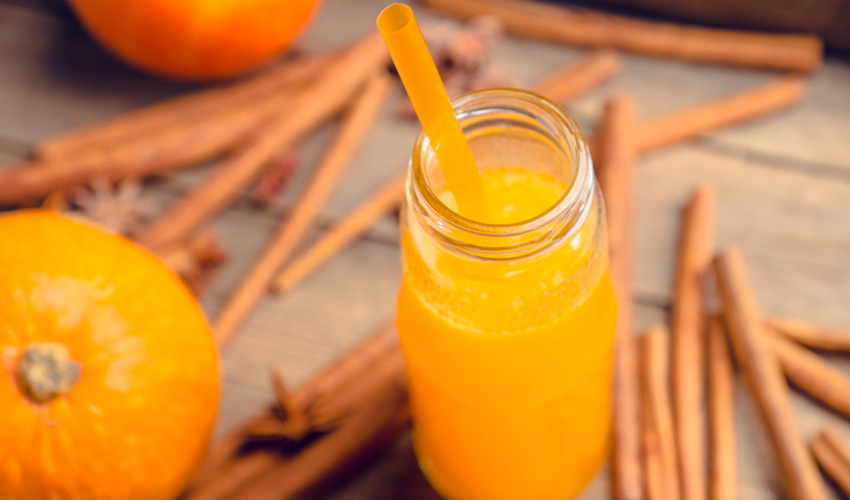 Sweet, spicy and fizzy this bright orange cocktail is a little firecracker and sure-fire party pleaser.
Ingredients:
50ml gin
50ml pumpkin puree
1 can ginger beer
1 lemon
2 teaspoons honey
1/4 teaspoon cinnamon
Cinnamon sticks to garnish
Method:
Muddle the pumpkin puree, honey and juice of 1 lemon.
Add the gin and ice to shaker and shake for 10-15 seconds.
Add ice to two glasses and strain contents of shaker evenly into each glass.
Top with ginger beer and stir gently.
Garnish with a cinnamon stick.
---
Spiced Pumpkin Gin Margarita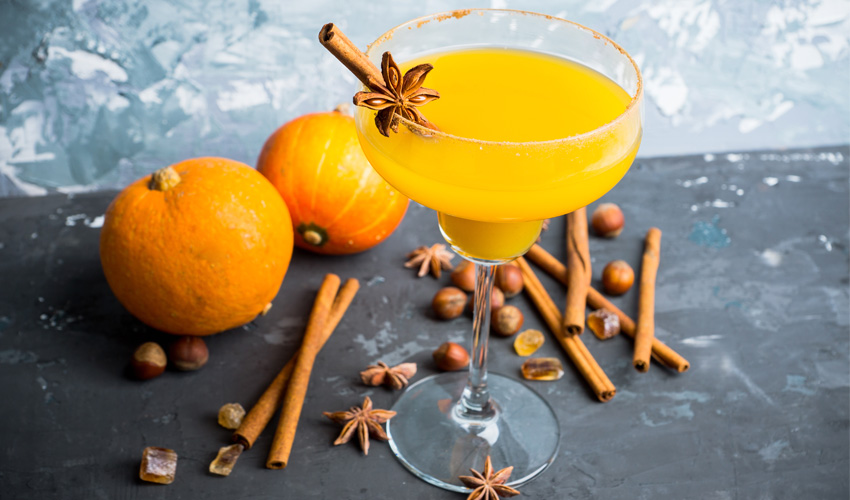 Pumpkin gin cocktails don't come much more pumpkiny than this. A special pumpkin spice syrup is required to be made separately for this spiced gin cocktail.
Ingredients:
Pumpkin Spice Syrup:
450g pumpkin puree
1/2 cup brown sugar
2 tablespoons granulated sugar
1/2 tablespoon cinnamon
1/8 tsp nutmeg
pinch of salt
1 cups water
Spiced Pumpkin Gin Margarita:
50ml gin
50ml orange liqueur
100ml pumpkin spice syrup
Juice from one lime
Cinnamon sticks and star anise to garnish
Method:
Pumpkin Spice Syrup:
Combine all ingredients in a saucepan set over medium-low heat.
Whisk together until smooth and simmer for 20 minutes, stirring occasionally.
Remove from heat, cool, and strain into a container.
Spiced Pumpkin Gin Margarita:
Chill two cocktail glasses. Rub a lime wedge around the rim and dip the rim into a saucer filled with a combination of equal parts salt, sugar and cinnamon.
Fill a cocktail shaker with ice and add the gin, orange liqueur and pumpkin spice syrup. Shake until chilled.
Fill the rimmed glasses with ice and pour the mixture into the glasses.
Garnish with a cinnamon stick and star anise.
All images from Shutterstock unless otherwise stated.
---
Follow us on Facebook, on Twitter @theginkin, or on Instagram at @theginkin. If you have a story suggestion email editor@theginkin.com
---
More from The Gin Kin: