With dessert being our favourite part of a meal we were more than a little excited to try out this gin blackberry crumble recipe.
Autumn calls for forest fruit, warming rhubarb and well… gin. If a combination of the three appeals to you then you're in for a real treat.
How to Make a Gin Blackberry and Rhubarb Crumble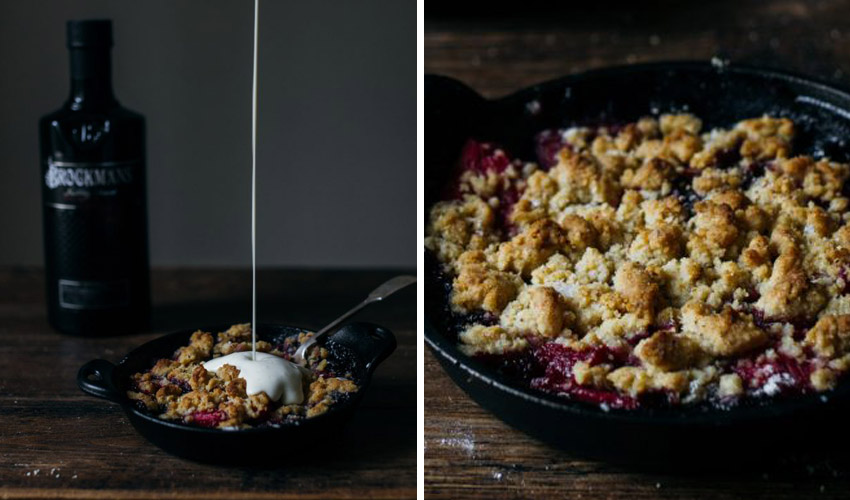 Serves 4
Ingredients:
For the Crumble Top:
190 g plain flour
50 g hazelnut flour
130 chilled unsalted butter (chilled)
50 g caster sugar
a pinch of salt flakes
For the Filling:
250 g blackberries
400 g rhubarb
1 tbsp unsalted butter
3 tbsp caster sugar
3 tbsp Brockmans Gin
Method:
Preheat the oven to 200C.
Melt the butter in a saucepan and add fruit. Toss with the sugar and cook for 5 minutes until the mixture becomes wet.
Pour in the Brockmans Gin and cook for another 5 mins on medium heat with the lid opened. Mix and place the fruit into 4 individual baking pans or 1 big pan. Set aside.
Mix flour, butter and sugar in a medium bowl with your hands until it looks like crumbs. Place over the fruit mix without pressing down. Sprinkle with the salt flakes.
Bake for about 30 minutes until the crust is golden brown and the fruit is bubbling.
Serve warm with a scoop of vanilla ice cream or cream.
Recipe by Tanya Balyanitsa for Brockmans Gin. All images via Brockmans Gin.