The perfect addition to both a Halloween party and the autumn/winter season, it's hard not to be truly spellbound by Solway Spirits' Sloe Gin.
---
A Little Bit of Background
Given its fascinating and ambitious product range, it's hard to believe that Solway Spirits is actually based on the humble Solway Coast in South West Scotland.
Sticky Toffee Gin, Strawberry & Cream Gin and Raspberry Ripple Gin Liqueur might not be every gin lover's idea of a perfect G&T but it does showcase the willingness of the industry to experiment and try something different.
On the other hand, Sloe Gin is a classic!
The Bottle
The branding of Solway Spirits is actually based on the garden where the gin is made. However, you're almost transported inside a fairy-tale book when you look at it.
It's deliciously dark, with monochrome twisted trees and an enchanted fairy gracing the logo.
One detail that is utterly magical, yet you can't see in typical photograph of the product, is the silver glimmer of the stars. They appear to change from simple grey to shining silver depending on the light. It's a really charming touch.
The Gin
On the Nose:
Rich and fruity on the nose, Solway Spirits' Sloe Gin will remind you of other seasonal treats: the currants of a warmed mince pie or a rich berry jam made from autumnal fruits.
In the bottle, it's a warming potpourri of forest-like scents, with  juniper really coming to the fore once added to the glass.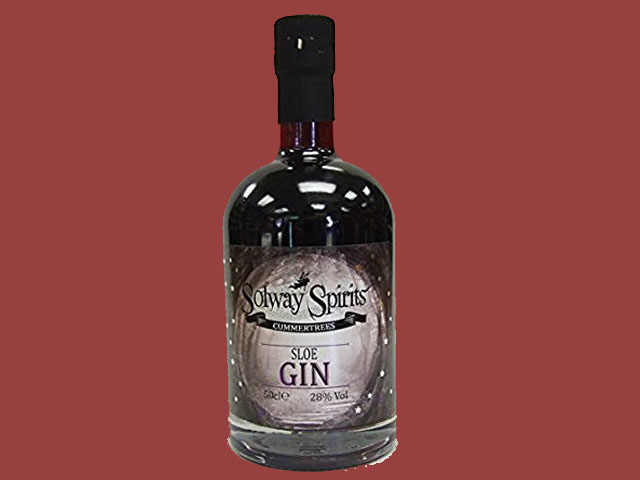 Straight:
You will immediately notice the striking deep, red colour sloe gin is renowned for. It almost looks like a rich goblet of blood, making it perfect for a Halloween party.
There's more going on here than just a simple party trick, however. To the taste, Solway Spirits' Sloe Gin is surprisingly tart and fruity.
Having tried a few other sloe gins (homemade and otherwise) you can become accustomed to a sugary jam-like sweetness.
This isn't the case here. You can really taste a tangy sloe berry flavour that's velvety smooth yet completely vibrant and fruity on the tongue.
Lasting Impressions
It's hard not to be truly spellbound by Solway Spirits' Sloe Gin. Its dark aesthetic and glimmering stars make it a special addition to your collection. We imagine popping in a candle after the gin is finished would make an enchanting midnight burner.
This sloe gin isn't drowning in sugary sweetness but rich, tart and fruity, the ideal companion to a seasonal mince pie on a chilly, dark night.
Solway Spirits Sloe Gin is available from Master of Malt for £20.95. 
For more information on Solway Spirits visit the official website. 
---
From Opihr to Darnley's, find more gin reviews with The Gin Kin.