With the countdown to Christmas officially on, a gin advent calendar is the perfect way to indulge in a little festive cheer.
Adult alcoholic advent calendars have only been growing in popularity, with varieties including Prosecco, beer or even wine available.
If you're a gin lover, however, there's only one kind to rule the roost. For those looking to enjoy a spot of gin and tonic, these gin advent calendars offer everything from fantastic selection to a varied price tag depending on your budget.
And before you let the idea of daily alcohol consumption daunt you, rest assured that the following advent calendars feature gin miniatures so you can take it one miniature gin bottle at a time!
The Gin to My Tonic Advent Calendar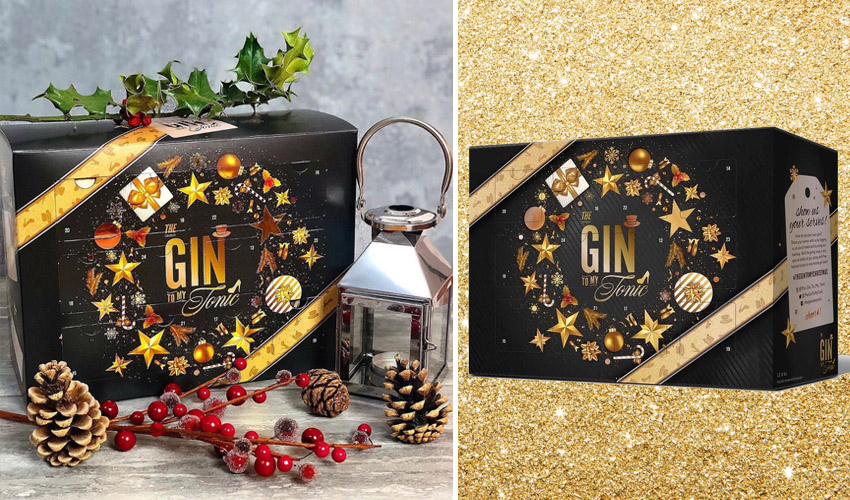 Concentrating on the 12 most magical days before Christmas, The Gin to My Tonic advent calendar contains premium quality craft gins behind each window.
The makers want to make each morning as exciting as they can, therefore the exact gins included are a highly-guarded secret.
What we are told is that the calendar contains a generous 50ml serve of full-strength gin behind each door in the form of a cute miniature bottle.
Available to buy from the Gin Kin Shop priced at £50.
---
Virgin Gin Advent Calendar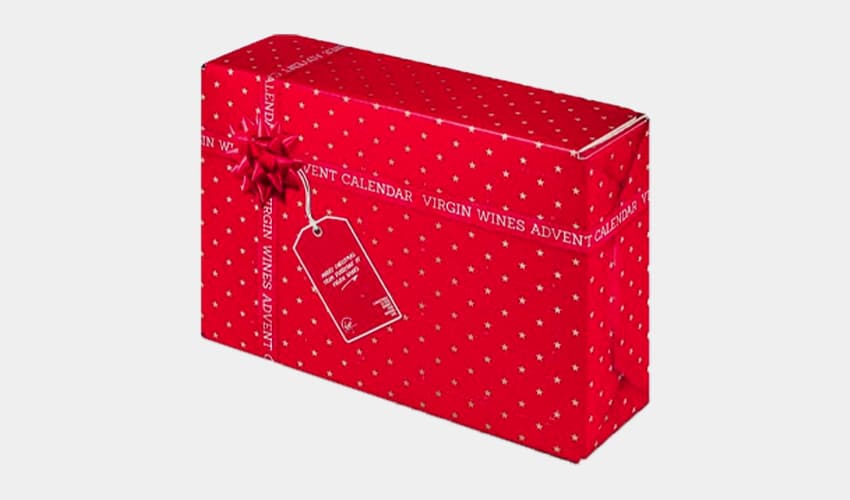 You may recognise them as a key name behind wine advent calendars but Virgin has actually launched their first ever gin advent calendar.
Filled with 24 different bottles of premium craft gin, in a variety of styles such as Old Tom and London Dry, you can indulge in delights such as the Japanese inspired Kokoro Gin and the award-winning Silent Pool Gin.
Available to pre-order on Virgin Wines.
---
The Gin Advent Calendar  – Drinks by The Dram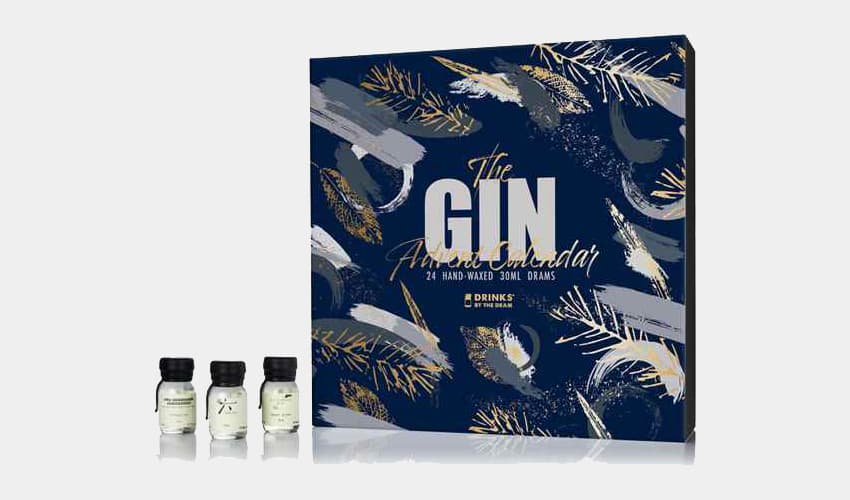 If counting down to Christmas while sipping on some delightful and tasty gins sounds like your idea of a good time, then you'll be needing an advent calendar that can deliver the best of the best from the world of juniper-based brilliance.
Fortunately, that's exactly what you can get courtesy of Drinks by the Dram. The world's best selling Gin advent calendar has returned, promising award-winning expressions, independent bottles.
Available on Master of Malt for £124.95.
---
Fever-Tree Gin & Tonic Advent Calendar 2019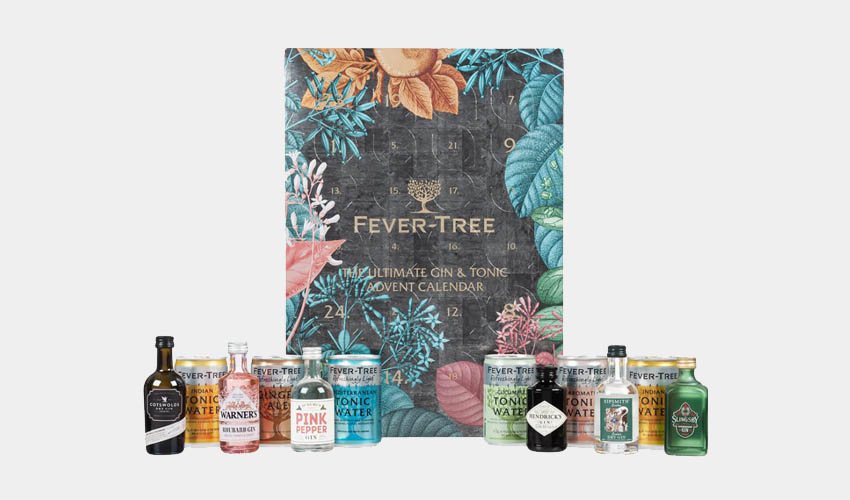 If you love tonic as much as gin, then feast your eyes on the new look Fever-Tree Ultimate Gin & Tonic Advent Calendar.
The beautiful floral design contains 12 50ml bottles of craft and premium gin, along with 12 150ml cans of Fever-Tree tonics.
There's a great selection of award-winning brands hidden behind each door, from Warner's Rhubarb Gin to Sipsmith London Dry Gin, all of which are paired with a Fever-Tree tonic water selected to complement the signature flavours.
Available to buy in Waitrose in-store and online for £60 from 21 October.
---
Whitley Neill Gin Advent Calendar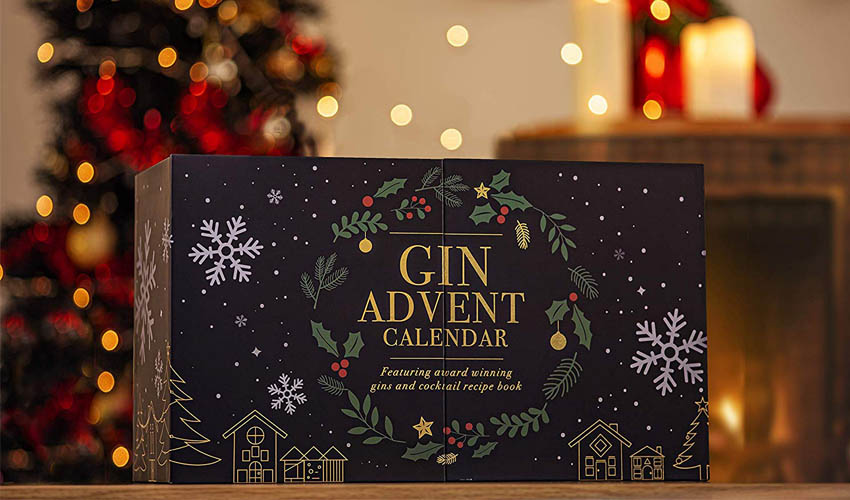 Fans of Whitley Neill, stop what you're doing because the brand have launched the cutest advent calendar for 2019 complete with 24 miniatures. There's everything here from Whitley Neill gins themselves all the way through to sister brands such as J.J Whitley and even Liverpool Gin.
You can even make them up into cocktails for all your friends with the enclosed cocktail recipe book.
Available on Amazon for £90. 
---
Gin Time! Advent Clock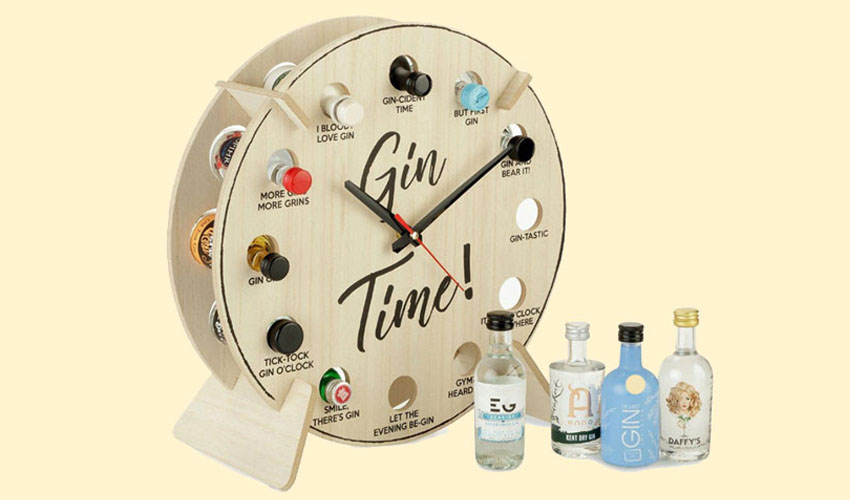 Stocked with twelve 5 cl gins, simply treat yourself everyday by removing one gin from its slot.
Each hide hole comes with a fun slogan embellished into the wood, while the contents are sure to make this season oh so merry.
Included within the calendar clock are to picks from 6 O'clock gin, Malfy Gin, Sweet Potato Spirit Co, The Lakes, The English Drinks Company and Edinburgh Gin.
Available on First4Hampers  for £79.99.
---
Gin Advent Cracker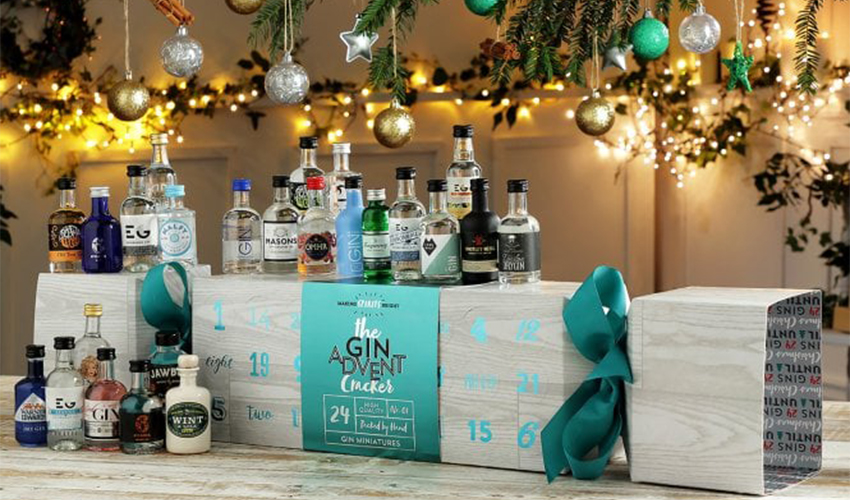 Featuring as assortment of gin miniatures, this fun take on a gin lover's tradition takes counting down the days to new heights.
After all, who says that crackers are only reserved for the Christmas dinner table, when they can contain your favourite spirit instead?
Included inside are top picks from 6 O'clock Gin, Malfy, Jawbox and Poetic License. There are even selections from The Lakes Gin, Edinburgh Gin, Lone Wolf Dry Gin and more!
Available on Amazon for £125.00.
---
The Tipsy Tree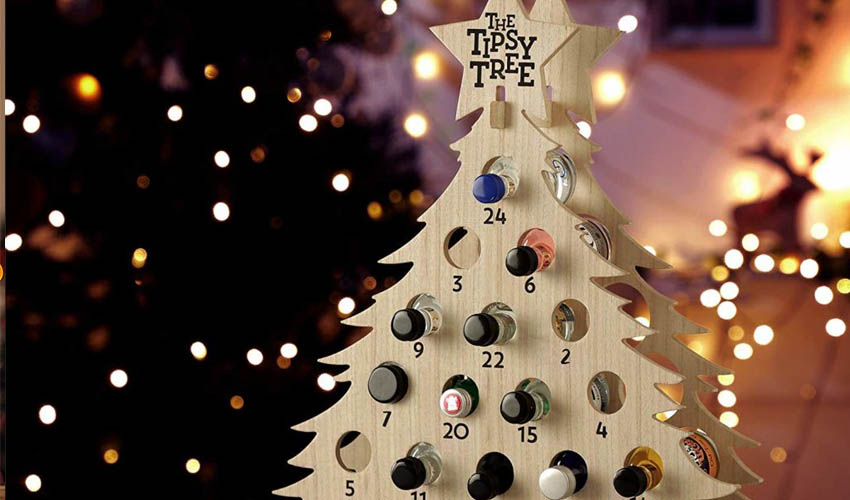 The Tipsy Tree calendar comes with 24 (5 cl) bottles of delicious flavoured gins and gin liqueurs.
The flavours include English Raspberry, Sicilian Pink Grapefruit, Yorkshire Tea, pink gin and Mulled Winter Fruit.
Available on First4Hampers for £140.00
---
Ginvent Calendar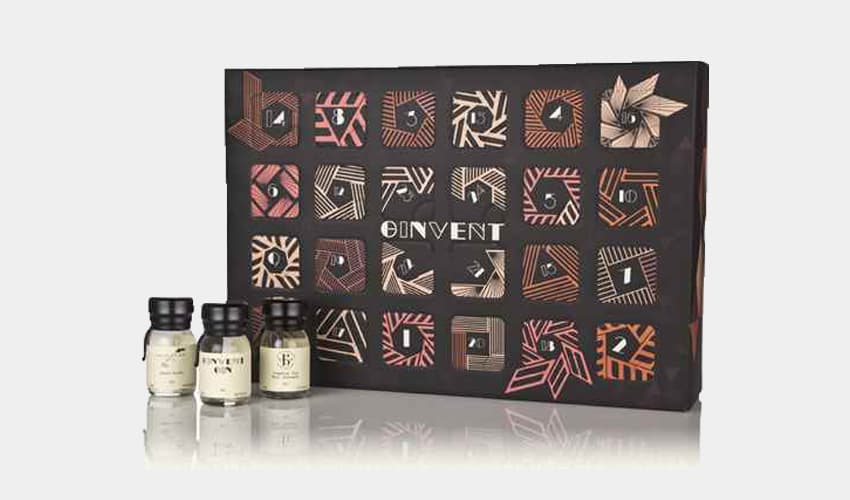 "The gin gods continue to smile on us" and indeed they do.
Drinks by the Dram has reunited with the chaps at The Gin Foundry to curate the 2018 edition of what is now a classic of the genre: The Ginvent Calendar!
This lovely box of juniper-y goodness is bursting with some of our all-time favourites ranging from creative craft numbers to lively flavoured expressions.
Available on Master of Malt for £124.95.
---
Gin Explorer Advent Calendar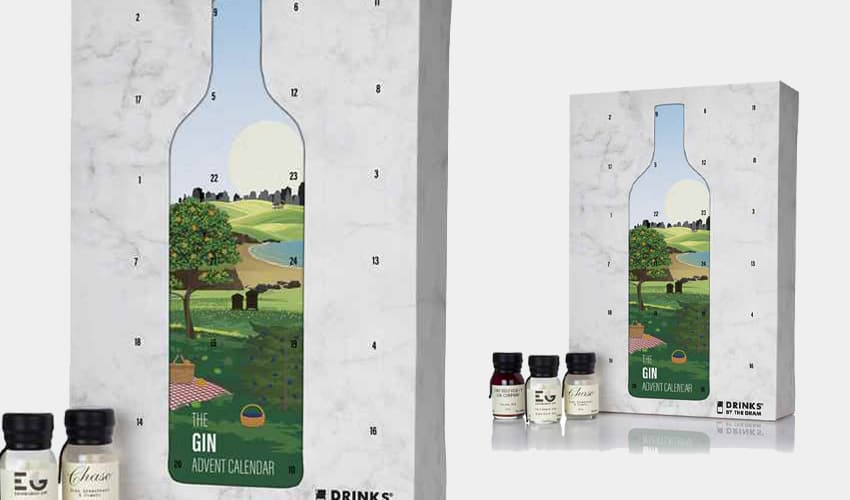 Drinks by the Dram's Explorer Advent Calendar returns for another year with an updated look!
Instead of counting down the days to Christmas with 24 bits of somewhat festively-shaped chocolate, behind the doors of this Advent Calendar sit 24 different 30ml wax-sealed drams of gin from a litany of world-famous producers!
An excellent treat for someone beginning their jaunt into gin enthusiasm and a handsome way to make the Christmas countdown a little bit more junipery.
Available on Master of Malt  for £99.95.
---
That Boutique-y Gin Company Advent Calendar
That Boutique-y Gin Company and Drinks by the dram have teamed up for another year to bring you a fantastic festive treat – That Boutique-y Gin Company's very own Advent Calendar!
Behind each of the 24 windows you'll find a different 30 ml wax-sealed dram of stupendous gin from the world's first independent gin bottler.
Available on Master of Malt for £49.95.
---
Gin Advent Calendar – Classic Themed Style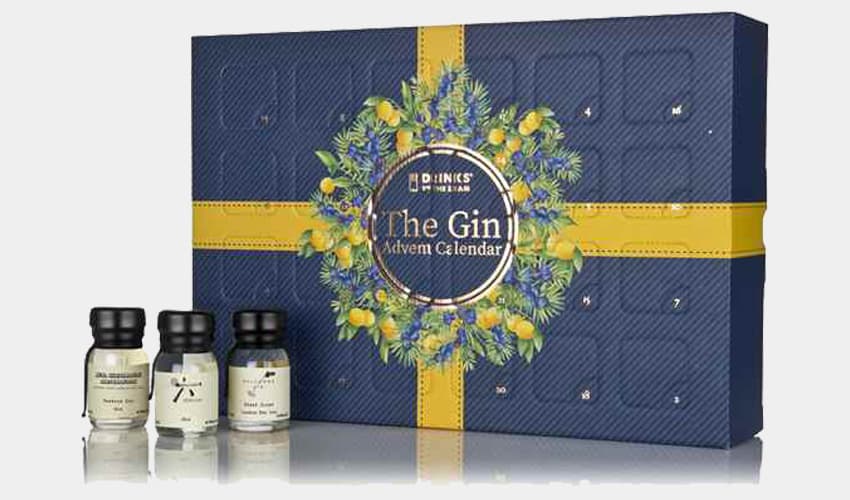 The world's best selling Gin Advent Calendar has returned, promising award-winning expressions, independent bottlings and more…
Available on Master of Malt for £124.95
---
A Very Merry Gin Advent Calendar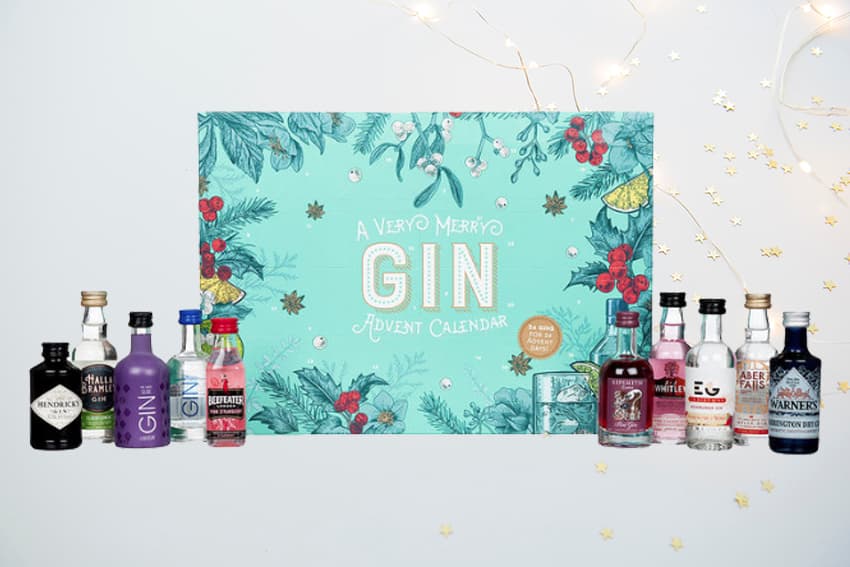 The Costco gin advent calendar has been around for a while and the supermarket giant offers something better each year bringing a smile to every gin lover's face.
This year, their advent calendar is like no other containing 24 x 5 cl miniature bottles, a hand-picked selection of gins which will give you the opportunity to sample your way to Christmas.
Available at Costco £59.89.
---
B&M 12 Gin & Tonics For Christmas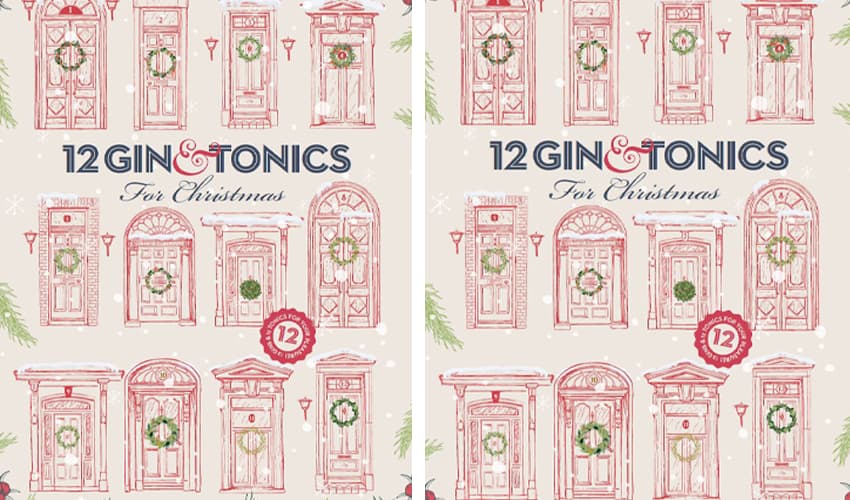 Last year the discount retailer sent customers into a frenzy with their bargain gin advent which sold out in days, so we're expecting this version to fly off the shelves.
B&M wanted to make their gin advent even better value for money, so as well as 12 gorgeous gins, you also get 12 bottles of tonic included in your advent calendar for the perfect pairing.
Available at B&M for £24.90.
---
Jolly Gin Advent Calendar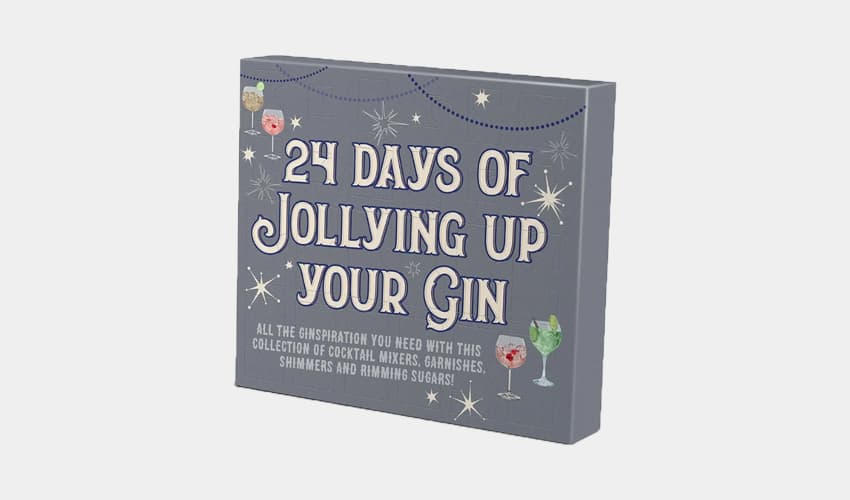 This advent calendar will have you feeling very merry all through the festive season. So, if you're feeling like it's time to renew your gin collection, order this Jolly Gin advent calendar today.
Available on MenKind for £30.00. 
---
Glitz and Glam Premium Pink Advent Calendar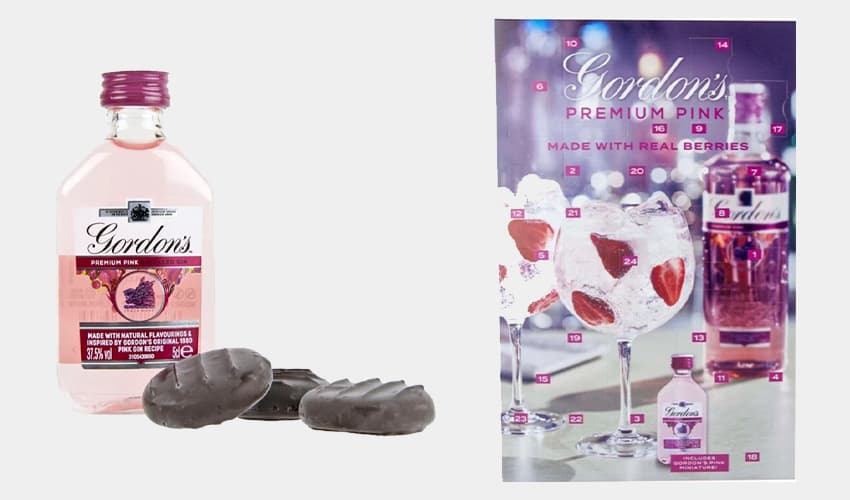 Countdown to Christmas with Gordon's and this indulgent Advent calendar. Enjoy a strawberry cream dark chocolate fondant every day until Christmas eve when a mini Gordon's Premium Pink Distilled Gin bottle is unveiled for a perfect celebration!
Debenhams, £13.00 
---
Gins of Christmas Advent Calendar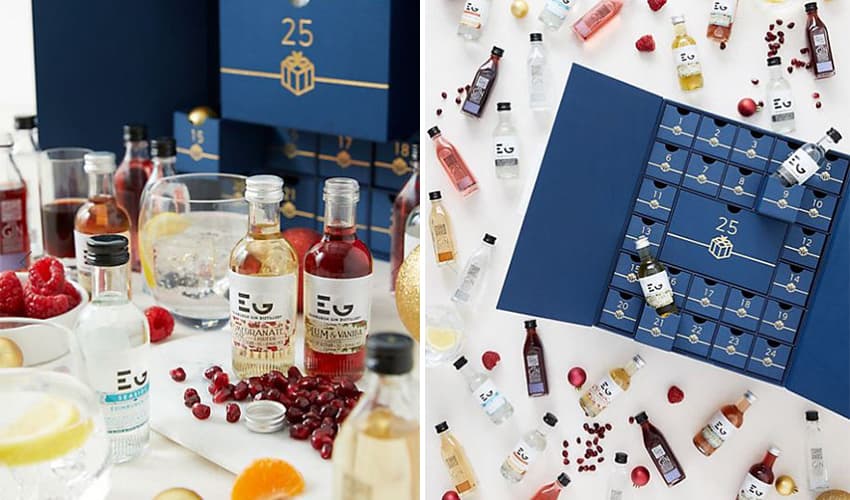 Advent calendars aren't just for kids! Make the countdown even more fun with one of nine different gin varieties everyday, including clementine, sloe and Edinburgh seaside.
Some of the gins you'll find inside include: Edinburgh Christmas gin, Edinburgh Apple and spice gin liqueur, as well as Edinburgh Sloe Gin.
Available on Marks and Spencer for £100.
---
Edinburgh Gin Advent Calendar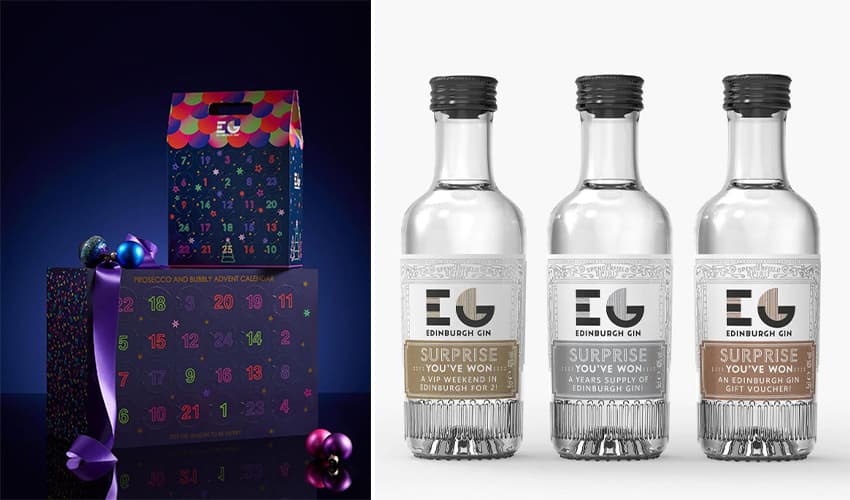 The countdown to Christmas will be merry, warming and aromatic with this Edinburgh Gin advent calendar, full of a variety of 25 mini 5cl gin bottles.
Different flavours including clean, fresh and spicy on-the-nose gin will delight all gin connoisseurs with hints of juniper, pine, floral, lavender, soft spice and citrus waiting behind each calendar window.
Available on John Lewis for £120.00. 
---
Follow us on Facebook, on Twitter @theginkin, or on Instagram at @theginkin. If you have a story suggestion email editor@theginkin.com
---
More from The Gin Kin: