As the season slowly starts to turn what better way to warm your nights than with hot gin cocktails? From creative uses for bottles to solving all your domestic problems, old Mother's Ruin is really quite versatile.
If you want to be a part of one of the 'hottest' gin trends this season there are so many inventive ways to turn your gin from party cocktail to heavenly heat in just a few simple steps.
Here are the very best tutorials around to help you create your very own hot gin cocktails in a matter of minutes.
How to Make Hot Gin Cocktails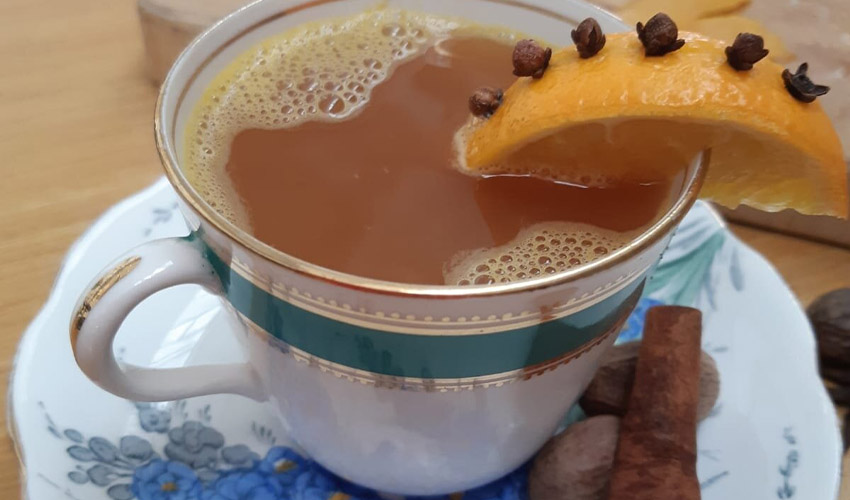 Gin in teacups could well be the most British thing ever invented and in winter a most necessary invention.
Add in a citrus burst and a cinnamon stick and you have a drink acceptable to serve in the finest china at the Christmas dinner table.
Ingredients:
100ml Kings Ginger liqueur
50ml Maderia Wine
300ml Cawson Apple and Ginger Juice
50ml orange juice
25ml lemon juice
Peel from one lemon and one orange
3 cloves, one small cinnamon stick broken
Method:
Heat all in a pan gently until very hot but not boiling.
Serve in your nan's best china, with a slice of a orange studded with cloves.
---
Hot Apple Gin, with Pin Gin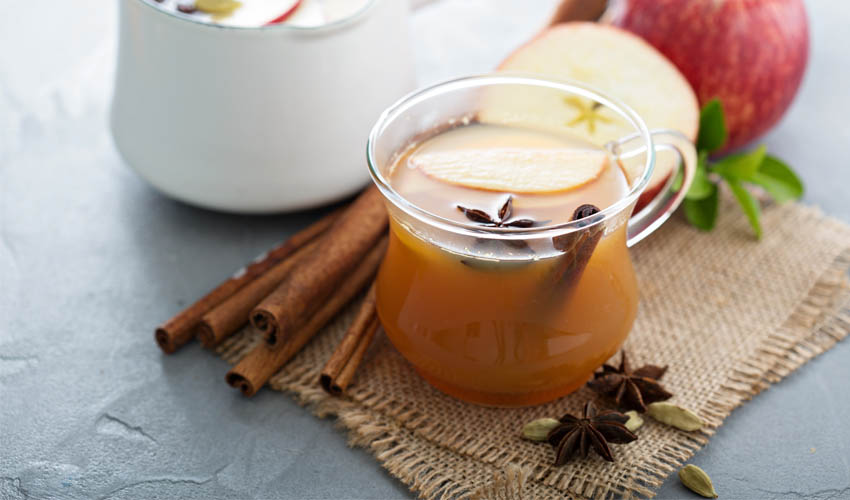 Recipe via Pin Gin, Image by Elena Veselova
Mulled gin is simply a Christmas market staple and Pin Gin have upgraded the idea by bringing apple into the mix. A drizzle of honey and dried ginger keeps things interesting.
Ingredients:
250ml Pin Gin Spiced
1.5L Pressed apple juice (not from concentrate)
1-2 Cinnamon sticks
2-3 Star anise pieces
½ Orange
2-3 Dried ginger pieces*
Drizzle of honey*
Please note: ingredients marked with a * are optional.
Method:
Slice your orange into quarters or smaller if you prefer a more obvious citrus taste.
Grab your preferred saucepan or slow cooker and place on a low heat.
Now it's time to add your ingredients: Pin Gin Spiced, apple juice, star anise, orange pieces and cinnamon sticks. (We recommend slightly cracking the cinnamon sticks to release a more intense flavour.)
Add the optional ginger and honey. (If you decide to add honey, it is best to drizzle onto a spoon first and stir in.)
Allow to simmer for 10-15 minutes.
Serve in the glassware of your choice, such as your favourite festive mug for a true Christmassy feel.
---
Hot Chocolate Orange Gin, with McQueen Gin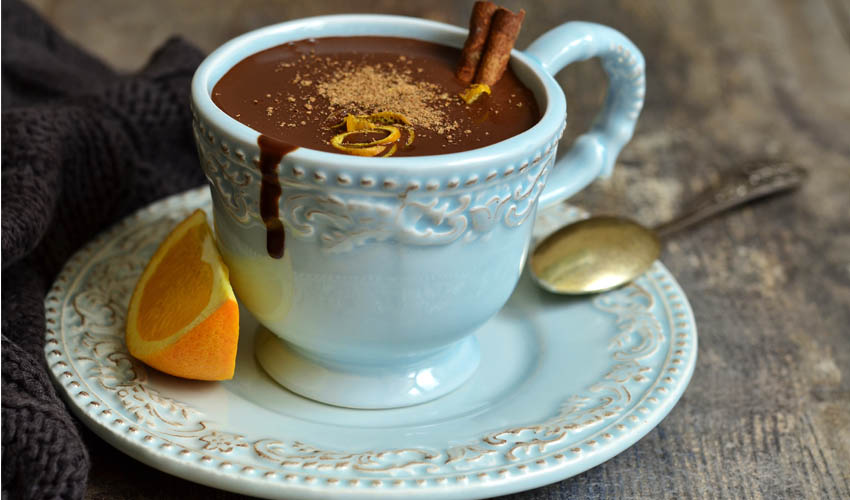 Via McQueen Gin, Image: Liliya Kandrashevich
For fans of a good ole Chocolate Orange, did you know you can actually buy Chocolate Orange Gin that's inspired by the festive treat?
However, you can also take the concept one step further by whipping up your very own gin-infused orange hot chocolate. Simply dreamy!
Ingredients:
50ml McQueen Spiced Chocolate Orange Gin
150 ml milk
Zest of ½ an orange
50 g dark chocolate, chopped
Garnish with chocolate orange matchmaker
Method:
Heat the milk, cream and orange zest together in a saucepan until simmering
Remove from the heat and pour through a sieve to remove the zest.
Pour the infused liquid back into the pan and add the 50g of chocolate, stirring until the chocolate has melted and the consistency is smooth.
---
Rhubarb & Ginger Hot Ribena, with Whitley Neill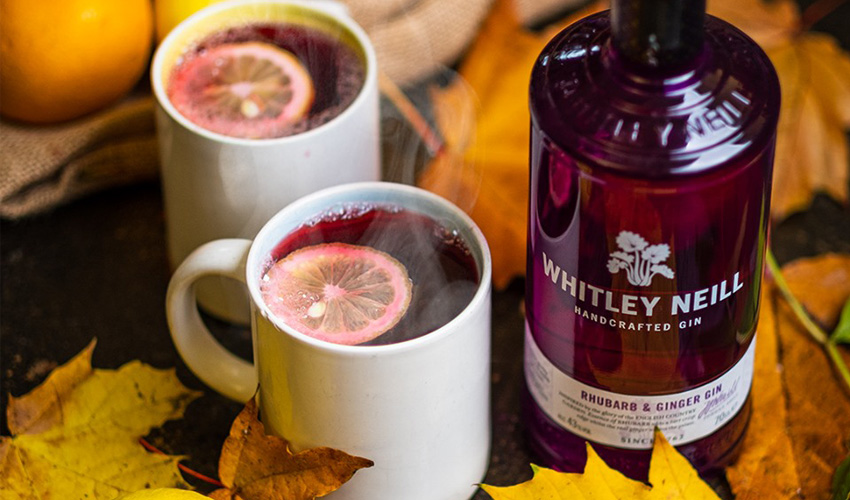 Via Whitley Neill
Have you ever fancied combining one of childhood's tastiest drinks with one of adulthood's greatest pleasures? Well, thanks to Whitley Neill and their delicious recipe, now you can.
Flavours of rhubarb and blackcurrant make this drink a true taste of the British countryside – without the freezing temperatures of the outdoors!
Ingredients:
50ml Whitley Neill Rhubarb & Ginger Gin
50ml Blackcurrant cordial
25ml Lemon juice
150ml Hot water
Lemon wheel garnish
Method:
Add hot water to the gin and splash in blackcurrant cordial and lemon juice.
Serve in a camping or builders mug.
Garnish with a lemon wheel.
---
Hot Gin Mocha, with Bombay Sapphire
Via BombaySapphire
If you fancy pimping your morning coffee, do it in style with a splash of Bombay Sapphire. What could be better than both of those you ask?
Chocolate, glorious chocolate. This recipe serves three and combines all three glorious ingredients to create a boozy chocolate-coffee smash in a glass that's guaranteed to make you smile.
Ingredients:
120ml Bombay Sapphire
75ml Crème de Cacao
3 tsp caster sugar
3 shots of strong espresso
Long shavings of dark chocolate
Method:
Combine the espresso with a teaspoon of sugar in a pan and heat.
Add the measure of Bombay Sapphire.
Followed by a serving of Crème De Cacao.
When it reaches a simmer, remove from the heat.
 Serve in suitable vessel, such as a mug or glass with handle.
Finish with long shavings of dark chocolate.
---
Hot Gin Punch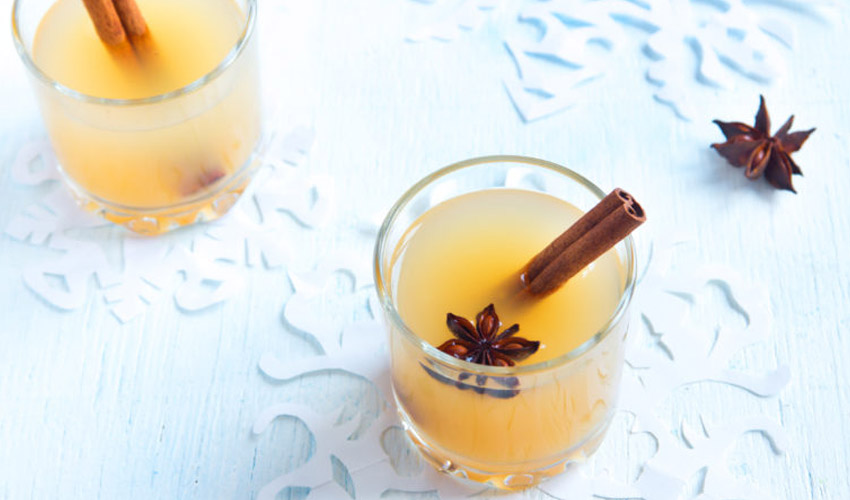 Recipe by Jamie Jones for Gordon's 
If all the relatives are coming over this is your solution. Either make from scratch, or mix a large batch of it and pop it in the freezer. Simply defrost on the hob and pop in a large punch bowl to add a bit of drama.
Ingredients:
40ml Gordon's gin
100ml Cloudy apple juice
15ml lemon juice
10ml Tio Pepe Sherry
20ml sugar syrup
Cinnamon
Star anise
Nutmeg
Cloves
Butter
Method:
Add all ingredients into the pan and place on a low heat until there's a light simmer.
Strain through a fine strainer in to a tea/coffee cup.
Garnish with a cinnamon stick and star anise.
---
Apple & Cinnamon Mule, with Silent Pool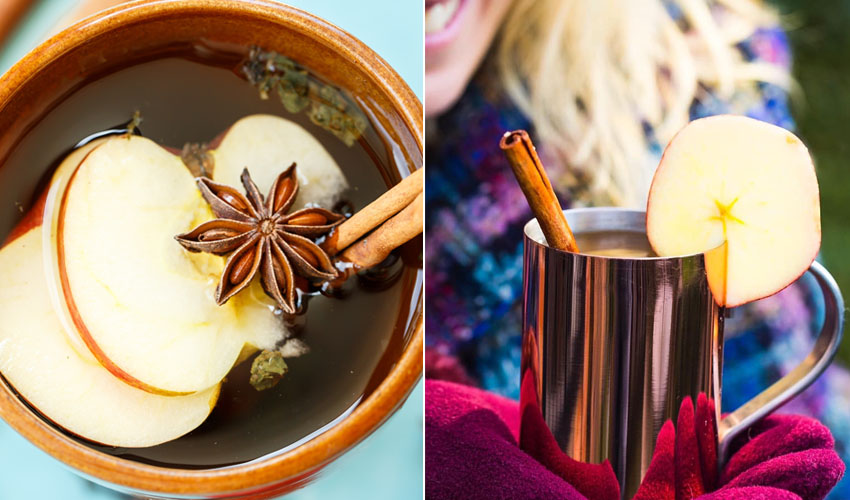 Via, Silent Pool
This a properly festive offering – it doesn't get much more Christmassy than an apple & cinnamon combination.
Silent Pool gin is floral in flavour with a honey-induced sweetness so it blends perfectly with the spice of the cinnamon to create a well-balanced hot gin cocktail.
Ingredients: 
50ml Silent Pool Gin
Apple Juice to taste
Splash of Ginger beer

Juice from half a lemon

Dash of cinnamon syrup
Method:
Combine all ingredients in a pot and heat gently.
 Serve in a cup or mug and garnish with a cinnamon stick.
Enjoyed best by an open fire!
---
Panza's Gin Winter Warmer, with Pentland Hills Gin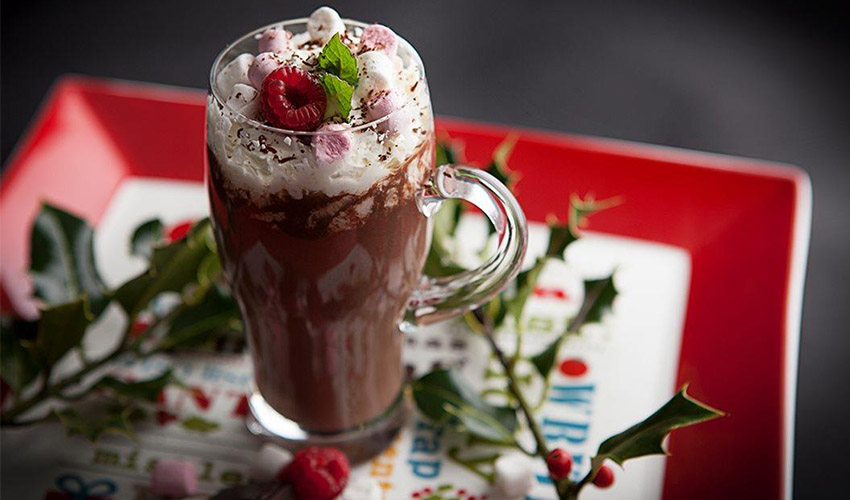 via Pentland Hills Gin, Recipe by Phil Cox
Hot chocolate may be most associated with Irish cream liqueur but did you know gin is an excellent alternative?
Just ask Pentland Hills Gin: this dreamy delight not only features your favourite tipple but lashings of dark chocolate, raspberry and whipped cream.
Ingredients:
Big Knob of Butter
2x Tablespoons of Brown Sugar
1 Pint of Milk (Full Fat If You Can)
50gs of Quality Dark Chocolate (80%+ Cocoa)
2x Dessert Spoons of Drinking Chocolate Powder
2x Dessert Spoons (25mls) of Pentland Hills Gin
Whipped Cream
Handful of Raspberries
Handful of Marshmallows and Mint
Method:
Melt butter in solid bottomed pan – break into pan the chocolate pieces and add sugar.
Stir gently under a low heat until all melted.
Then add milk and then sprinkle the 2 tablespoons of chocolate and stir the powder into the milk with a wooden spoon.
Then gently whisk the chocolate with a hand whisk bringing to the boil on a low heat continuing to whisk all the time.
Remove from heat when it has come to the boil and put to one side and add the 2 dessert spoons of Pentland Hills Gin.
Then pour into your mug and cover with extra thick whipped cream.
Add to the top as many raspberries as you like (they may sink if you add too many!) and a small handful of marshmallows. Garnish with a mint leaf.
---
Mulled Gin Punch, with Beefeater Gin
Nothing quite says festive season like a Mulled Gin Punch. Beefeater Gin implores you to swap your wine for gin. You will not be disappointed.
Simply add spices, ginger, apple juice, honey and heat into a saucepan. Finish with star anise and a cinnamon stick for the ultimate kick of heat.
---
Will's Winter Warmer, with Burleighs Gin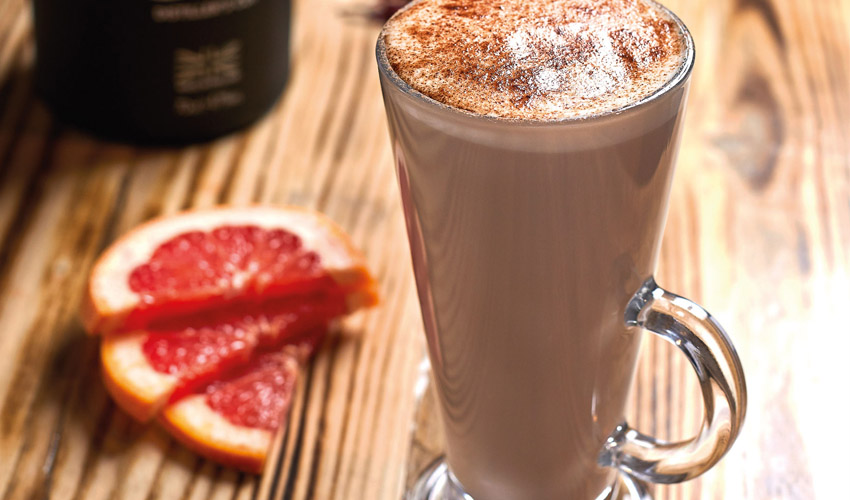 via Burleighs Gin
Combining vodka and gin may sound like a recipe for disaster but this dreamy hot gin cocktail shows it can be done. Simply garnish with a cinnamon stick to add a spot of spice to the sweet!
Ingredients:
35ml Burleighs Distillers Cut Gin
250ml Semi-Skimmed Milk
25ml Cariel Vanilla Vodka
25ml Mozart Milk Chocolate Liqueur
Method:
Foam, steam or heat the milk to around 70 degrees celcius.
 Add the alcohol and stir in thoroughly.
Garnish with a cinnamon stick and chocolate dusting.
---
Hot Mulled Sloe Gin, with Sipsmith Gin
Via Sipsmith Gin
Do us a favour and dig your sloe gin out of the cupboard for this fabulous recipe. Sipsmith Gin have created this awe-inspiring recipe to keep us warm this winter.
Grab your spices, orange, apple juice and apple juice and simmer for one hour. Top with 50ml of Sipsmith Sloe Gin for an amazing mulled drinks twist.
---
Spiced Apple Warmer, with Bombay Sapphire
Via BombaySapphire
If you love the thought of digging into an apple crumble when the winter season swings around then you NEED to try this Spiced Apple Warmer recipe from Bombay Sapphire. Serves three.
Ingredients:
120ml Bombay Sapphire 300ml
Hot apple juice
A cinnamon stick
Star anise
Method:
Heat the apple juice in a pan.
Add the measure of Bombay Sapphire.
When it reaches a simmer, remove from the heat.
Pour into a mug or glass with a handle.
Stir with a cinnamon stick.
Finish by floating a single star anise on top.
---
Hot Gin and Tonic, with Sipsmith Gin
Via Sipsmith Gin
Inspired by the Frost Fairs of old where chilly Londoners would sip hot gin, this takes your pal, the classic Gin & Tonic, and gives it a cheeky boost of heat.
Just add 50cl of Sipsmith London Dry Gin and 25ml tonic syrup to a glass. Then top with boiling water. Finish by adding an orange garnish.  Voilà, you have one delicious update to your G&T.
---
Spiced Apple Tea, with Bombay Sapphire
Via BombaySapphire
Cocktails often get served in teapots but this one fully deserves to be. Combine your love of gin, apple and tea by mixing this special treat together.
Ingredients: 
100ml Bombay Sapphire
40ml Martini Bianco
225ml Water
4.5 tsp Honey
3 Whole thin apple slices
1 Cinnamon stick 2 Cloves
2 Cardamom pods (broken)
½ Vanilla pod
1 Black tea bag
50ml Unfiltered/cloudy apple juice
20ml Fresh lemon juice
Orange zest
Freshly grated nutmeg
Method:
Add water, honey, apple juice and apple slices to a pot.
Add spices (cinnamon, cloves, cardamom, vanilla pod).
Bring to the boil, switch off, and add tea bag.
Wait three minutes, then remove tea bag, spices and apple slices (retain for garnish).
Add Bombay Sapphire, Martini Bianco and fresh lemon juice.
Stir and turn heat on for 25 seconds.
Strain into two tea cups.
Garnish with orange zest, spent apple slices and a sprinkle of fresh grated nutmeg.
---
Gin Hot Toddy
This simple recipe from Pete Capella involves adding 40ml London Dry gin, 20ml of lemon juice and a spoonful of honey to a large glass. Stir well and fill up with hot water.
Stir again and pop in a flowering tea/blooming tea which is a fresh flowers bundle such as jasmine, chrysanthemum and tender mao feng green tea buds that are skilfully woven together into a ball shaped bloom.
If you can't source this try 3 dried cloves instead. Simply wait until the drink is cool enough to drink and prepare to say goodbye to cold and flu symptoms.
---
Hot Gin Old Fashioned, with Hendrick's
Via Hendrick's Gin
We don't recommend heating a pot with a candle, but Hendrick's will insist on being strange. Apart from the heating technique this is a nice recipe that allows enjoyment of a twist of a classic cocktail in the cold weather.
Add 2 parts Hendrick's Gin, 2 parts hot water, 1/4 parts sugar syrup and 3 dashes orange bitters to a pan and heat to an acceptable drinking temperature.
Again avoid using a fencing foil to slice orange peel do use a twist of orange peel to garnish.