With ever-crazier flavours emerging from the gin world you might expect Spiced Pumpkin Gin to be the latest trick, but this is a reasonable gin at its budget price point.
---
A Little Bit of Background
Spiced Pumpkin Gin is created by Hall & Bramley, a spirits producer with origins based in Liverpool. The business was started in 1860 by Charlton R. Hall but acquired by Halewood International in 1997.  Finally, it was incorporated in 2005 as Hall and Bramley (UK) Ltd and changed to Hall and Bramley Ltd in 2006.
The brand have their very own gin range, simply called Hall & Bramley Gin, alongside liqueur names Brambles and What Lies Beneath.
They are also behind non-gin names such as Volkova Schnapps, Kokomo and Peach Amore.
The Bottle
With its bright orange colouring, this gin needs no decorative bottle to standout. It's bottled in a simple clear glass bottle complete with black labeling, providing the perfect colour contrast to the eye.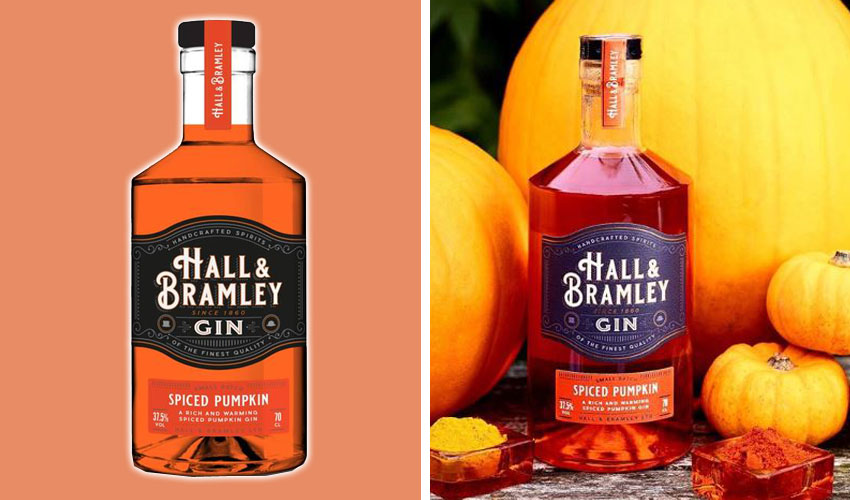 The Gin
Nose
There is a definite hint of juniper but the surprising takeaway is not necessarily spice alongside it, but sweet. There's a seductive, almost caramelised scent  beneath its lid.
Straight
At the budget end of the gin spectrum, there was a fear it may taste too much like a sweet liqueur. Fortunately, there's a definite spice and modest juniper kick to the taste followed by a little comforting sweetness.
With Tonic
Typically, you'd look to dive straight into your new gin armed with giant ice and your favourite tonic but the fact that this is indicated to be "rich and warming" made me approach it differently.
At first, I tried it with a light tonic water and was surprised what spicy notes it unearthed. This gin comes alive with tonic; if you were afraid of pumpkin flavour it actually tastes closer to a spiced gin than you would expect.
I would have liked stronger juniper presence to complement that spice, simply because it did feel too close in taste to a gingerbread gin liqueur at points.
At the budget price point end of gin, however, it could make a nice switch-up to an expensive spiced gin but would never replace it.
Heated
I also heated it in a similar fashion to sloe gin which unleashed a delicious warming spice to the smell. I imagine it could well as a pleasing base for a hot toddy.
Lasting Impressions
Trick or treat? With ever-crazier flavours emerging from the gin world you'd be forgiven for thinking this is the latest gimmick gin. Fortunately, it's not a bad little treat at all but a reasonable gin, at its £9.99 price point at least: innovative and quite possibly even versatile for the autumn/winter season.
It won't be replacing a hardener gin lover's favourite spiced gin but it is an interesting seasonal addition to the gin cabinet if you're not looking to spend a lot.
Hall & Bramley Spiced Pumpkin Gin is available at B&M now, priced £9.99.  
---