When the weather turns chillier, you may yourself reaching out for something comforting and warming, such as honey gin.
A versatile kitchen ingredient, honey can be used in so many ways but can actually work oh-so-well with our favourite tipple.
Our guide includes a honey gin recipe which shows you how to use the natural botanical in your gin at home and advice on the best honey gins available to buy right now.
How to Use Honey In Your Gin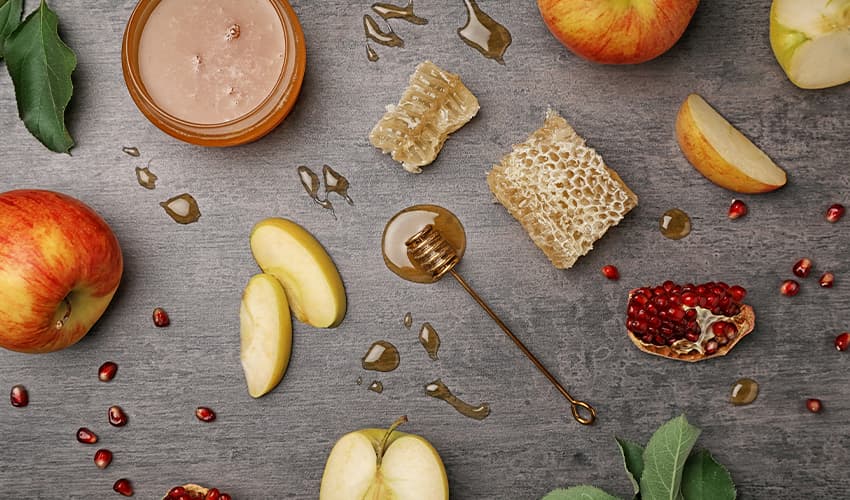 Honey is best used in a cocktail like Bee's Knees, which typically contains a teaspoon of honey. However, you can also swap it for a syrup instead if desired.
You can also infuse your gin and tonic with a little honey if you fancy sweetening it up the natural way. Simply follow the recipe below for the perfect honey style G&T!
Ingredients
50 ml gin
250 ml premium tonic
25 ml lemon juice
1 tbs. honey
Method
Fill up a glass with ice cubes, add the ingredients and stir well.
Top with rosemary for an extra touch of botanical scent and flavour.
---
Honey Gin Buying Guide
Tamworth Apiary Gin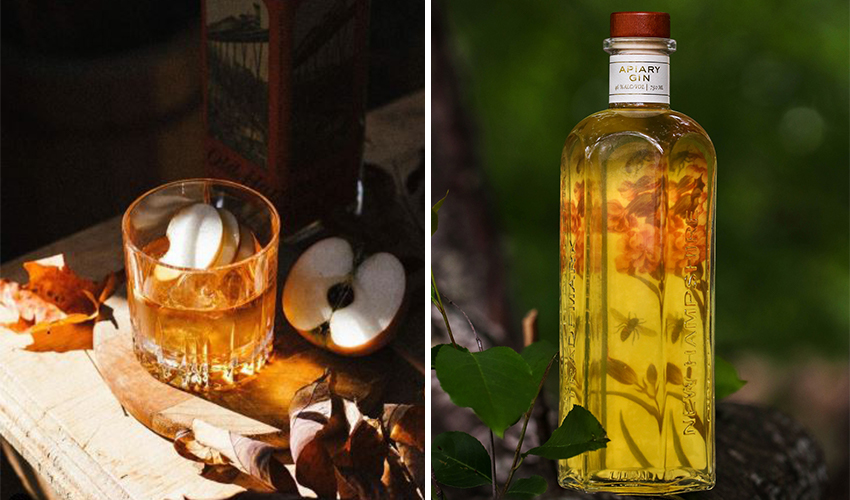 Delicately handled juniper berry is balanced with other forest pine notes, including balsam poplar buds and pine rosin.
The poplar buds are distilled off and added in small amounts, which give the gin a sweet mature pine note as well as a unique yellow hue.
The raw honey texture and smooth mouthfeel of this gin make for a delicate tipple, and allow it to stand up well in cocktails.
Although this is not available in the UK, you can still get it on Craft Spirits Exchange for $52.00.
---
Dodd's Gin – Honey Gin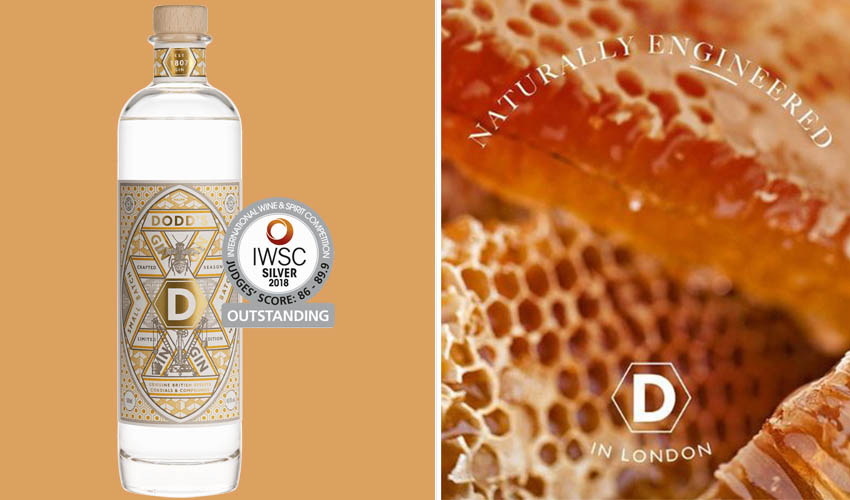 Juniper-driven with bright, fresh lime peel in place of the more traditional coriander seed this makes for a gin that is at once elegant and playful, invigorating and mellow.
Verdant lime and bay laurel greet the nose, while the delightful mouthfeel and a delectable, subtle sweetness come from the addition of London honey collected from local beehives, imparting a creaminess that bestows floral notes of lime blossom and jasmine.
Sold at London Distillery for £17.50
---
Hernö Old Tom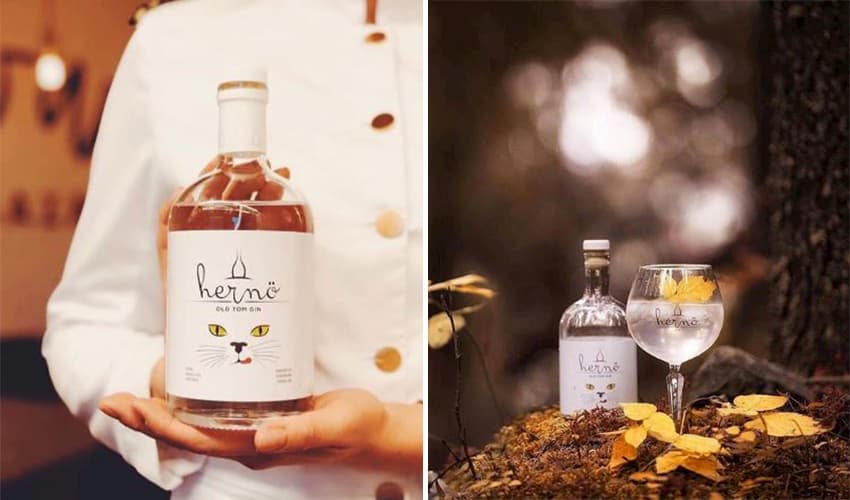 Hailing from Sweden, this top cat uses honey during the distillation process to add sweetness. It also features an all-star line-up of juniper, coriander, cassia, black pepper and lemon peel and is infused with vanilla, meadowsweet and Nordic lingonberries.  No wonder it's won the title of World's Best Gin twice!
The result is a world class gin, with delicate floral touches that creates a rich mouthfeel.
Available on Amazon for £34.85 (50 cl, 43% ABV). 
---
Keepr's Honey Gin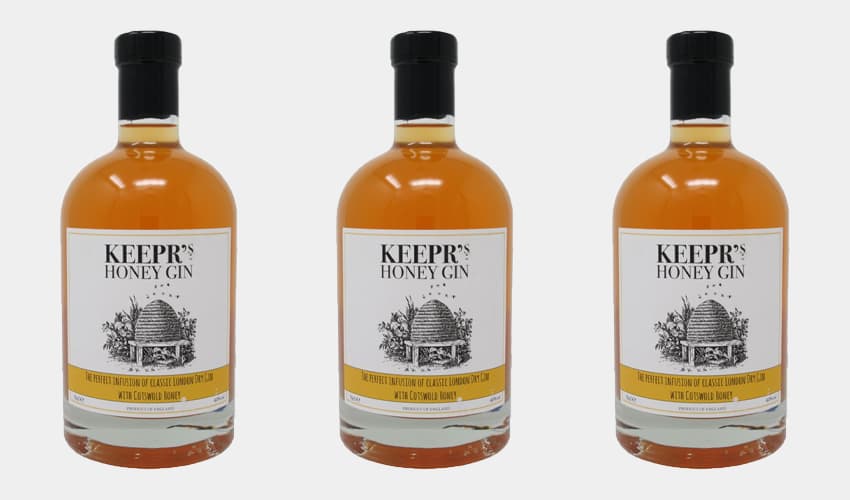 Blending elements of London Dry gin with a hearty helping of raw honey, Keepr's Honey Gin from The British Honey Company is a marvelous lip-smacking tipple.
A piece of buttered toast might make for a smashing garnish with this…
Available on Master of Malt for £37.55.
---
Esker Honey Spiced Gin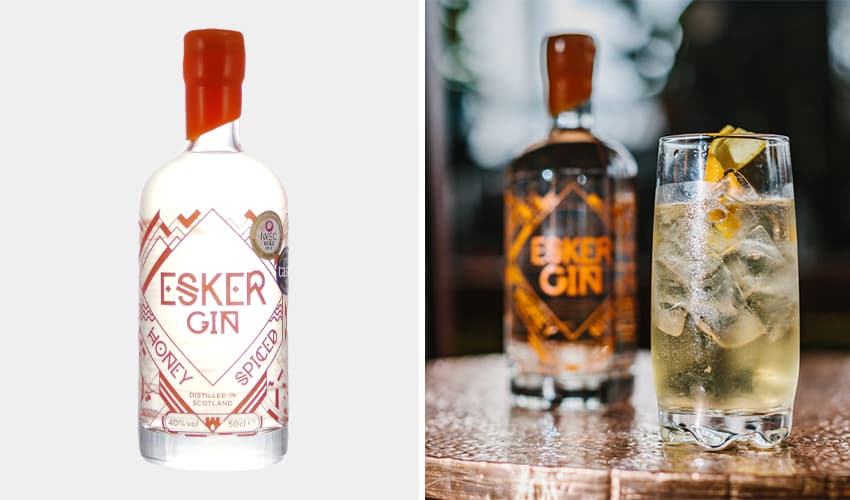 This Scottish gin incorporates sap from the silver birch tree, tapped from the Kincardine Estate in Royal Deeside. Its enhanced by extra spices and honey which provides a subtle sweetness balance to the spice.
After selling out of their first batch in record time, Esker included Honey Spiced into its core range of products.
Esker Honey Spiced Gin (50 cl) ABV 40% is available from Master of Malt for £31.95.
---
Barr Hill Gin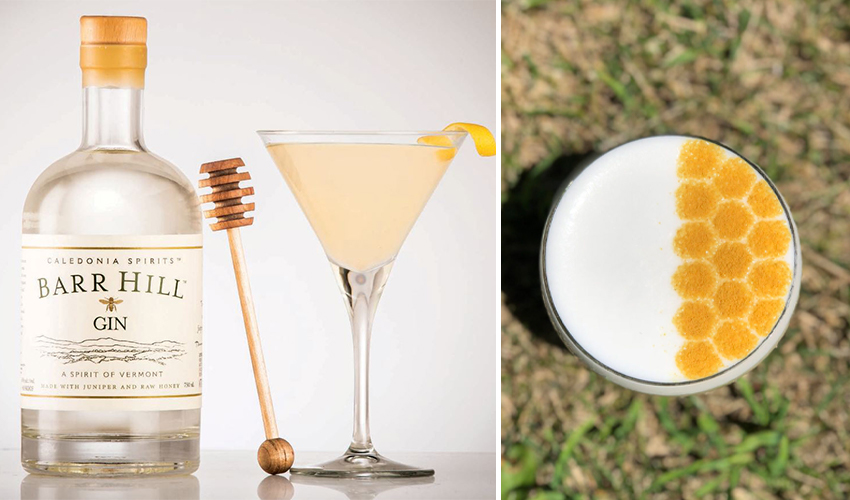 Barr Hill Gin is an ode to the hardworking bees of the Northeast. Each batch is distilled in their custom-built botanical extraction still. The juniper-forward botanicals are brought to a perfect balance by the floral depth of the raw honey.
Although this is not available in the UK, you can still get it on Caskers for $41.99. 
---
Batch Apple & Honey Gin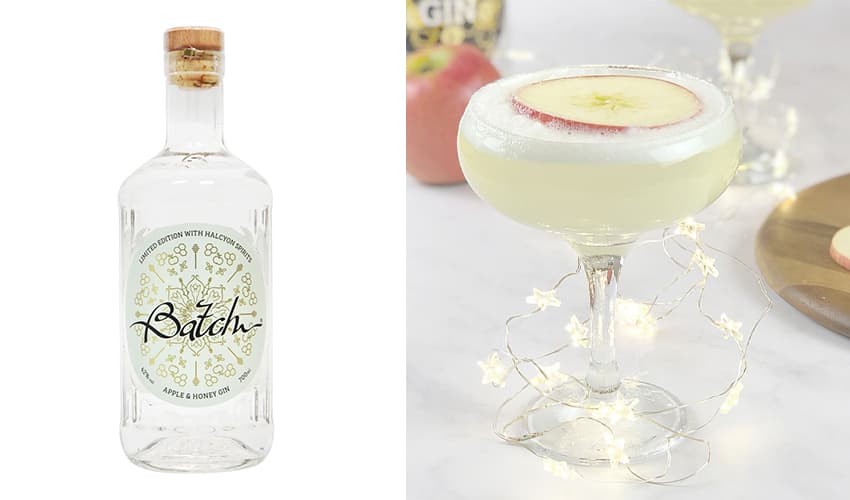 This limited edition Apple & Honey Gin is the delicious result of a collaboration between Batch Spirits and Halcyon Spirits.
Combining fresh and juicy apple with sweet and sticky honey, of course you must garnish this one with a slice of apple.
Available on Master of Malt for £40.95. (
---
Warner's Honeybee Gin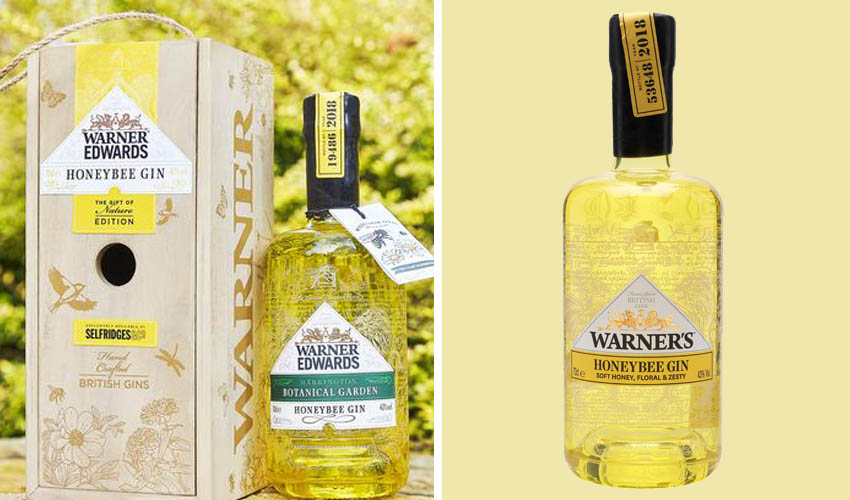 Released in partnership with the Royal Horticultural Society, Warner's (formerly Warner Edwards) Honeybee Gin actually includes honey from their very own farm, alongside 27 further botanicals.
The result is a rich, sweet mouthfeel in a glass that will have you buzzing in anticipation for your next G&T.
Available at Warner's Distillery, £38 (40% vol, 70cl)