Halloween is creeping up on us, so B&M is getting into the spooky spirit by selling a "zombie blood" gin liqueur.
---
A Little Bit of Background
Setting you back £9.99 per 50cl at discount store B&M, the ghoulish tipple Zombie Blood tastes of blackcurrant and liquorice.
It's been produced by the brand What Lies Beneath and has an alcohol volume of 20%.
What Lies Beneath is created by Hall & Bramley, a spirits producer with origins in Liverpool.
Botanicals
Juniper
Coriander seeds
Cassia bark
Lemon peel
Orange peel
Liquorice root powder
Angelica root
Orris root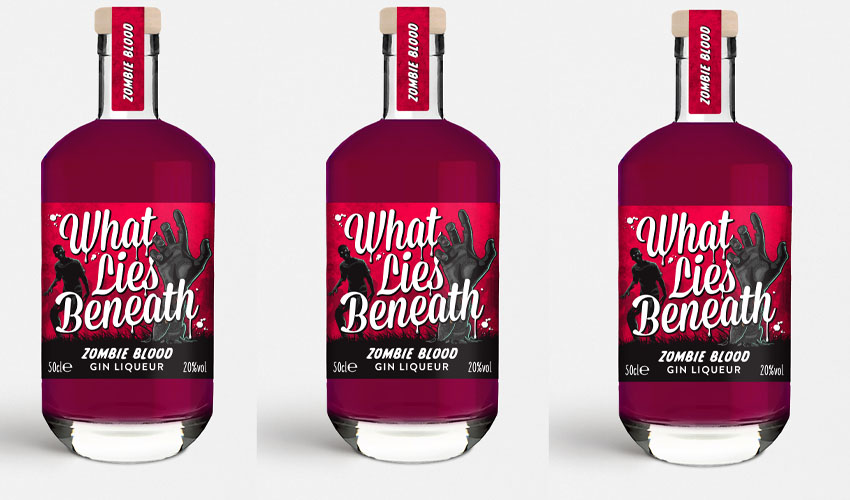 The Bottle
The creep factor has been turned up to the max with the packaging on this bottle! A hand rises up from the ground (or from within a grave, perhaps?!) and a dead-eyed zombie lurches through a red mist.
Shadowy figures float around in the background. There's a heck of a lot of black and red going on, which is fitting for this spooky drink. The ghoulish drink itself is red – well, it is zombie blood after all!
The Gin
On the Nose
The strong scent of juniper, blackcurrant and liquorice hits you hard when you open the bottle. It's a very fruity and sweet smell – almost, but not quite, overpowering.
Straight
At less than a tenner, you might not expect great things from Zombie Blood drunk straight, but actually, with ice, it's pretty good.
Yes, it's sweet, but no more sweet than you might expect from a liqueur. If you heat it up, it gives it a warming kick which is exactly what you need as the temperature falls and dead hands reach out to grab you…
With Gin
I didn't want to mix a pricey gin up with Zombie Blood so luckily, I had a budget bottle of Greenall's Original in my drinks cupboard. It was a bit sweet so I watered it down with club soda and ice.
With Tonic
Because tonic water contains quite a bit of sugar, adding it to Zombie Blood is just too sweet! I reckon it works better with club soda or possibly lemonade.
Lasting Impressions
Zombie Blood will definitely have its fans, with the novelty factor appealing most. Will this be popular a few months down the line? At £9.99, perhaps.
There's no doubt it's a gimmick, but it tastes bloody good for a gimmick.
The gory tipple is sure to give a fruity and sweet twist to your gin experience on Halloween. Drink it if you dare!
What Lies Beneath Zombie Blood Gin Liqueur is available at B&M now, priced £9.99.