We all know that Christmas shopping can be stressful, not to mention cold, but fortunately Pickering's Gin are on hand with some suitable refreshments.
The celebrated Scottish distillery has launched two exciting gin experiences in Edinburgh that is sure to get you into the festive spirit.
The Pickering's Festively Flavoured Gin Village, located at Waverley Mall, will be under cover, heated and has live music daily so it really is a little paradise away from the elements.
And, excitingly, to help warm up Christmas shoppers, the gin village will be serving hot gin cocktails, such as hot gin toddies as well as other Pickering's-based cocktails.
Additionally, Pickering's will also be selling their popular Pickering's Gin Baubles from the gin hut, located at Edinburgh's Christmas Market.
All six festive gin bauble flavours will be available to sample and buy, along with their award-winning range of London Dry Gins.
Expect to find bauble flavours of Festive Cranberry, Figgy Pudding, Plum and Ginger, Cranberry, Spiced Pear and Cinnamon and the world's first Brussels Sprout Gin.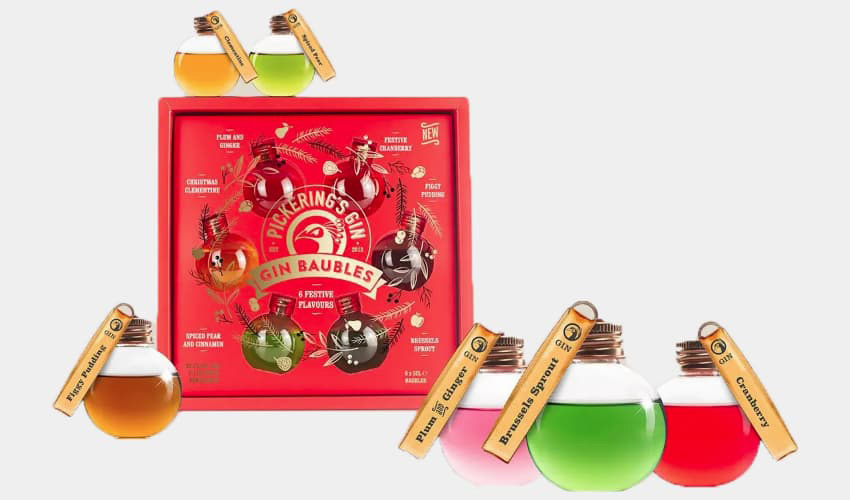 The Brussels Sprout Gin is a controversial flavour, sparking debate amongst gin lovers but even if you don't think you'll like it there is a good reason to buy one and have a try.
Pickering's Gin have partnered with charity Re-engage and proceeds from the sale of every bauble of Pickering's Brussels sprout gin will go towards their Community Christmas campaign.
---
Pickering's Festively Flavoured Gin Village is open above Waverley Mall, Edinburgh, from November 14 and will remain open until the new year. 10am – 10pm, Monday – Sunday.
You can also visit the Pickering's Gin Hut at the Edinburgh Christmas Market (next to the Big Wheel) from November 16 until January 4. 
Images from Pickering's Gin.