When the temperatures start to drop, winter gin cocktails are the ultimate way to match the season.
Whether it's upgrading your usual G&T with a little wintry flair or going all out and creating a hot gin cocktail, these perfect picks are sure to get you in the mood to stay at home by the fire, glass in hand!
Snowball Gin Cocktail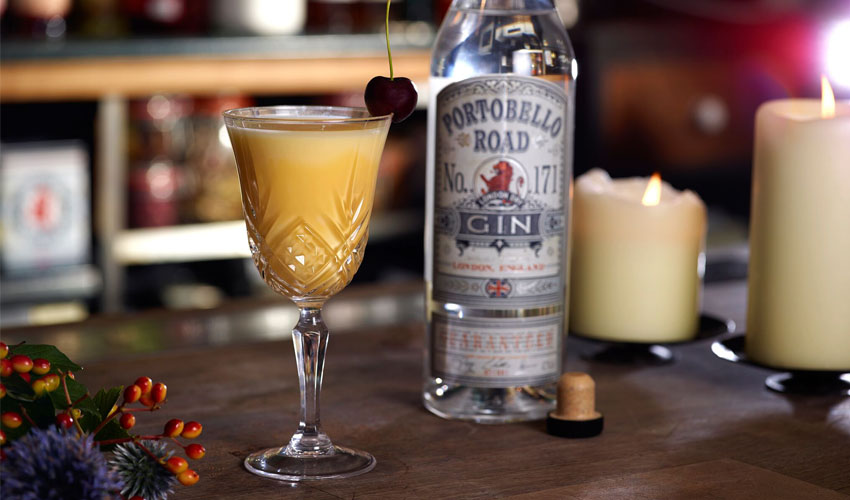 Recipe via Portobello Road Gin
Ingredients:
500 ml Portobello Road Gin
12 egg yolks
300 g caster sugar
Seeds from 2 vanilla pods
2 tsp vanilla extract
Method:
Using an electric mixer, whisk together the egg yolks and sugar with the vanilla seeds for about 3 minutes until very pale and thick.
Pour in the gin while whisking until the ingredients are emulsified.
Take a large metal bowl and place over a pan of simmering water, heat the egg mix, whisking until thickened so it coats the back of a spoon. It's important not to overheat or the mix will split.
Finally stir in the vanilla essence and allow to cool, then bottle and store in the fridge.
To make your drink: Mix equal parts of Gin Advocaat with cloudy lemonade in a Champagne saucer and garnish with a cherry and a chocolate truffle.
---
Sweet Gin Symphony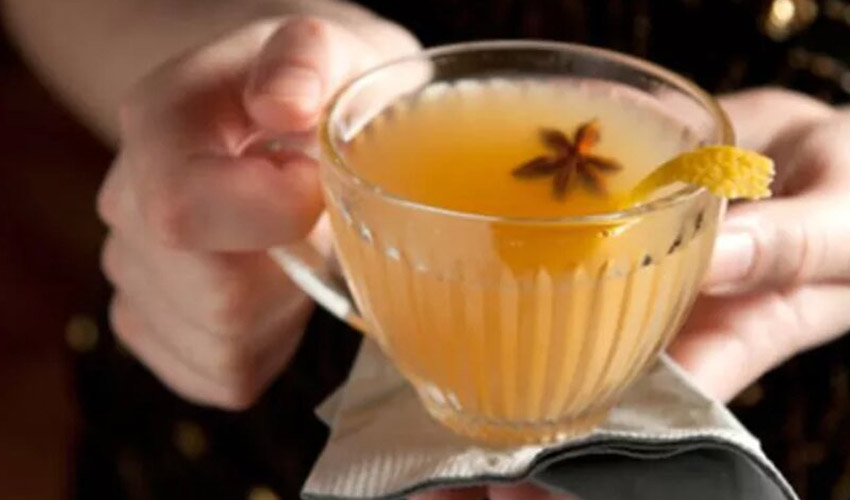 Recipe via Saveur
This gin-based punch captures complex seasonal flavours with layers of citrus, mint and anise perfect for a winter gin cocktail with a twist.
Ingredients:
For the Mint Tea Syrup
1 cup sugar
2 tbsp dried mint tea leaves
For the Punch
2 1/2 cups gin
140 ml lemon juice
70 ml lime juice
60 ml maraschino liqueur
1 cup mint tea syrup
Absinthe to rinse glasses
Lemon peel, for garnish
Star anise, for garnish
Method
Tea syrup: Combine the sugar and 1 cup of water in a small saucepan over medium-high heat. Stir until the sugar dissolves completely. Reduce heat to low and add the tea leaves. Allow the tea to infuse for 5 minutes before removing from heat and straining. Let chill before using.
In a punch bowl or large pitcher, mix the gin, lemon and lime juice, mint tea syrup, and maraschino liqueur, stirring to combine. Decant a small amount of absinthe into a small spray bottle.
To serve, spritz each glass with absinthe, then fill with crushed ice. Add the punch and garnish with lemon peel and star anise.
---
Poinsettia Gin Punch Cocktail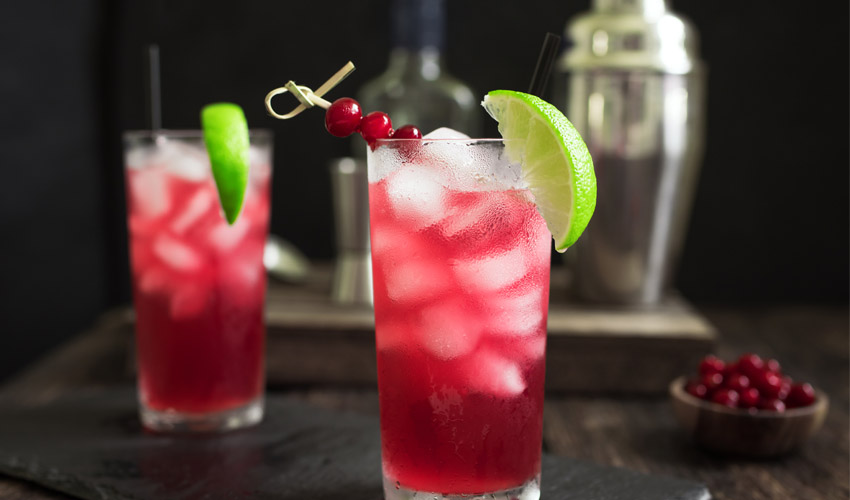 Recipe by Rock Rose Gin 
Winter is most definitely here. Lucky for us, then, that Dunnet Bay Distillers have a very special winter edition of their popular Rock Rose Gin.
For this cocktail, simply add in some gingerbread syrup and pomegranate juice and you have one very delicious gin punch.
Ingredients
15ml Lemon juice
15ml Gingerbread syrup
Pomegranate juice – To top up
Berries (your choice) – To garnish
Method
Add all ingredients to a cocktail shaker then add ice and shake until cold.
Strain over fresh ice in a highball glass.
Top with pomegranate juice and add a berry garnish to enhance the vibrant colouring.
---
Thandai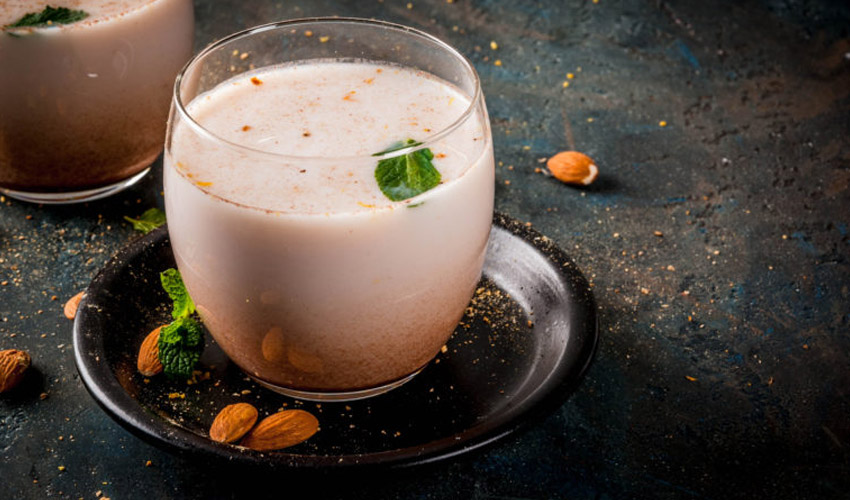 Recipe via Saveur
Indian thandai, literally translated as 'something that cools', is a sweet, creamy milk drink flavoured with nuts and mixed with spices such as cardamom, fennel, rose petals, and poppy seeds. Not your conventional winter gin cocktail but definitely worth a try.
Ingredients:
1/3 cup raw whole almonds
3 tbsp. melon seeds
3 tbsp. poppy seeds
2 tbsp. raw cashew halves
1 1/2 tbsp raw shelled pistachios
4 cups whole milk
1 1/2 cups sugar
1 tsp. fennel seeds
10 black peppercorns
10 green cardamon pods
1 cinnamon stick broken into pieces
A few strands of saffron (optional)
20 rose petals
230 ml floral gin
1/4 tsp. freshly grated nutmeg, as garnish
Method:
Combine almonds, seeds, cashews, and pistachios with 2 cups of water; soak for 1 hour. Remove and discard skins from almonds and pistachios. Drain nuts and seeds; set aside.
Bring milk to a boil in a 2-qt. saucepan. Add sugar and saffron, stirring until sugar is dissolved; set aside. Toast the fennel, peppercorns, cardamom and cinnamon in an 8″ skillet over medium heat until fragrant, about 4 minutes; let cool slightly.
Transfer spices to a food processor, along with the nut mixture, 1 tbsp. milk mixture, and rose petals. Puree to a smooth paste.
Whisk paste into milk mixture, and strain through a fine mesh sieve, pressing on solids. Refrigerate strained milk mixture until chilled.
Stir in gin and divide between serving glasses; garnish with grated nutmeg and rose petals.
---
Punkin' Gin Fashioned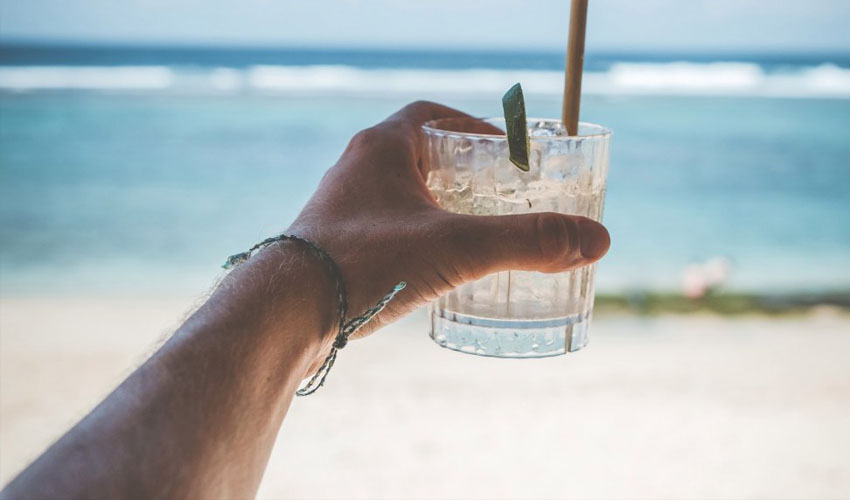 Recipe by The Botanist Gin 
Ingredients:
40 ml The Botanist Gin
8 ml Dry Vermouth
8 ml Maple Syrup
2 dashes Orange Bitters
Orange slice and cinnamon stick for garnish
Method:
In a mixing glass, stir all ingredients with large ice cubes.
Strain into rocks glass over large ice cubes.
Add orange peel over and pierce with cinnamon stick for garnish.
---
Hot Gin Punch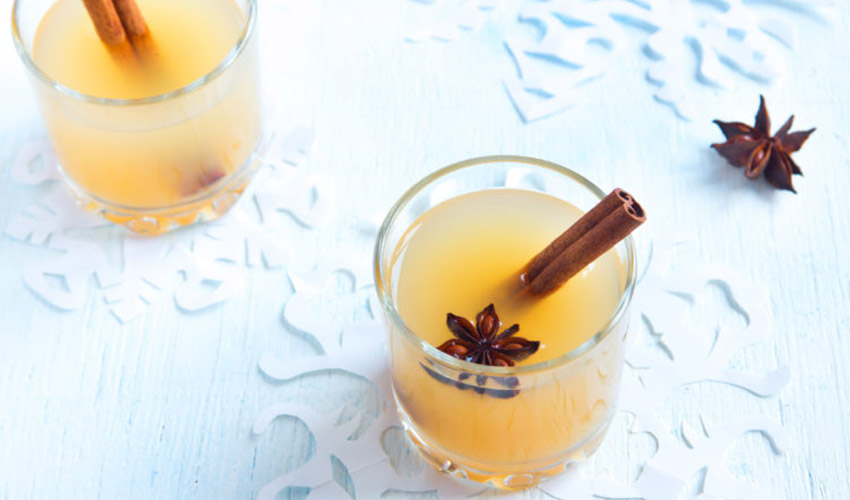 Recipe by Jamie Jones for Gordon's 
If all the relatives are coming over this is your solution. Either make from scratch, or mix a large batch of it and pop it in the freezer. Simply defrost on the hob and pop in a large punch bowl to add a bit of drama.
Ingredients:
40ml Gordon's gin
100ml Cloudy apple juice
15ml lemon juice
10ml Tio Pepe Sherry
20ml sugar syrup
Cinnamon
Star anise
Nutmeg
Cloves
Butter
Method:
Add all ingredients into the pan and place on a low heat until there's a light simmer.
Strain through a fine strainer in to a tea/coffee cup.
Garnish with a cinnamon stick and star anise.
---
Gin Buck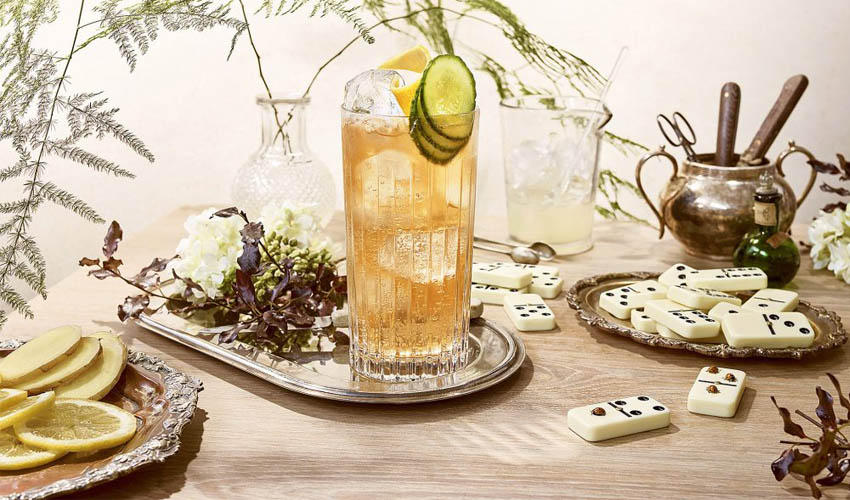 Recipe via Hendrick's Gin
Ingredients
50ml Hendrick's Gin
15ml Lemon Juice
Top with Ginger Ale
2 Dashes Angostura Bitters
3 Thinly sliced rounds of cucumber
1 Lemon Twist
Method
Combine all ingredients in a highball filled with cubed ice. Lightly stir and serve. Garnish with 3 thinly sliced rounds of cucumber and a lemon twist.
---
Gin and Ginger Negroni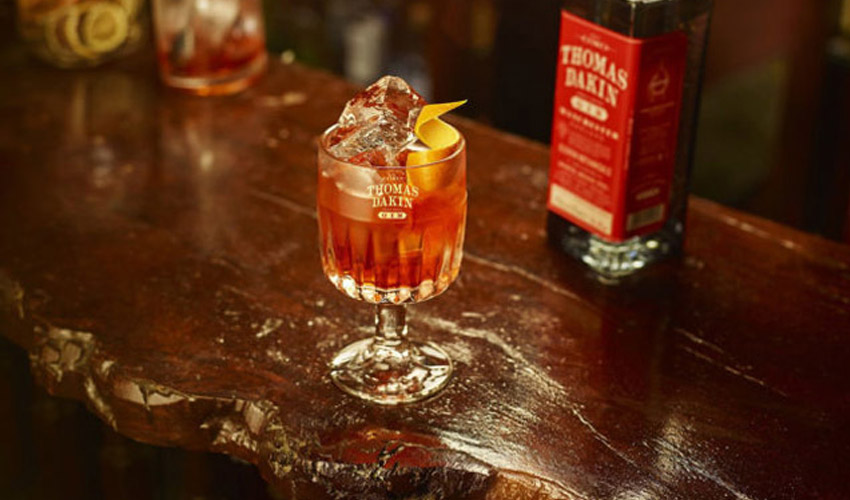 Recipe via Thomas Dakin 
Ingredients
35ml Thomas Dakin Gin
35ml Aperol
35ml Ginger wine
Orange peel
Method
Build all ingredients in a rocks glass over ice and stir a few times with an orange twist.
---
Hot Spiced Gin Punch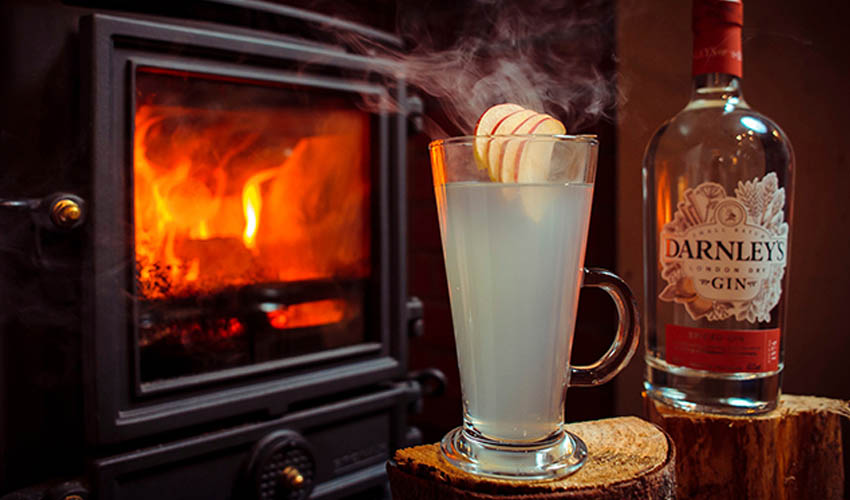 Recipe by Darnley's Gin
Ingredients
200ml Darnley's Spiced Gin
400ml Apple Juice
500ml Ginger Beer
50g Demerara sugar
1 Cinnamon quill or a sprinkling or ground cinnamon
80ml Lime juice
Apple slices to garnish
Method
Pour all the ingredients apart from the gin into a pan and simmer for 5 minutes.
Take off the heat and add the gin
Strain and serve in latte glasses with apple slices on a cocktail stick to garnish.
---
Brockmans Winter Bramble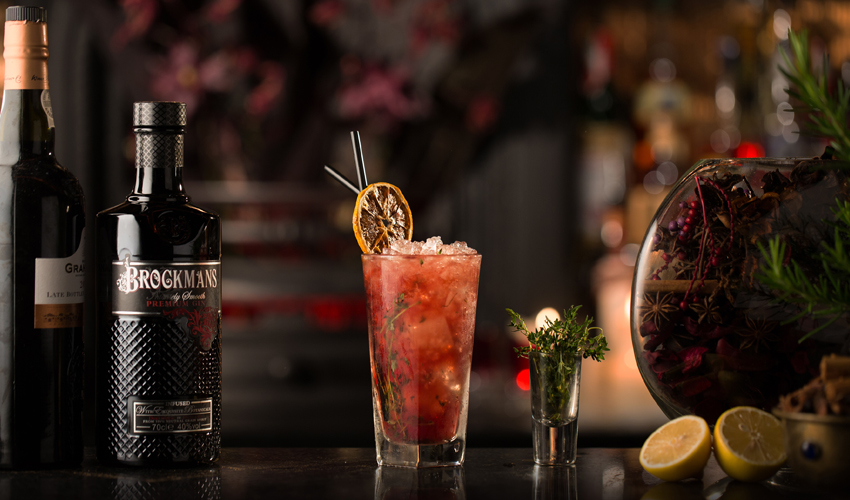 Recipe via Brockmans Gin 
Ingredients:
45ml Brockmans Gin
25ml Lemon juice
10ml Balsamic vinegar
10ml Ruby Port
10ml Berry liqueur
Method:
Fill a highball glass with crushed ice.
Break thyme and churn in the glass then pour in all the ingredients.
Give the glass a good stir.
---
The Adru Martini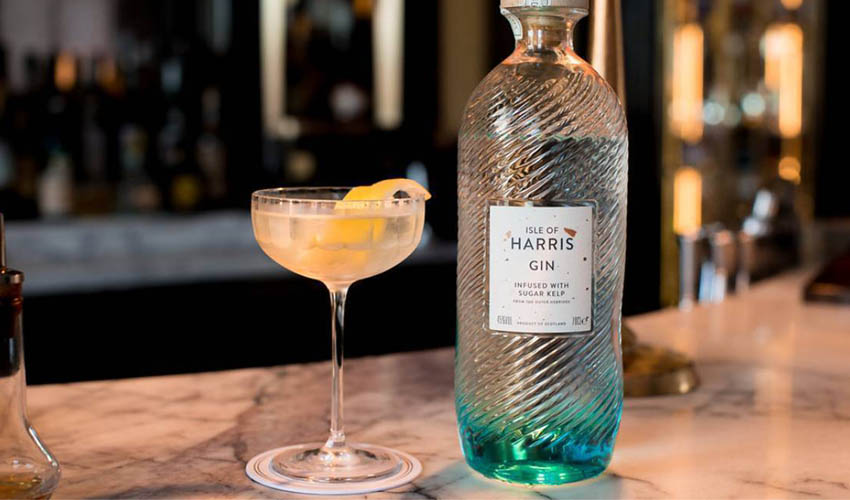 Recipe by Tom Jolly of The American Bar, Gleneagles Hotel for Isle of Harris Gin
For a wintry twist on Isle of Harris Gin, orange bitters and vanilla pods are the ultimate complement to the gin's coastal flavours.
Ingredients
50ml Isle of Harris Gin
25ml Lillet Blanc
1.5ml Sugar Syrup
2 dashes of Orange Bitters
1 dash of Vanilla Saline
Lemon peel
Method
Make the vanilla saline by adding 40g of sea salt to 100ml of water and 3 split vanilla pods then leave to infuse for 24 hours.
Add all ingredients, except for the lemon, to a chilled mixing glass.
Add a large block of ice and stir until liquid is chilled and suitably diluted.
Strain into a frozen coupe glass
Squeeze oils from lemon over drink  and rub stem with remaining peel.
Drop peel into drink as garnish.
---
Bees Knees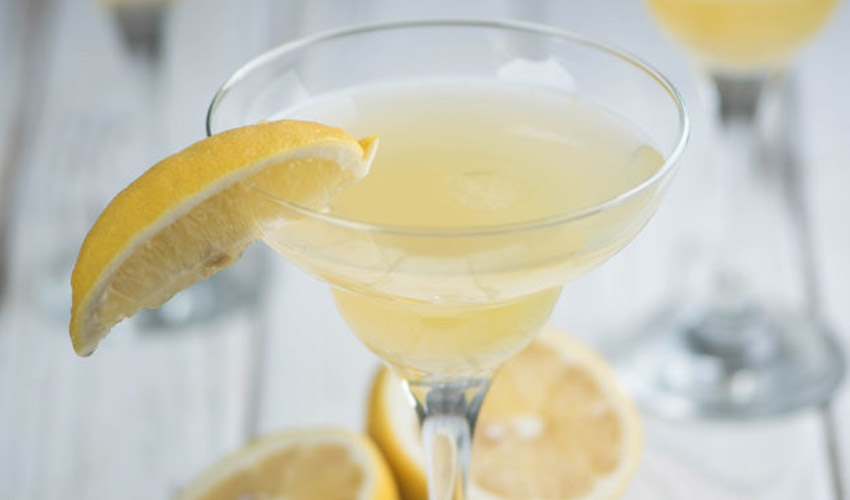 Recipe by Jamie Jones for Gordon's 
A traditional, but refreshing winter gin cocktail, perfect for guests coming in from the cold.
Ingredients:
50ml Gordon's gin
20ml Lemon juice
15ml Honey syrup
Egg white
Method:
Add all the ingredients into a shaker with ice and shake hard so it's thoroughly mixed.
Strain into a Martini glass with a lemon zest garnish.