Bright Spirits are an innovative spirits company with an enlightened attitude to flavour.
Their first range of award-winning gins, Pips, Peels and Roots, makes sure to create flavour from using only natural ingredients in the distillation process.
There are no added syrups, additives or short cuts, resulting in gins squeezed full of real flavour.
The range comprises three gins. Pips Gin is sweet fresh and fruity, distilled with real strawberries, raspberries and blueberries.
Peels Gin is full of invigorating citrus flavours, such as fresh Amalfi lemons, key lime and yuzu.
Roots Gin is a spicy, warming and earthy offering, distilled with fresh ginger, grains of paradise and angelica root for a naturally sweet and spicy flavour. We can see Roots Gin working well as part of warming winter gin cocktails.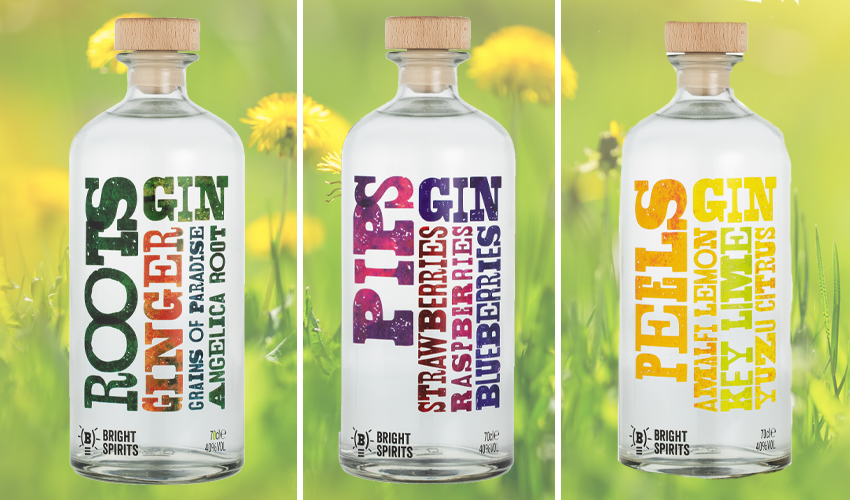 "The inspiration for Bright Spirits came to me many years ago, whilst I was stocking a drink retailer's shelves. I noticed that of all the new gin and spirits being released every week, there were none that put natural flavours first," said Iain McClune, Managing Director of Bright Spirits.
The first rule of Bright Spirits is "if it isn't natural, it's not going in."
Developed as a natural alternative to flavoured gin currently available in the UK gin market, Bright Spirits Gins offer the chance to experience new and exciting tastes, with the confidence and satisfaction of drinking an authentic spirit created using natural ingredients and an honest and transparent process.
Produced with passion at its single bespoke 250 litre copper pot still in London, the products have already won Silver and Bronze medals at the International Wine and Spirits Competition in 2019.
Bright Spirits Gins (70cl) 40% ABV, are available at Master of Malt, priced at £36.95.