JP Adlam's Premium Gin features clean flavours of juniper and tangerines, complete with a kick of spicy warmth.
---
A Little Bit of Background
Distilled in the heart of the Yorkshire Dales, JP Adlam gin is produced in small batches, hand bottled and wax sealed to create a special drinking experience.
The Bottle
JP Adlam premium Yorkshire gin comes in a stocky, broad-shouldered bottle with a thick and sturdy base. Curved around the neck and stumpy, it comes with a wax-sealed cork top that makes the anticipation of opening extra special.
The look of the label is simple and clear – silver, white and grey to accentuate the juniper berry covered design.
The Gin
On the Nose
Upon removal of the stopper an enticing blend of fresh, sea breeze scents and spicy, nose-tingling notes hit the nostrils. You get the sense of a real depth of flavour from this gin before  it has even crossed your palate.
Straight
A reasonably strong gin at 41.5% ABV, it certainly gives you a wee glow. The initial sip packs a punch of spicy warmth from the star anise. However, that mellows and leaves a clean taste of juniper and tangerines.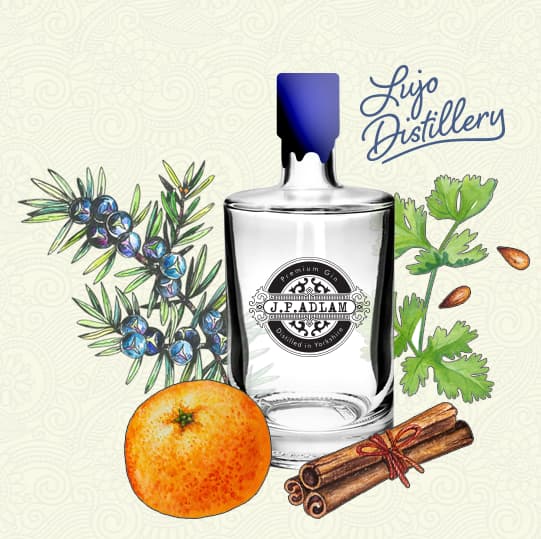 With Tonic
This is a versatile gin and works well with Mediterranean, elderflower or Indian tonic. Going with the latter, add the staple of ice and lime, but also consider a few black peppercorns for an extra kick. Due to its complex range of botanicals, citrus fruit or berries can complement the gin nicely.
Lasting Impressions
Billed as a premium gin, JP Adlam lived up to the hype and absolutely delivered as a drink for any occasion. Crisp, light, zesty and carries lime well. With a peppery kick and a nice finish of citrus, it is an ideal tipple to enjoy on a chilly evening or all-year round alike!
---
Follow us on Facebook, on Twitter @theginkin, or on Instagram at @theginkin. If you have a story suggestion email editor@theginkin.com
---