For gin connoisseurs who are looking for something a bit different but don't want to go down the loud, flavoured gin route, Nelson's Timur Gin could fit the bill. 
---
A Little Bit of Background
Nelson's Gin was created by Neil Harrison who worked extensively as a chef before switching career to become a gin maker.
With this background in mind Nelson's aim for a "a pleasing and memorable tasting experience" achieved by using "an inspired balance of flavours".
Nelson's Gin is named in honour of legendary British naval figure Admiral Lord Nelson. It's made in small batches and is the only gin made on the Derbyshire and Staffordshire borders.
The Botanicals
There's only one botanical worth talking about as it dominates all the others, so much so that the gin is named after it. The highly unusual timur pepper is found in the mountains of Nepal and is a Nepalese variety of the Sichuan pepper.
It has the same sharpness as a regular peppercorn but with a citrusy grapefruit flavour instead of spice.
Nelson's say it's the "first gin of its kind" to use the Nepalese pepper as a key botanical. The pepper is used in oil form, with approximately 12ml of timur oil per batch of 250 bottles.
The Bottle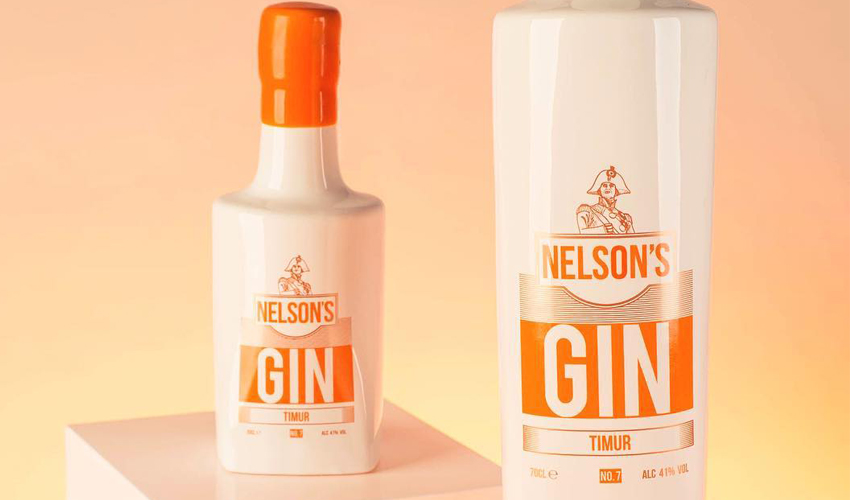 The 70cl bottle is tall and slender, a white, opaque body with orange logo. The cork is sealed with orange wax which has to be peeled to be revealed.
There was a slight moment of confusion on how to open before the peeling realisation dawned. It was actually quite fun to peel off the wax and suggested a premium product before any gin was tasted.
The Perfect Serve
Our perfect serve for Nelson's Timur Gin is as follows:
50ml Nelson's Timur Gin
150ml Premium Indian tonic water
Handful of ice
Grapefruit slice to garnish
The Gin
On the Nose
It's amazing to think that grapefruit isn't a key botanical in this gin and it is the timur pepper that is producing the fruity, zesty aroma. There was no sign of the sharpness normally associated with pepper.
Straight
You'll need a very sophisticated palette to enjoy this gin neat. On first tasting the peppery kick that was missing from the initial nose appeared with a bang, leaving a long, lingering peppery finish.
The grapefruit aroma that was so dominant on the nose was initially swamped by the bite of the pepper upon tasting but pleasingly reappeared after the pepper kick died down.
With Tonic
Indian tonic water mercifully mellowed the peppery bite and allowed the fruity citrus flavour to once more come to the fore.
Pink grapefruit tonic nullified the pepper kick completely but because of the dominant grapefruit flavour already present in the timur pepper, this variety of tonic doesn't enhance or change the drinking experience very much.
If you are a fan of grapefruit, you're going to love this gin with Indian tonic water. It's worth trying solely to experience a pepper with such a citrus punch.
Lasting Impressions
It's a refreshing change to try a gin that attempts to do something a bit different without resorting to a flavour so intense that the end result doesn't resemble authentic gin any more.
From the peeling of the wax seal to the lingering pepper kick and fruity, zesty grapefruit overtones, Nelson's Timur gin feels like a premium product sailing admirably in an ocean of brashly flavoured rivals.
You can pick up a bottle of Nelson's Timur Gin on Master of Malt for £40.95
Images from Nelson's Gin.
---
More reviews from The Gin Kin: