Tea parties may come and go out of fashion but a G&T party will forever be something we want to attend. And when it's drinking gin and tonic from a beautifully quaint Hendrick's-branded tea set then we're already there.
Hendrick's Most Delightful Tea Set comprises one 70cl bottle of Hendricks Gin, a Hendrick's limited edition teapot and a set of 6 Hendricks teacups and saucers.
Christmas is the time to bring out the finest china and we can only imagine the delight of guests when they realise this is an afternoon tea quite different from any other.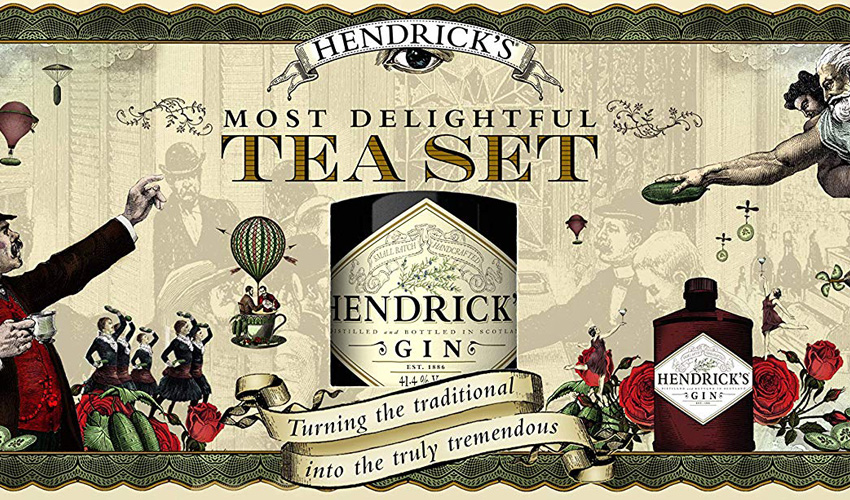 Hendrick's Gin is no stranger to the unusual. Earlier this year they opened 'gin portals' inside a London launderette and inside a cash machine, handing out free G&T's.
So if you do host any Hendrick's-themed parties be aware that the Hendrick's aura may be present and something strange may occur!
The unique infusion of rose and cucumber present in Hendrick's Gin is a balance of distinctive yet subtle flavours, adding a remarkable twist to the quintessential gin and tonic.
It's a gin that tries to do things a little different and it seems entirely fitting to drink this gin poured from a gorgeous teapot into tea cups.
The bold, vintage design of the tea set means that it won't look out of place in the classiest of table set-ups. Just don't forget to serve the obligatory thin slices of crisp cucumber with your Hendrick's high tea!
Hendricks Most Delightful Tea Set is available from Amazon priced at £120.