Bombay Sapphire has teamed up with Floom to create the Bombay Sapphire Garnish Wreath; the perfect gift for gin-lovers to help stir their creativity this festive season.
Carefully crafted by Floom's artisan florist, the wreath features a selection of garnishes for winter gin cocktails, such as dried oranges, star anise, cinnamon and lemon wheels.
The package also comes with a 350ml bottle of Bombay Sapphire gin along with a series of delectably festive cocktail recipes.
The Bombay Sapphire Garnish Wreath is available to buy now on Floom.com and is delivered in a bespoke blue gift box, with a signature bottle of Bombay Sapphire gin and recipe booklet nestled in its centre.
Bursting with fantastically festive flavours, the wreath is a stand-out cocktail party centre piece or makes for a magnificently original gift for even the most discerning home host.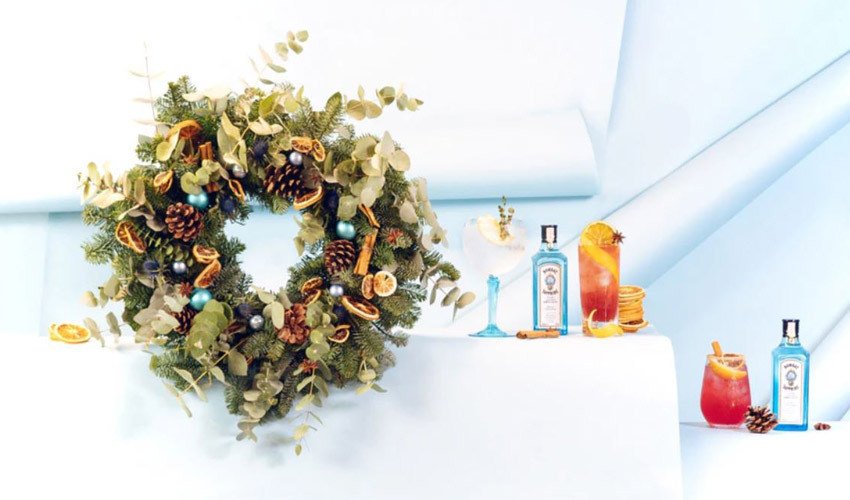 With its balanced flavour profile, Bombay Sapphire gin is the ideal canvas for cocktail creativity, perfect for helping fans of the brand channel their inner cocktail connoisseur
Whether it's adding a wintery twist to a classic G&T, or spicing things up with star anise and cinnamon, this must-have festive table-feature is perfect for adding a touch of creativity to your seasonal tipples.
Each wreath is uniquely hand-crafted by a leading florist at Floom, with a seasonal fir and eucalyptus base bursting with botanicals, garnishes and florals such as blue thistles.
All this is topped off with 'Bombay blue' baubles so that even when all the garnishes have been used, you are left with a window-worthy wreath.
Bombay Sapphire Garnish Wreath is available to buy from Floom.com priced at £50.