Selkie Gold Pink Gin is the full strength expression of the Selkie Blush Pink Liqueur, both of which are produced at the Old Poison Distillery in Edinburgh.
Just like the liqueur, it's flavoured with Scottish strawberries, jasmine pearls and Italian Bergamot, though this one is bottled at a punchier 43% ABV.
Expect to encounter traditional gin botanicals such as juniper, coriander, cardamom, chamomile, angelica root, orange peel, lemon peel alongside Scottish strawberries and Italian Bergamot.
The pinkness of the pink gin is a natural reaction from the infusion of the strawberries.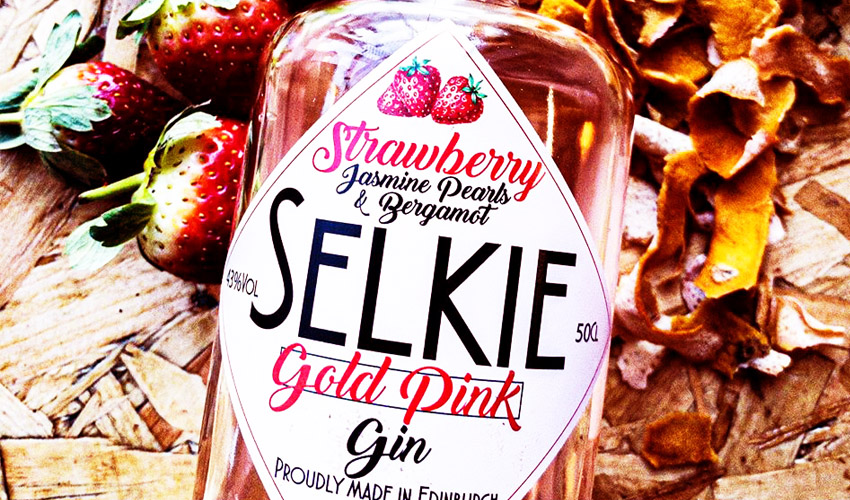 Old Poison is a craft distillery in Edinburgh, using a traditional copper pot still. Traditional distillation methods are employed with each small batch bottled and labelled by hand.
Seklie Gin recommend a perfect serve, which they call a 'Golden Selkie' of 45ml Selkie Gold Pink, 15ml Strawberry puree, 15ml fresh lemon juice, 10ml simple syrup, topped up with ginger ale.
Alternatively whip up some ultra-classy rose gold gin and fizz cocktails for the celebrations this season by topping up with Prosecco or Champagne.
Don't forget to garnish your cocktails with strawberries to bring out the sweetness in the gin.
Selkie Gold Pink Gin (70cl) 43% ABV, is available to buy from the Gin Kin Shop priced at £29.95.