Hrafn Gin 'Valhalla' is a full-bodied, citrus-packed gin with a subtle spicy kick added into the mix. It's complex yet finely balanced, making it a very smooth tasting experience. 
A Little Bit of Background 
Brothers Callum and Peter Sim founded Raven Spirits Limited after an inspirational trip to the Bruichladdich Distillery on the island of Islay where 'The Botanist' Islay Dry Gin is made.
Raven Spirits, based in Aberdeenshire, is now almost two years old and already a multi-award winner in international spirits competitions.
The branding is inspired by Norse Mythology and its connection to Scotland, with 'Valhalla' referencing the golden hall in the afterlife where warriors deemed worthy were said to enter after their death in battle.
Botanicals
Juniper
Mandarin
Coriander
Angelica Root
Cubeb Pepper
Cassia Bark
Orris Root
The Bottle
The Perfect Serve
'Valhalla' is made to be a smooth sipper so the makers recommend simply a 50ml measure over ice with an optional twist of lemon as garnish.
The Gin
On The Nose  
Unlike other high-strength gins where the juniper can be pungent and overpowering on the nose, 'Valhalla' has a softer scent. There is juniper there but the citrus notes of the zesty mandarin shines through to create a lovely balance. In the background are small but not imperceptible traces of spice.
Straight  
This is absolutely a gin you could sip away at very comfortably. Each sip has a lot going on; the tang of juniper, the zesty citrus kick of mandarin and a peppering of spice at the back of the palette. The complexity of the taste married with the balance of flavours shows why this gin won a Gold at the 2019 Gin Masters.
With Mixer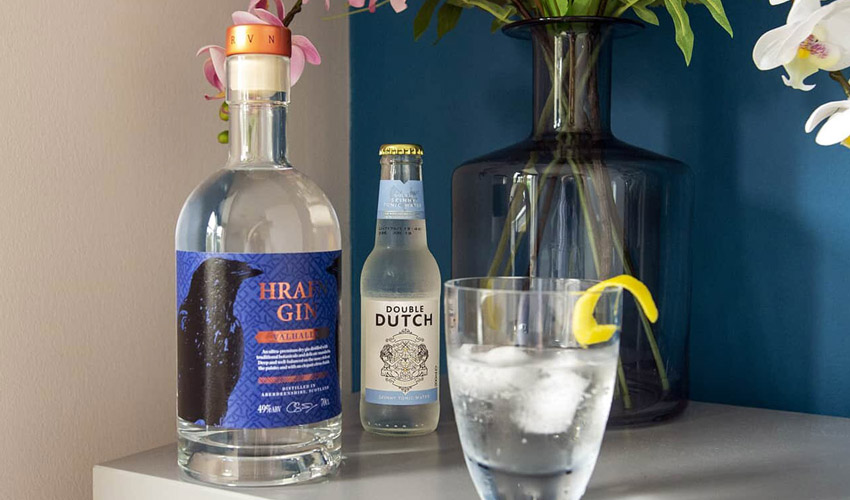 This is a gin designed to be able to drink neat and whilst it is a wonderfully smooth and balanced gin not everyone will want to drink it that way.
So, if you're a tonic fan, try a premium tonic such as Fever-Tree Mediterranean which will tease out those beautifully subtle mandarin notes just a little more.
I wouldn't recommend mixing with anything too sweet such as lemonade as the fine balance of citrus and spice will become muddled.
Lasting Impressions
This is an elegant gin. Clearly a lot of work and taste testing has gone into creating a gin that has complexity, subtlety, balance and an overall smoothness all going on at once. I'm looking forward to trying out 'Valhalla' with a full range of mixers so see what secrets are waiting to be unlocked with the right combination.
Hrafn Gin 'Valhalla' is available to buy from the Gin Kin Shop priced at £44.