Fresh and cooling, Sea Glass Gin is a truly special gin that captures the essence of the nature, giving you a unique G&T experience like no other. 
A Little Bit of Background
Crafted at Deerness Distillery on the beautiful Parish of Deerness, Sea Glass Gin is a reflection of the Orkney Island's ever changing seascape. The gin is multi award-winning with medals including a Silver at the London Spirits Comp 2018 and a Gold at the Gin Masters in 2019.
It was even voted Best UK Classic Gin at the Great British Food Awards 2019, judged by no less than chef Raymond Blanc.
Botanicals
Juniper
Tarragon
Lemon verbena
Orange peel
Lavender
Cucumber
Mint
The Bottle
The design of Sea Glass Gin could not be more fitting to the theme. Its wonderful sea-inspired bottle makes a real statement on the shelf; you can almost feel the crisp, sea breeze on your face just by looking at it.
The logo on the top of the bottle is inspired by red deer bones, adding to the nature-inspired theme.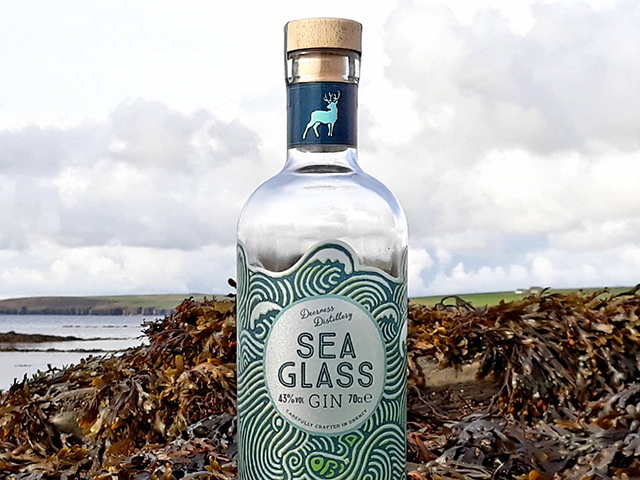 The Gin
On the Nose
As soon as the lid is lifted, you know you're in for something truly special. Notes of fresh sea minerals, salt and herbal notes immediately shine through perfectly complementing the juniper. It's unique before you've even taken your first sip.
Straight
Sea Glass Gin will impress you with how good it tastes simply tried neat. Its botanicals work so well together meaning you don't taste just a hit of juniper, but unravelling citrus notes.
With Mixer
I tried Sea Glass Gin with both a natural tonic and an elderflower tonic and I would thoroughly recommend elderflower. It just works so wonderfully well with the cucumber and mint in the botanicals unlocking a hidden layer of freshness remiscent of an ocean spray.
The result is a G&T experience you won't have tried elsewhere. It's crisp, cooling and absolutely delicious.
The Perfect Serve
Deerness Distillery recommend two perfect serves. You can either try a premium natural tonic and garnish with fresh blueberries or a slice of kiwi or opt for elderflower tonic, a slice of lemon and sprig of rosemary.
Lasting Impressions
Deerness Distillery have achieved something extraordinary with Sea Glass Gin. It's not just a G&T, it truly evokes the senses and transports you beside the sea with its unique combination of fresh and cooling botanicals.
Sea Glass Gin (43% ABV) is available to buy from the Gin Kin Shop priced at £34 for a 70cl bottle and £14 for a 20cl bottle.