During the winter months the immune system struggles to fight off those pesky cold and flu viruses and although a gin hot toddy won't protect you from illness it has been said to relieve symptoms and shorten the spell of illness.
The key restorative ingredients of a gin hot toddy are honey, lemon and hot fruit juice or water. The gin is just for an added kick, because why shouldn't you have a bit of fun just because you're ill?
Here are 4 gin hot toddy recipes designed to be delicious and devastating to the winter blues.
Bees Knees Hot Toddy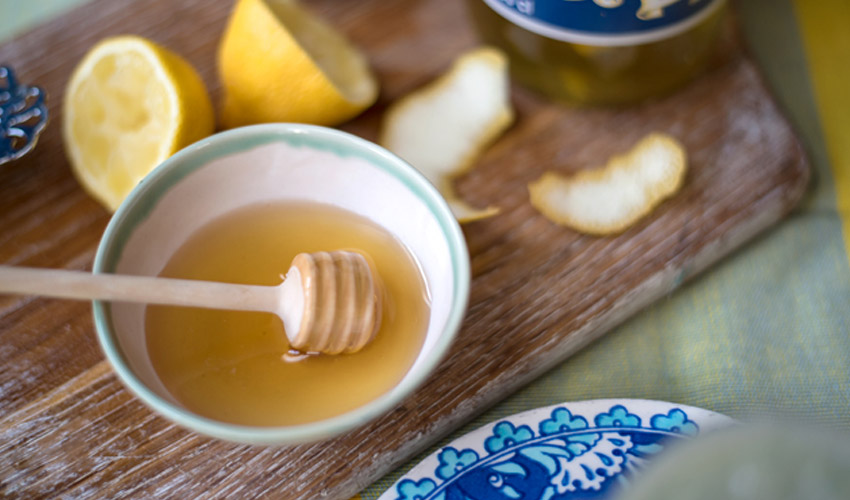 This take on the Prohibition-era Bees Knees cocktail has all the ingredients necessary to flush out those germs.
The addition of ginger to the classic recipe brings even more medicinal qualities and the fact it's hot means it's winter-appropriate. Recipe by Emma Scott-Child.
Ingredients:
60ml gin
1 juice of a lemon and rind
Honey
Ginger
Water
Method:
Warm one part honey and two parts water in a saucepan on a low heat, add a chunk of ginger. Warm it through then leave to cool.
Pour the gin, the juice of a lemon and the honey ginger syrup into a cocktail shaker. Give it a good shake.
Heat the mixed ingredients in a pot until hot.
Pour into a mug to serve.
Garnish with lemon rind.
---
Marmalade Hot Toddy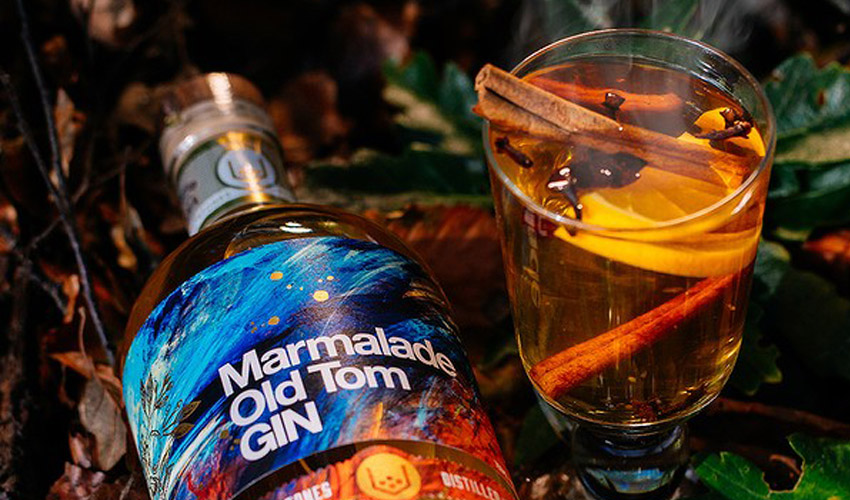 This recipe from Pocketful of Stones Distillery is nice and sweet to help the medicine go down. Made with delicious Marmalade Old Tom Gin it's almost worth feeling under the weather just so someone can make you this delightful concoction.
Ingredients:
5ml orange marmalade
1tsp sugar
Hot water
Orange, star anise, cinnamon and clove to garnish
Method:
Add the gin and marmalade to a mug.
Top with boiling water and stir in the sugar.
Garnish with orange, star anise, cinnamon and clove.
---
Orange and Honey Gin Hot Toddy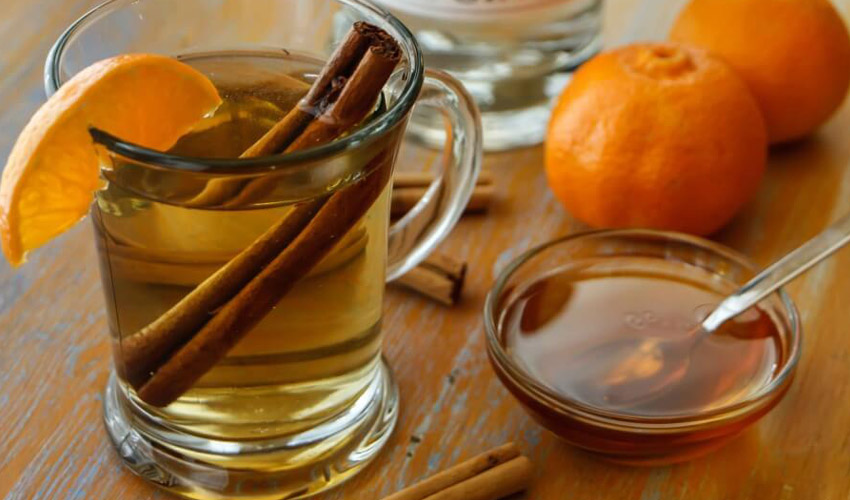 This recipe from Rachelle Lucas is very simple and very effective, containing all the basic elements required to make a no-frills gin hot toddy that packs a punch.
We recommend using Greensand Ridge Rye Cask Gin as it's aged in whisky casks so it gives a faint hint of a traditional hot toddy made with whisky.
Ingredients:
30ml gin (Greensand Ridge Rye Cask Gin recommended)
1/4 cup hot water
Juice from one orange
1 tbsp honey
Cinnamon stick and orange slice to garnish
Method:
Pour the gin, orange juice and honey into a large mug.
Top off with hot water.
Garnish with a cinnamon stick and orange slice.
---
Hot Apple Gin Hot Toddy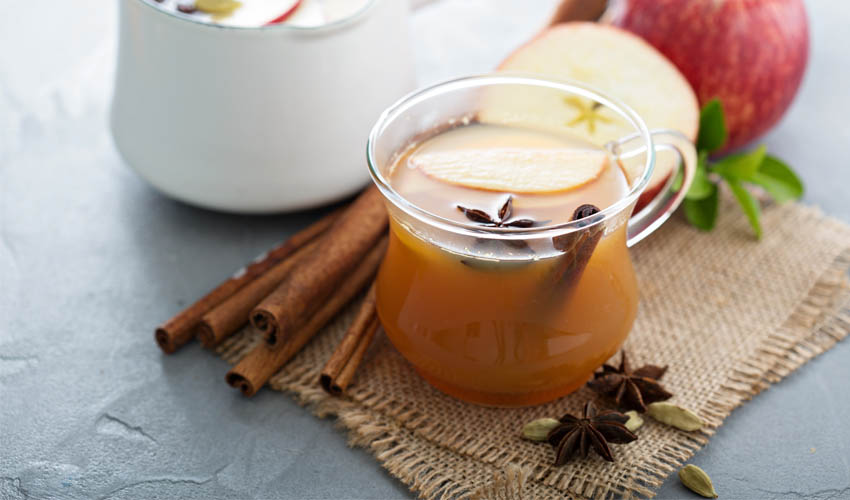 Recipe via Pin Gin.
Pin Gin have upgraded the traditional hot toddy idea by bringing apple into the mix. A drizzle of honey and dried ginger keeps things interesting.
Ingredients
250ml Pin Gin Spiced.
1.5l pressed apple juice (not from concentrate)
1-2 cinnamon sticks.
2-3 Star anise pieces.
½ orange.
2-3 dried ginger pieces.
Drizzle of honey.
Method
Slice your orange into quarters or smaller if you prefer a more obvious citrus taste.
Grab your preferred saucepan or slow cooker and place on a low heat.
Now it's time to add your ingredients: Pin Gin Spiced, apple juice, star anise, orange pieces and cinnamon sticks. (We recommend slightly cracking the cinnamon sticks to release a more intense flavour).
Add the optional ginger and honey. (If you decide to add honey, it is best to drizzle onto a spoon first and stir in).
Allow to simmer for 10-15 minutes.
Serve in the glassware of your choice.
---
Clementine and Cinnamon Gin Hot Toddy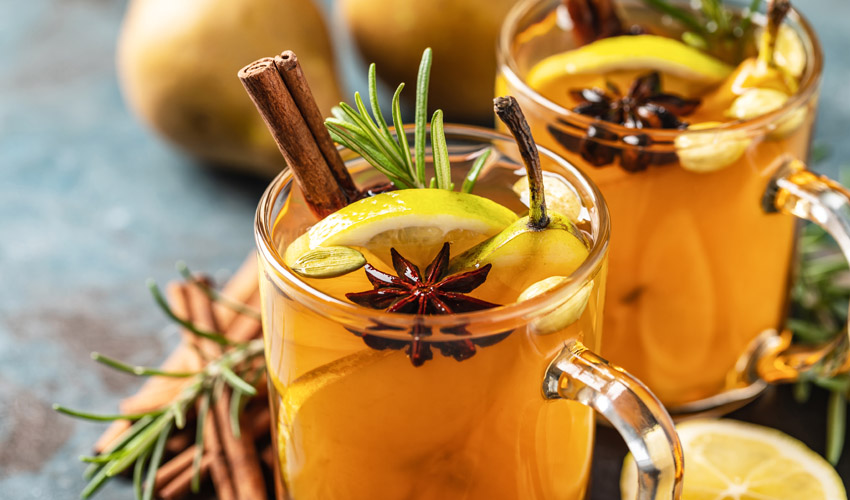 All we want to do this winter is curl up by the fireplace (or the nearest heater) with a warming gin. So imagine our delight when we found out about the Clementine and Cinnamon Hot Toddy from McQueen Gin.
It's made using McQueen's Clementine and Cinnamon Gin. Swap a hot chocolate for a hot gin cocktail this winter with this delicious blend of warming cinnamon and sweet clementine flavoured gin.
Ingredients:
• 50ml McQueen Clementine and Cinnamon Gin
• Zest of ½ a clementine
• Spiced Ginger Beer to serve
• Dried pear and cinnamon to garnish
Method:
Mix the gin, clementine zest and lemon juice together and split between two heatproof glasses.
Add the dried pear and cinnamon then top up with warmed spiced ginger beer.
---
 Blooming Tea Gin Hot Toddy
This simple recipe from Pete Capella involves adding 40ml London Dry gin, 20ml of lemon juice and a spoonful of honey to a large glass. Stir well and fill up with hot water.
Stir again and pop in a flowering tea/blooming tea which is a fresh flowers bundle such as jasmine, chrysanthemum and tender mao feng green tea buds that are skilfully woven together into a ball shaped bloom.
If you can't source this try 3 dried cloves instead. Simply wait until the drink is cool enough to drink and prepare to say goodbye to cold and flu symptoms.