Pin Gin Premium Pink is a delicious pink gin, offering a sweet nose with a dry finish. It's the pink gin option for grown ups and has us dreaming of summer sunshine.
The botanicals that Bottomley Distillers have included in the gin are deliciously fruity, including strawberry, orange, cucumber and lemon.
Rose, lavender, cinnamon, black pepper, liquorice, almond and juniper make up the remainder of the intriguing botanical list.
With Valentine's Day fast approaching, pink gin is going to be doing big business and if you want to make a romantic statement then Pin Gin Premium Pink is one of the classiest pink gins on the market.
Pin Gin suggest a perfect serve as simply poured over ice with an elderflower tonic and a wedge of lime.
However, you can also make up this special exclusive cocktail with frozen berries, pink grapefruit and elderflower tonic for a lusciously light pink gin cocktail you won't ever want to put down.
You Make Me Blush Cocktail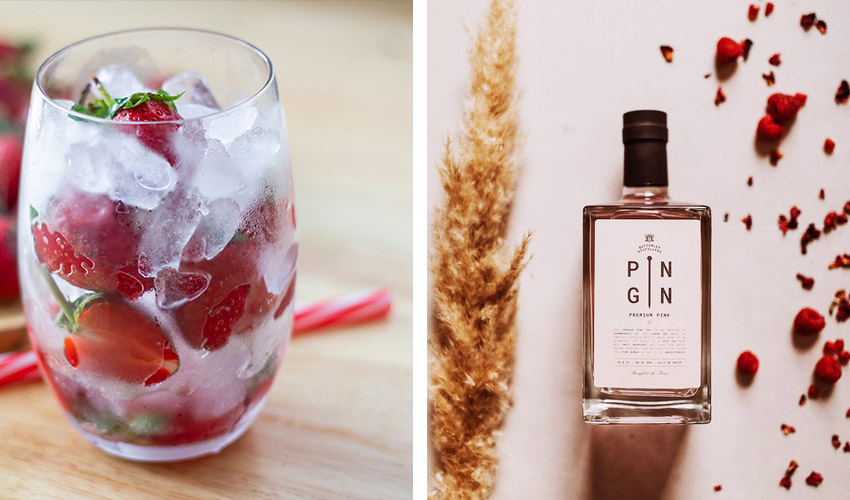 Recipe by Tom Remington for Pin Gin.
50ml Pin Gin Premium Pink
A splash of pink grapefruit juice
Top with Fever-tree Elderflower tonic water
Sliced berries
Method
Place sliced strawberries, raspberries and purple grapes into a tub in the freezer the night before as this will act as a substitute for ice.
Add the frozen berries two thirds of the way up a tall glass or pitcher.
Add a splash of pink grapefruit juice and top with Fever-Tree Elderflower Tonic Water.
Garnish with fresh mint leaves.
Pin Gin Premium Pink (40% ABV) is available to buy from the Gin Kin Shop priced at £35 for a 70cl bottle and £20 for a 35cl bottle.