Chesterfield Lemon Sherbet Gin is a delicious, zesty and sweet tipple, reminiscent of the childhood sweetie favourites lemon sherbets.
The citrussy gin has a base of Chesterfield Dry Gin and is then distilled with lemons. The rest of the botanicals are fairly traditional, such as juniper, coriander, angelica root, orris root, cassia bark, ginger, cardamom, hibiscus and lemon peel.
Makers Derbyshire Distillery suggest a perfect serve of the gin topped up with lemon tonic, served over ice with a sliced lemon garnish, but the following recipe by Jamie Oliver is simple, delicious and looks spectacular with minimum effort required.
Combined with elderflower tonic, the gin is transformed into the flavour of nostalgia in the most adult of forms – a Gin and Elderflower Lemon Sherbet cocktail.
Gin and Elderflower Lemon Sherbet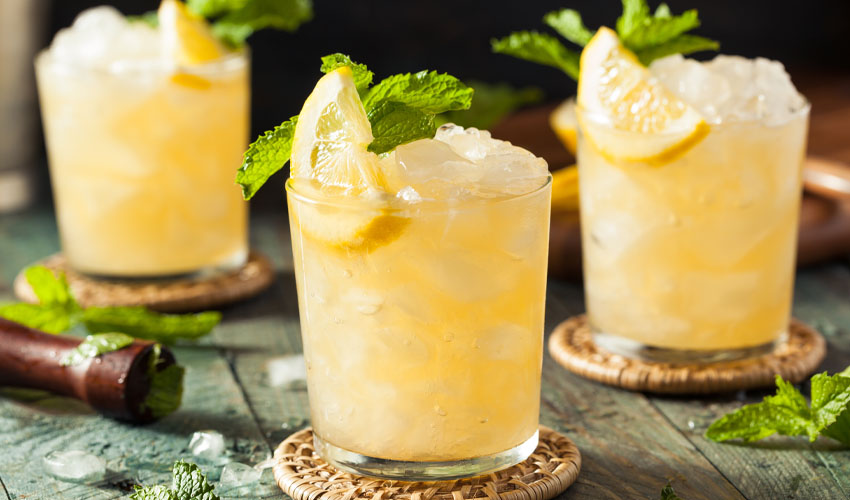 Ingredients:
50ml elderflower cordial
150ml bitter lemon
1 handful ice
Lemon to garnish
Method:
Mix the elderflower cordial and gin together in a small glass or cup.
Crush the ice by placing it in a tea towel or plastic food bag, tie, then bash with a rolling pin.
Add it to a cocktail glass then pour over the gin mixture.
Top with bitter lemon and a few strips of lemon zest or slices and serve.
Chesterfield Lemon Sherbet Gin (70cl) 40% ABV, is available to buy from the Gin Kin Shop priced at £39.