Kintyre Pink Gin is uniquely distilled with Scottish raspberries and oats, making it the perfect accompanyment to a Pink Gin Cranachan.
The gin has a delicate fruity flavour with a creamy finish, which could also describe the characteristics of the famous Scottish dessert.
Because Kintyre Pink Gin is naturally coloured with raspberry concentrate it loses its colour over time. This doesn't affect the flavour or the quality at all but it is recommended to store away from sunlight if possible.
All Kintyre gins are sustainably produced, using their own renewable energy which is powered from a small hydro-electric scheme.
Kintyre Gin recommend a perfect serve mixed with a premium tonic or topped up with prosecco, but we're here for the Pink Gin Cranachan.
This creation is creamy, decadent, indulgent – in fact there aren't enough words to describe how excited we are about it.
Pink Gin Cranachan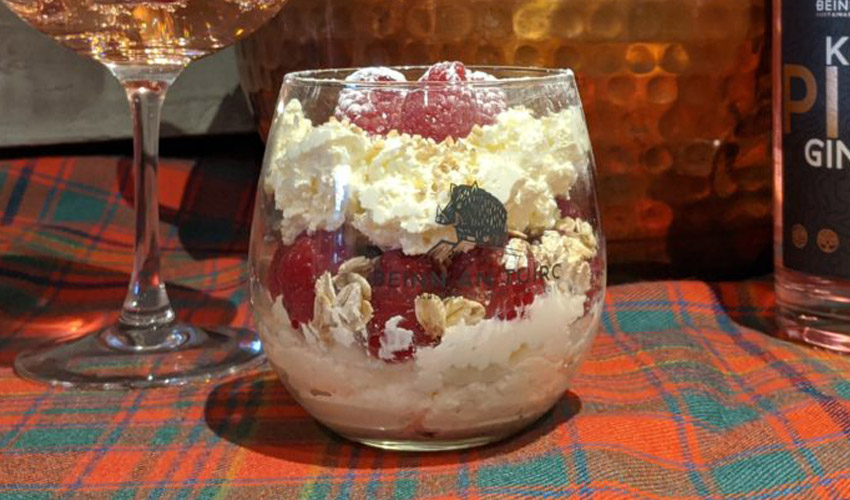 Ingredients:
Method:
Assemble the cranachan as normal according to your favourite recipe.
Top the cranachan with the whipped cream soaked in gin.
Drizzle with raspberry sauce and garnish with fresh raspberries.
Serve with a Kintyre Pink gin and Fevertree Mediterranean tonic.
Kintyre Pink Gin (50cl) 40% ABV, is available to buy from the Gin Kin Shop priced at £30.