Pickering's Gin have launched a brand-new gin inspired by spring in their popular 200ml gifting sized bottle, just in time for Valentine's Day.
The Edinburgh-based gin company have responded to increased demand for seasonal gifts and have created a brand-new limited-edition gin, Forget-Me-Not Gin using real forget-me-not flower petals.
The blueish-pink flowers are traditionally given as a gift by a loved one in the hope that the recipient will not forget the giver.
Delicate forget-me-not flowers combine with heather for a lightly floral nose. Fragrant coriander, anise and fennel dance over the palate, creating the signature Bombay character.
Lemon myrtle adds a soft sweet citrus reminiscent of sherbet lemon and retro icing-sugar coated travel sweets.
The gin is distilled and bottled at the award-winning Summerhall Distillery, where freshly dried forget-me-not petals, heather and lemon myrtle have been distilled together with eight of their signature Bombay botanicals.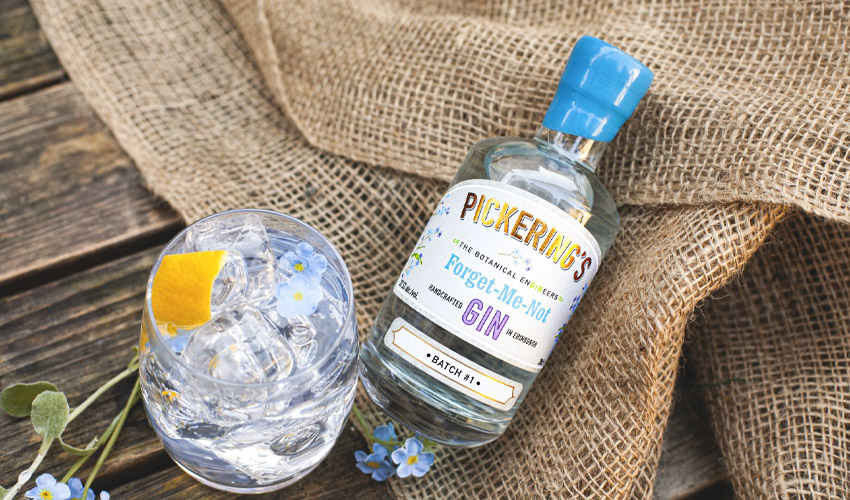 The result is a decadent citrus gin with subtle floral notes and an unmistakable Pickering's Gin finish.
Matt Gammell, Co-Founder and Head Distiller said: "This gin was a unique and interesting challenge trying to find that perfect balance of flavour and the natural blue hue.
"The addition of butterfly pea flower and forget me not petals has allowed us to achieve a pretty pastel blue gin using naturally derived botanicals that creates a subtly charming colour change."
For the perfect serve pair with Fever-Tree Indian tonic & a lemon twist or edible flower.
 A 200ml bottle of Forget-Me-Not Gin retails at £12.00 and has an ABV of 37.5%. Now available from the Pickering's Gin website.