Greensand Ridge Raspberry Ghost Gin captures the flavour of delicious Kentish raspberries at the peak of their aromatic ripeness.
Don't expect a sickly sweet and bright red assault on the tastebuds, it's a more subtle taste than the likes of a raspberry gin liqueur.
On the nose is a delicate raspberry aroma, more akin to an autumn raspberry on a misty morning than a bright summer berry.
The spirit really comes alive with the addition of some sweetness and sharpness so for a perfect serve pour over ice with Mediterranian Tonic and a slice of lemon. Fresh mint and raspberry to garnish is also delicious.
If you're looking for something a bit more fancy then the Greensand Ridge signature serve in their distillery is the Sour Ghost – a classic Sour cocktail made with the addition of Raspberry Ghost, replacing whisky.
If you can't make it to the distillery, here's how to make your own.
Raspberry Ghost Sour Recipe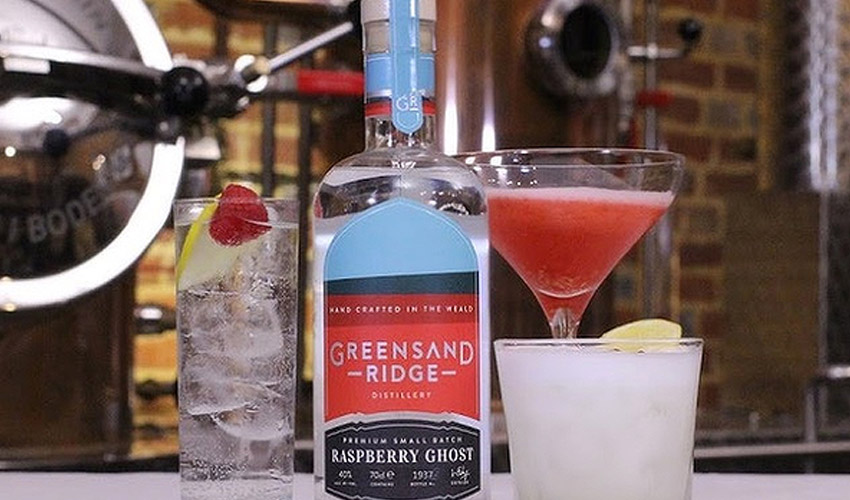 Ingredients:
40ml fresh lemon juice
20ml simple syrup
Mascharino cherry (or a raspberry) to garnish
Method:
Add all ingredients into a shaker with ice and shake.
Strain into a glass.
Garnish to serve.
Greensand Ridge Raspberry Ghost Gin (70cl) 40% ABV, is available to buy from the Gin Kin Shop priced at £39.