Gin cupcakes. Two words that might not necessarily make an immediate connection in your brain, but thanks to I Love Gin you now won't be able to unsee them as partners.
Cupcakes normally have an air of innocence about them but good old Mother's Ruin will see to it that these cupcakes are an adult-only creation – which means sharing options are limited…shame!
Silent Pool Gin is preferred due to the pear and elderflower in its botanicals which will highlight some of the key ingredients. But you can use your favourite gin just fine.
The temptation to go wild using gin in baking is strong but for now we'll stick to this delicious gin cupcakes recipe by Holly the Gintern from I Love Gin – it's easy to make and very very moreish upon completion.
Gin Cupcakes Recipe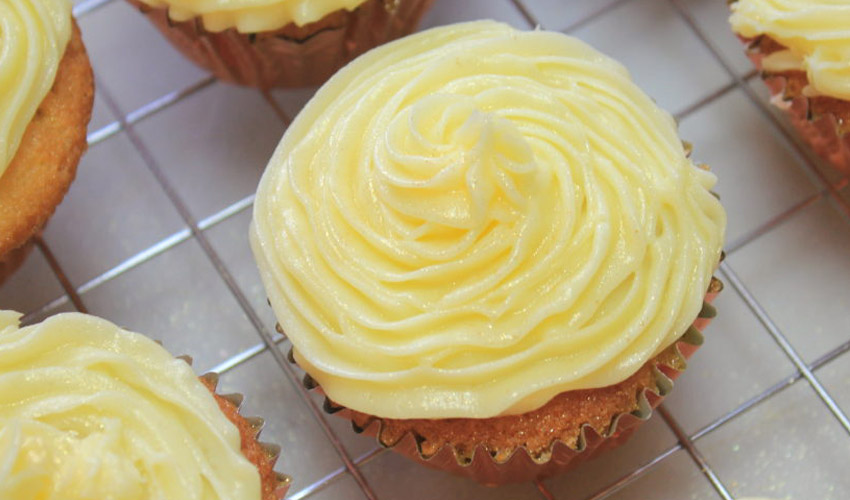 Ingredients:
3 medium free range eggs (whisked)
150g caster sugar
150g unsalted butter
150g self raising flour
1/2 tsp baking powder
1 tbsp elderflower cordial
1-2 pears, peeled and finely chopped
Squeeze of lemon juice
For the Gin Frosting:
25-50ml gin (Silent Pool Gin is recommended)
150g unsalted butter
300g icing sugar
Edible gold glitter to spray on top.
Method:
Preheat your oven to quite a low temperature, around 140 degrees and prepare a cupcake tin with 12 cupcake cases
Cream butter and sugar together and then add the eggs, flour and baking powder. Mix until pale and creamy.
Add 1 tbsp elderflower cordial and stir in to the mixture.
Place a teaspoon of the mix in the bottom of each cupcake case, then add a spoonful of chopped pears. Cover each one with the remaining cake mixture.
Bake in the oven for about 25 minutes or a skewer comes out clean.
Make the buttercream. Whisk the butter until soft and then slowly add the icing sugar until it's creamy and smooth.
Time to add the gin. Do it a bit at a time and taste as you go. If you like a lot of gin you may need a little more icing to thicken it up.
Once your cakes are cooked, cool completely before piping on the buttercream frosting.
Decorate how you like. Edible gold glitter looks fab.