Gin and tea are two of the nation's favourite drinks but most consider them to be very separate things. If you've never tried gin and tea cocktails you may have missed out!
And now Earl Grey Forest Gin has happened, making it even easier to get your gin and tea fix. The gin already contains an incredible blend of Earl Grey Tea by Cheshire blenders Quinteassential.
Earl Grey Forest Gin is produced by the Bond family from their award winning distillery in The Peak District National Park. They distil 85 bottles to a batch using key ingredients.
Some ingredients are foraged from the surrounding forest such as wild bilberries, raspberries and blackberries. You'll also find Peak District moss and ferns and a sprinkling of wild flowers spruce and pine.
These freshly ground ingredients are then distilled just once in our tiny 30 litre pot still, before the addition of Earl Grey Tea, along with natural spring water from the ground beneath the distillery.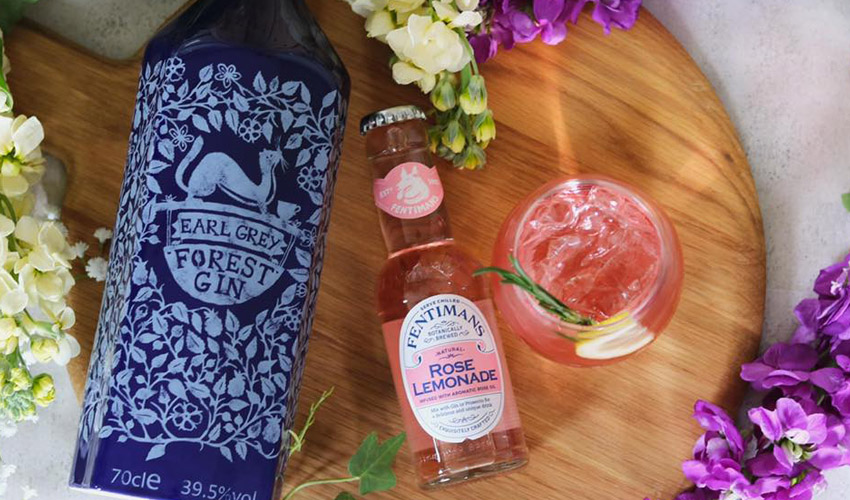 The resulting spirit retains all of the herbal, earthy flavours of Forest Gin, whilst the addition of the Earl Grey Tea blend adds sumptuous, delicate notes from oolong, cornflowers and Sicilian bergamot.
Forest Gin distillery recommend serving an Earl Grey Forest gin in a crystal highball glass filled 3/4 full with ice. Then add a good measure of gin garnished with a whole wheel of lemon. Lastly, fill the glass with a good ginger ale and enjoy!
Of course there are an infinite amount of ways to drink a G&T including the delicious combo pictured above of Rose Lemonade and a rosemary and lemon garnish.
You can visit the Forest Gin Distillery and engage in a gin foraging walk with them before using your own botanicals to make your own gin.
Earl Grey Forest Gin (70cl) 39.5% ABV, is available to buy from the Gin Kin Shop priced at £55.