The Old Poison Distillery, based in Edinburgh, have been hard at work creating something new and innovative.
Normally producing quality gins such as Selkie London Dry and Selkie Gold Pink Gin, this time they've ditched the juniper berries in favour of elderberries.
Artisanal small batch handcrafted, Vesuvius is 'Elder' not gin, made with Scottish elderberries, lemon peel from Sorrento, basil, thyme, rosemary, sweet almond, long pepper and wormwood.
It's distilled in Edinburgh with 100% neutral grain spirit and contains only premium botanicals that have been carefully selected and sourced.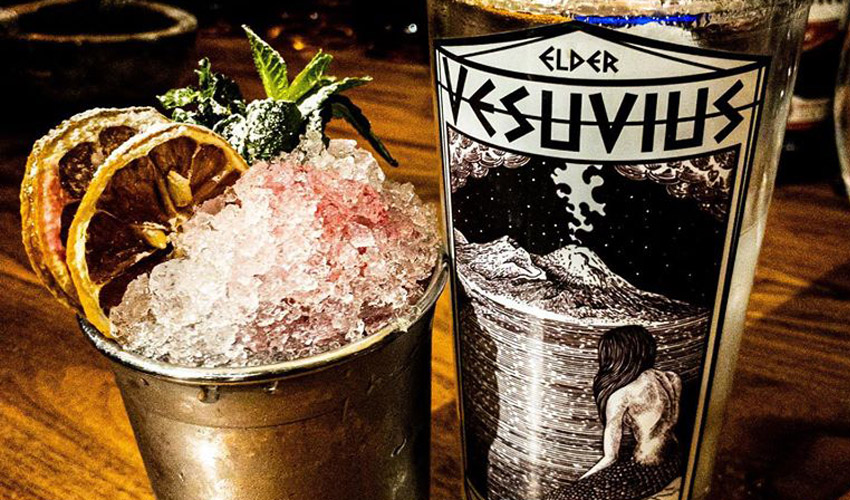 Old Poison Distillery recommend a perfect serve simply with elderflower tonic and garnished with lemon peel and a sprig of rosemary.
But if you fancy getting a bit more cocktail barista about it you could try and make the Old Posion Distillery creation 'Eruption'.
Put 50ml of Vesuvius Elder into a glass (or a fancy bucket as shown above if you have it), 25ml elderflower cordial, top up with elderflower tonic add crushed ice and a dash of blackcurrant cordial and fresh lemon juice and garnish with fresh mint leaves.
Vesuvius Elder (50cl) 40% ABV, is available to buy from The Gin Kin Shop priced at £29.95.