The Simmer Dim is the extraordinary scene in the Shetland summer where the sun seems to hover just above the horizon, 'simmering' most of the night.
On a clear day in summer Shetland can experience 19 hours of daylight and it's this magical scene of the Simmer Dim that inspired Simmer Gin.
The long summer days and lasting amber skies at sunset influence the gorgeous bottle design and the eight botanicals in the recipe including orange peel and liquorice root.
At a hefty 49% ABV it seems like the strong summer sun has also influenced the strength of the alcohol content too!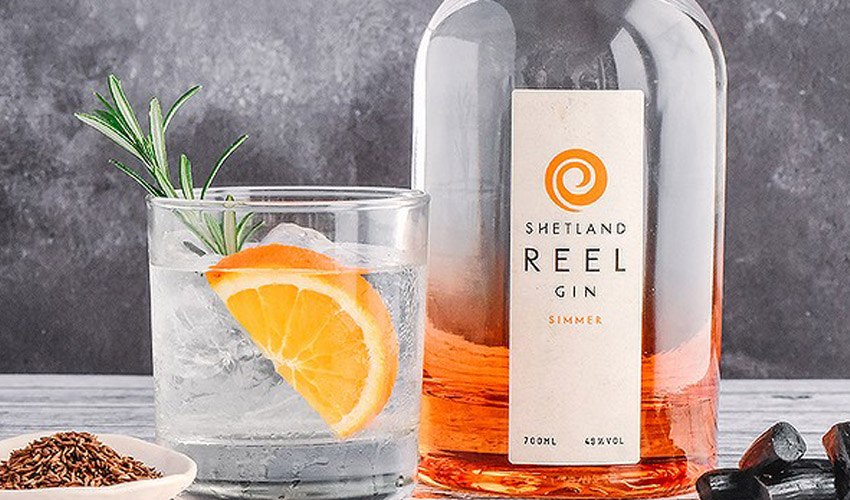 Shetland Reel recommend a perfect serve of 50ml Simmer Gin, Fever-Tree Original Tonic Water, a slice of orange, a sprig of rosemary, served in a rocks glass with plenty of ice.
If you fancy being a little more adventurous you could try the Simmer Dim Sour. To make this you'll need 35ml Shetland Reel Simmer Gin, 10ml Orange and Honey Syrup, 15ml Fresh Lemon Juice, Egg White and 10ml Blood Orange.
Shake the ingredients in a shaker and dry shake until egg has combine with the rest of the drink. Add ice and shake to chill and dilute. Double strain into chilled coup and garnish with dried orange slice.
Shetland Reel Simmer Gin (70cl) 49% ABV, is available to buy from The Gin Kin Shop priced at £36.