Loch Ness Legends Gin is a classic London Dry style gin; a crisp juniper led spirit, with an added creamy taste from locally-foraged hawthorn berries.
Loch Ness Spirits distill their gin on the banks of Loch Ness and blend with pure Loch Ness water before hand-bottling and labelling on site too.
As of yet, no sightings of Nessie have interrupted the distillation process.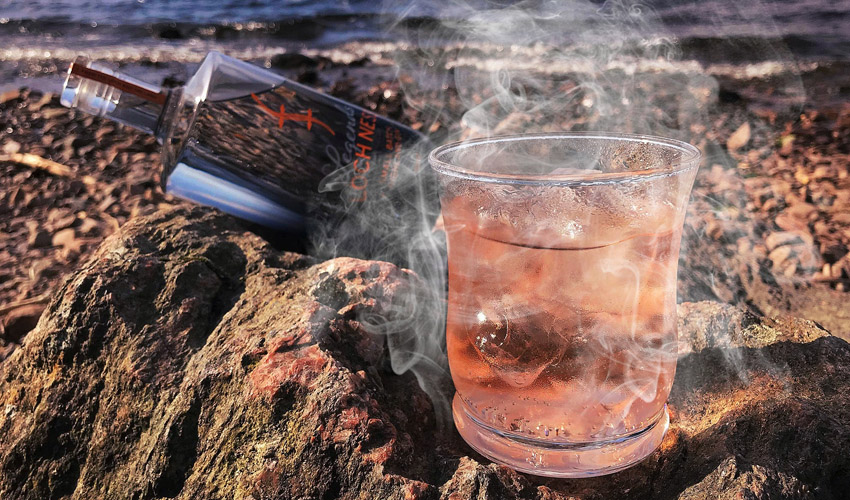 Loch Ness Spirits suggest a perfect serve paired with tonic water and a passion fruit garnish.
To make a cocktail with the gin how about trying the Storm Ness (pictured above).
You'll need 30ml Loch Ness Legends Gin, 20ml black raspberry liqueur, 20ml rhubarb syrup, 5 dashes of Loch Ness Bitters, orange oils and Fever-Tree Ginger Ale to top up.
Combine the gin, liqueur, syrup and bitters in a shaker. Shake and strain into a rocks glass over ice. Top up with Ginger Ale. Finish the drink with a spray of orange oil from a peel. Smoke the cocktail using a smoke gun (if you don't have a smoke gun you can use Fever-Tree Smoky Ginger Ale).
Loch Ness Legends Gin (70cl) 43.3% ABV, is available to buy from the Gin Kin Shop priced at £40.