These are unprecedented times for most people alive today and a lot of us will be experiencing anxiety and worry. Even if it's just for a few hours, it could be a good idea to take our minds off of events and fight off cabin fever for those stuck indoors.
That's why, here at the Gin Kin, we've decided to collate some of our favourite gin-related activivities. Of course you can simply drink gin but there is so much more fun to be had with it, and a good chance to get creative.
Whether you are self-isolating on your own, with family or with friends these gin-inspired activities will help pass the time until normal service is resumed.
Gin Bottle Crafts
Bottle Lamps
DIY projects could be a big favourite when stuck at home. Things all over the house that have been needing fixed will finally get their chance. That's the practical side, but how about the creative side?
If you're looking to upgrade your home décor, regenerate your gin bottle into a classy table lamp.
This one can be tricky to achieve and if you're starting from scratch, however. Here's a great YouTube tutorial that is a good starting point:
If that seems like a bit above your level of expertise then you can search for gin bottle conversion kits that are a little easier to create.
Soap Dispensers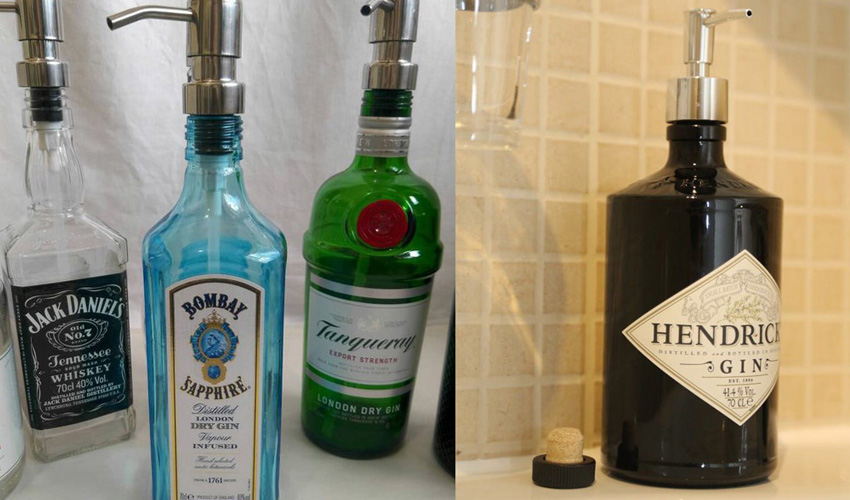 This idea assumes that you can actually get your hands on some handwash soap! Since the focus is on washing our hands even more than normal why not make it more of a fun experience?
Starting with a medium-size empty gin bottle, make sure the bottle is completely clean inside and measure the neck width.
All you need then is a soap pump (there are plenty on Amazon – just make sure you get the right size), screw it on and fill the bottle with your favourite liquid soap. Your sink never looked this good!
Candle Holders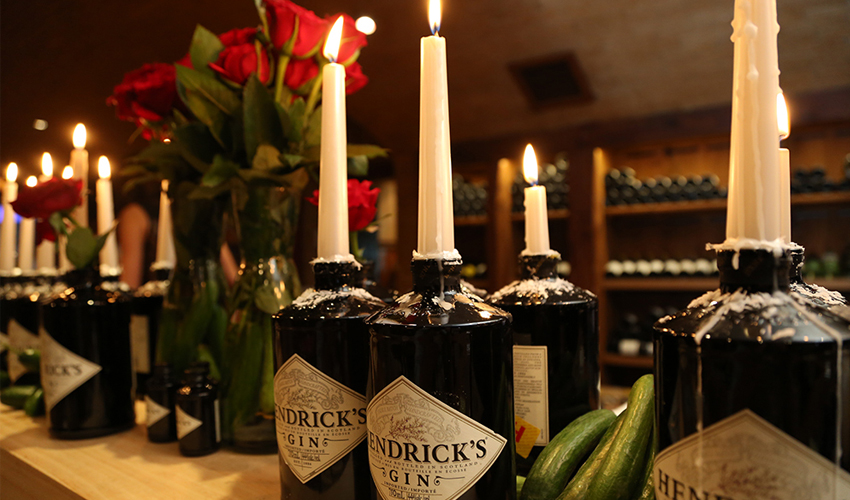 Spending so much time indoors means the ambience has to be just right. A nice environment creates a more relaxed mind.
Gin bottles can make for unique candle holders, whether you're planning a candlelit dinner or are just looking for some mood lighting.
Just measure the neck size and find some budget candles to fit snugly in the bottle. If used for a while, the wax drip can also give a nice rustic effect, particularly if you vary the colours of the candles.
Be sure to put the bottle on a coaster to save any tablecloths!
The Best Gin Books to Read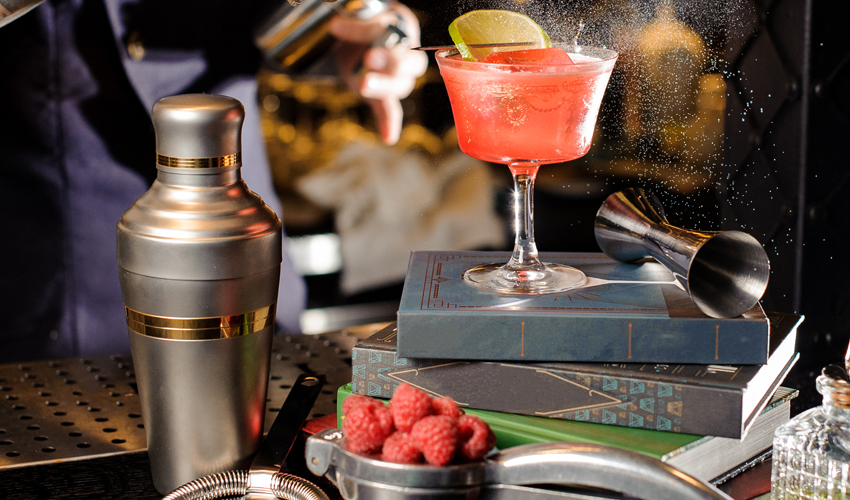 Reading books has become a bit of a lost art these days with so many people leading busy lives and having so many distractions in the form of phones, social media and TV.
With more time on your hands, how about rediscovering the written word and what better subject to read about than, you guessed it – gin!
Sipsmith's Sip: 100 gin cocktails with only three ingredients is a great way to introduce yourself to the art of cocktail making – and you won't need a pantry full of ingredients to get started.
Gin: An Illustrated History is informative and entertaining if you are curious about the fascinating history of how gin got to where it is today.
If you're a bit of a gin bucket list type of person then 101 Gins to Try Before You Die could be a bit of forward planning that's right up your street.
Make Your Own Gin Bar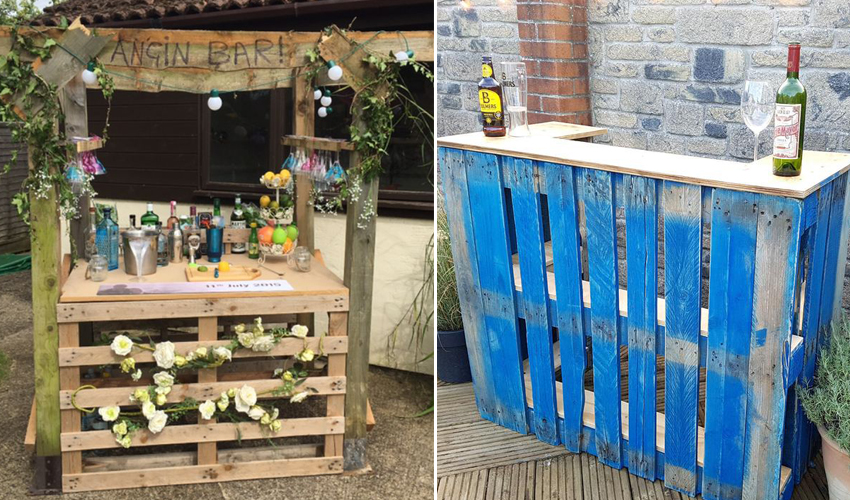 Dreams of summer have rarely been stronger so if you like your DIY then get planning for summer sipping in the garden.
You don't need Homes Under The Hammer level of DIY skills to knock up a fabulous shabby chic home made gin bar. And doing it this way can cost next to nothing.
Upcycling and stacking wooden packing crates can act as the main body of the bar. On top, securing a plank of wood will become a rustic-looking bar surface.
Adorning with bunting, flowers and twinkling fairy lights can all elevate the cuteness factor and make it look extra special at night time.
Perfect Your G&T Making Skills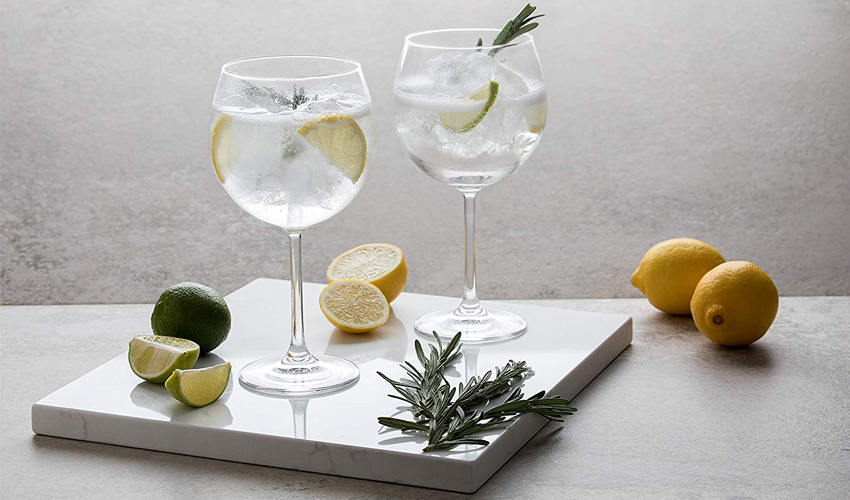 OK so you can make a G&T, but can you make the perfect G&T? Now's the time to perfect skills that will last a lifetime. Experiment with different measurements, tonics and garnishes until you've got it nailed down.
Our guide to making the ultimate G&T has some fantastic pointers, including glasses, garnishes and measurements but here's a good starting point:
Ingredients:
50ml London Dry style gin
150ml premium tonic water
Ice
Lime wedges or lemon slices to garnish
Method:
Prepare a chilled Copa glass (place in the freezer for 20 mins prior to serving).
Add plenty of ice (pour out any excess water from the glass).
Add the gin.
Pour over the tonic and stir well.
Add the garnish.
Gin Games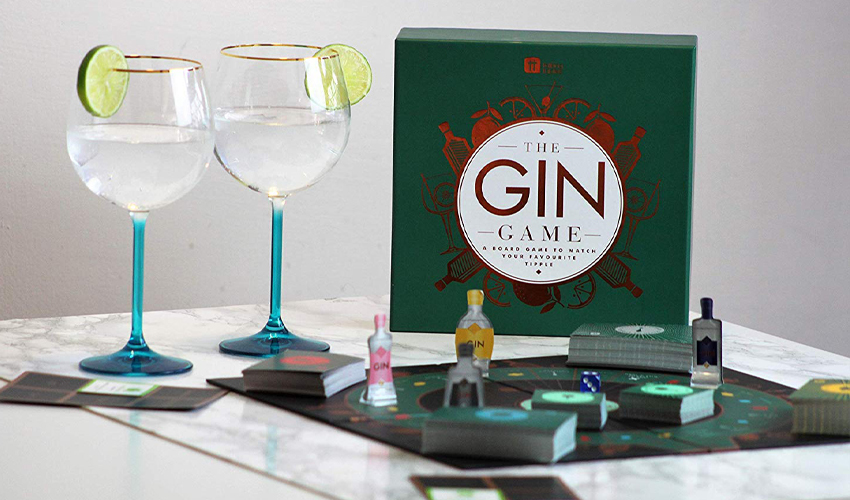 The best gin board game on the market is The Gin Game. It's a game of chance and twists that will test your gin knowledge. Work your way around the board by answering Mixology cards, Gin-ius cards and History cards.
Despite it being a gin-themed game the official rules don't call for any actual gin consumption but it should be possible to add some extra rules which change the experience into a drinking game style scenario if that appeals.
You can order The Gin Game from Amazon for around £15.
Make Your Own Sweetie Shop Gin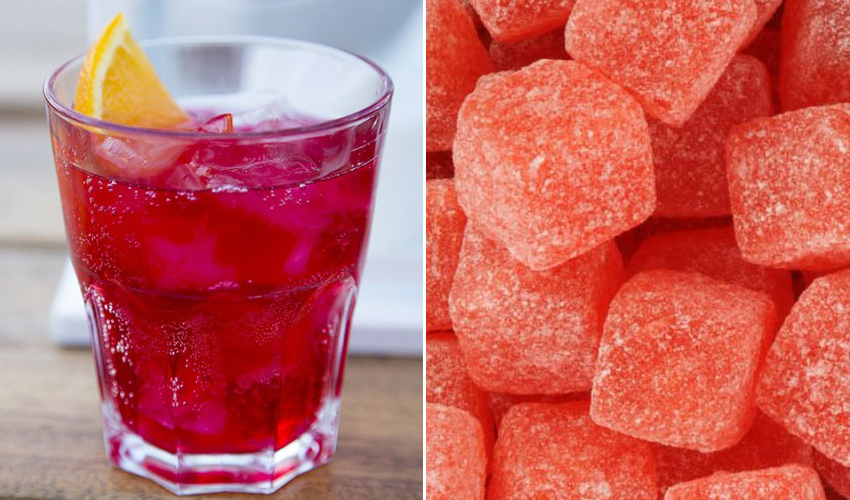 There's no distillation involved in flavouring your gin with sweet shop classics. Here's a recipe for Cola Cube Gin but you could also try Rhubarb & Custard Gin or Skittles Gin if they are more to your liking.
Cola Cube Gin Recipe
Ingredients:
70cl gin (a basic London Dry is fine)
200g cola cube sweets
Method:
Crush the cola cube sweets
Add the sweets and gin into a Kilner jar.
Leave sealed in a cupboard for 6-7 days until the crushed sweets have dissolved. Shake well daily.
Strain to serve.
Make Your Own Pink Gin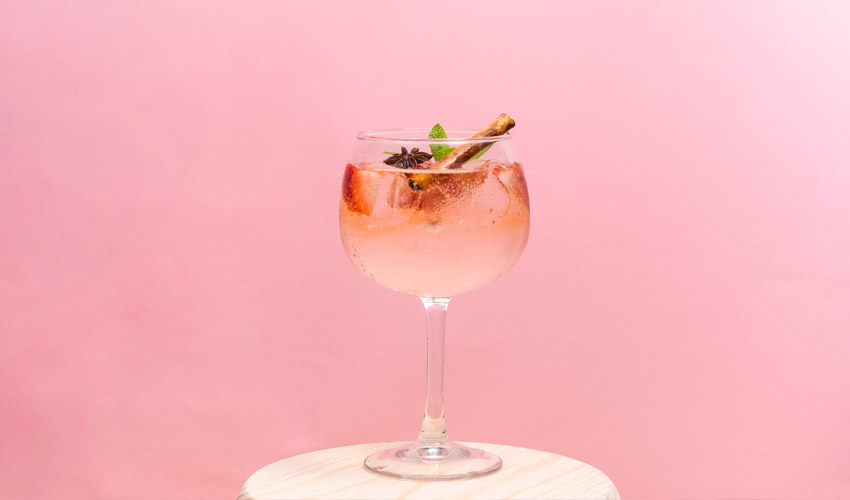 If you've ever wondered how to make pink gin at home then the good news is it's not at all difficult.
We're not talking about distillation from scratch here, instead how to get that wonderful pink colour and fruity taste by making a few adjustments to the gin you already have.
Here's a strawberry pin gin recipe but you can also make it easily make pink gin with raspberries too.
Strawberry Pink Gin
Ingredients:
450g strawberries
150g caster sugar
700ml gin
Method:
Roughly crush the strawberries with a fork or potato masher. Spoon them into a storage jar and add the caster sugar and gin. Give it a little shake.
Leave the jar at room temperature for three days, giving it a gentle shake twice a day so that the sugar dissolves.
Strain the mixture then decant into your chosen bottle. Seal well with a screw topped lid, cork or clip top.
Prepare Your Summer Ice Cubes
It's never too early to start dreaming of summer and when something can keep as long as ice cubes it's time to get creating some frozen delights.
Gin is becoming ever more varied and flamboyant so why not keep the inventive trend going by trying some of these easy to make frozen gin garnishes?
Floral Ice Cubes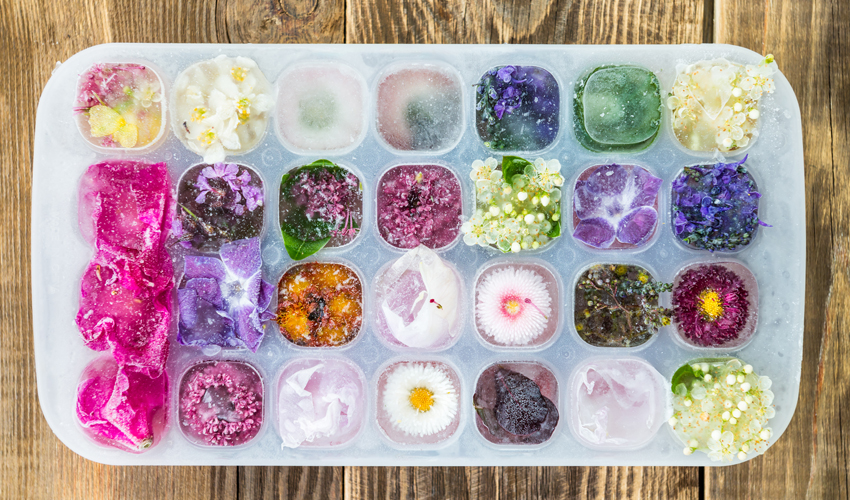 Frozen flower ice cubes can add an extra special touch to a fancy cocktail or simply to make a G&T that bit more pretty. Each cube you make will be uniquely beautiful as they will all freeze in different shapes.
Make sure that the flowers you freeze are edible. Blooms such as orchids, nasturtiums, pansies, and snapdragons have been grown to be eaten.
Popular garden varieties such as roses, violets, daisies and even dandelions are all usable too.
Mojito Ice Cubes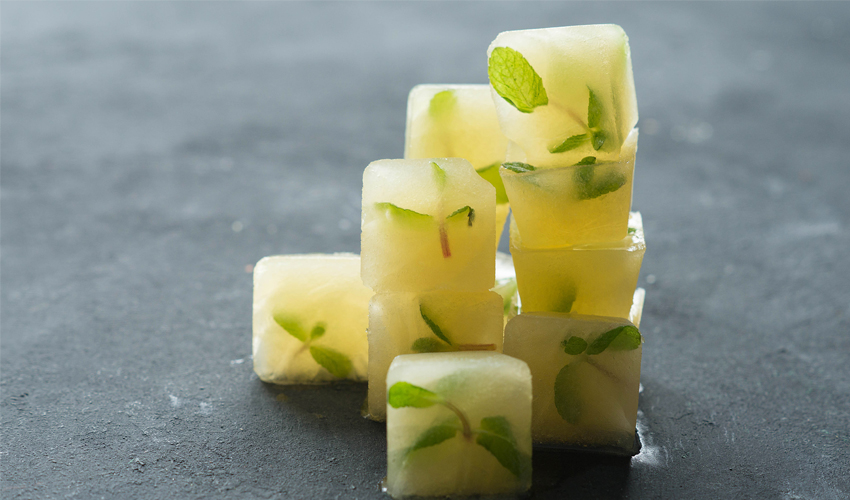 A cocktail in an ice cube? That will do very nicely for summer indeed. To make these all you need is freshly squeezed lime juice, sugar and mint leaves.
Add about half a cup of sugar to every cup of lime juice and simply pour into an ice cube tray, adding mint leaves on top.
Try adding these to the perfect Gin Mojito or as a perfect sweet balance to a delicious strawberry gin.