Made from a 350 year-old gin recipe belonging to a king, 1689 Gin, with its beautiful bottle design and top quality taste, is still fit for royalty today.
If you would like to win a bottle for yourself, head over to our Competitions Page until 31 March 2020.
A Little Bit of Background
Rarely have I come across a backstory for a gin that is so authentically traditional. When William of Orange sailed to Britain in the so-called Glorious Revolution of 1688-89 he chased away the British king and introduced gin to Britain.
Jenever was a dutch spirit made from juniper berries citrus and spices, brought over from Holland by the invading king. The British public quickly took a liking to the new spirit and it became known as gin.
Fast forward 350 years and Amsterdam Craft Gin Company founder Alexander Janssens found the original recipe, which was made in King William's honour, after searching for two years in the archives of the British library.
With help from Master Distiller Herman Jansen, they developed and revived the centuries-old recipe that stormed British society in 1689.
Botanicals
The botanicals in the gin are exactly as they were 350 years ago:
Juniper Berries
Quince
Pippin (apple)
Lemon peel
Orange peel
Nutmeg
Anniseed
Cloves
The Bottle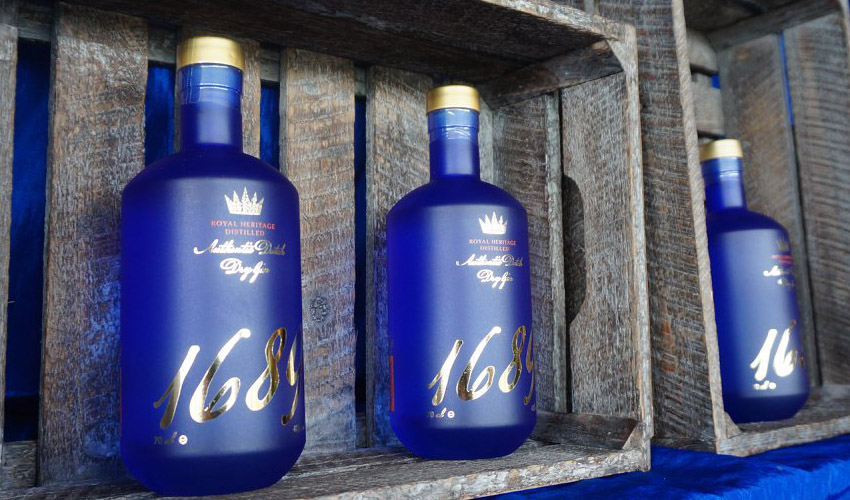 This is one of the most striking and beautiful gin bottles I've had the pleasure to pour from. The brilliant blue is matched in splendour by the regal gold lettering.
On the back of the bottle is the original recipe reprinted in all it's 350 year-old glory.
The Gin
On the Nose
An inviting fruityness pleasantly overwhelms the initial nose before sweet spices stake their claim to have a starring role. Juniper and aniseed are there only as supporting actors; it's the inviting citrus and spices that take the plaudits on first impressions.
Straight
The juniper and aniseed step forward from the shadows when tasting neat. There's a litle tang from the apple that makes it very palatable to sip neat over ice.
With Mixer
I tried 1689 gin with Fever-Tree Mediterranean Tonic Water and a slice of lemon to garnish – and what a delicious combo.
The garnish brings out the sharp citrus botanicals and the sweetness of the tonic water replaces any bitterness with a blanket of balanced fruityness.
As part of a G&T the gin is so smooth and goes down very easily – quite a treat!
The Perfect Serve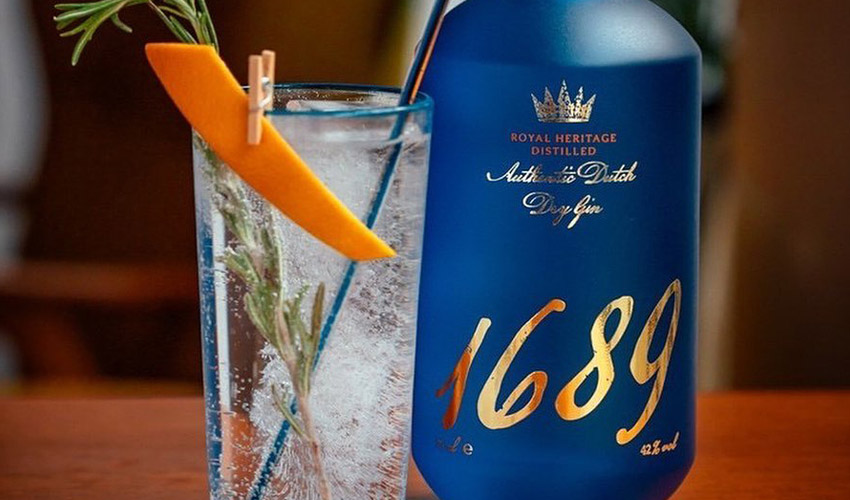 Try a premium light mixer with a sprig of rosemary and citrus peel garnish. Keep it simple so as to enjoy the old recipe as it should be drunk.
Lasting Impressions
Gin 1689 has the authentic backstory, the bold blue regal bottle and the taste of pure quality. This is a premium product that every history buff will love and every serious gin drinker should try.