Tiger Gin is distilled and bottled in the UK but it's truly a worldwide product with only the finest botanicals and spices, carefully chosen and sourced each year from the best harvests from around the world.
Challenged by a multi-billion pound global business, who claimed copyright infrigement on the brand name, Tiger Gin eventually won a long, drawn-out court case and so, lucky for us, we get to drink Tiger Gin today.
Ruby Tiger Gin is the brand's pink gin expression, containing British rhubarb for a sweet taste.
The botanicals list reads like a round-the-world trip with ingredients from every corner of the globe.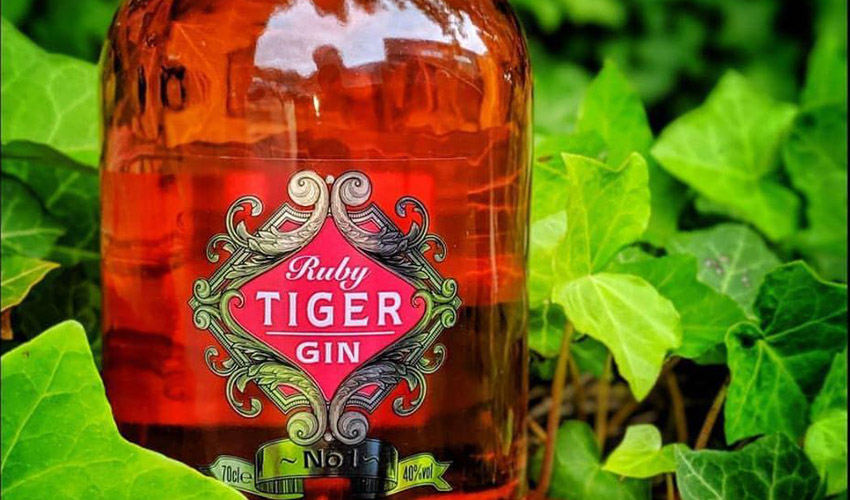 The juniper berries are sourced from the Balkans, coriander seeds from Eastern Europe, angelica root from France or Belgium, dried sweet lemon peels from Spain, cassia bark from China, ground nutmeg from the West Indies and cinnamon bark from Madagascar – amongst others.
Phew – truly a global effort! There are also two secret ingredients that the makers won't reveal so it's anyone's guess as to what they are or where they come from.
The distillers suggest a perfect serve of Ruby Tiger Gin over ice, paired with Fentimans Rose Lemonade with berries to garnish for a properly pink and fizzy treat.
Ruby Tiger Gin (70cl) 40% ABV, is available to buy from the Gin Kin Shop, priced at £32.