There's nothing quite like a boozy bake to while away the hours, and this one comes with a special twist of spring. Created by florist, flower grower, baker and blogger Hollie Berries for Scottish gin lovelies Gordon Castle Gin, these floral gin cupcakes are perfect for creating that spot of magic in your kitchen.
The subtle notes of lavender in the gin work just so wonderfully well with cake, and you can always enjoy a Gordon Castle G&T or luscious lavender and plum cocktail on the side.
How to Make Botanical Gin Cupcakes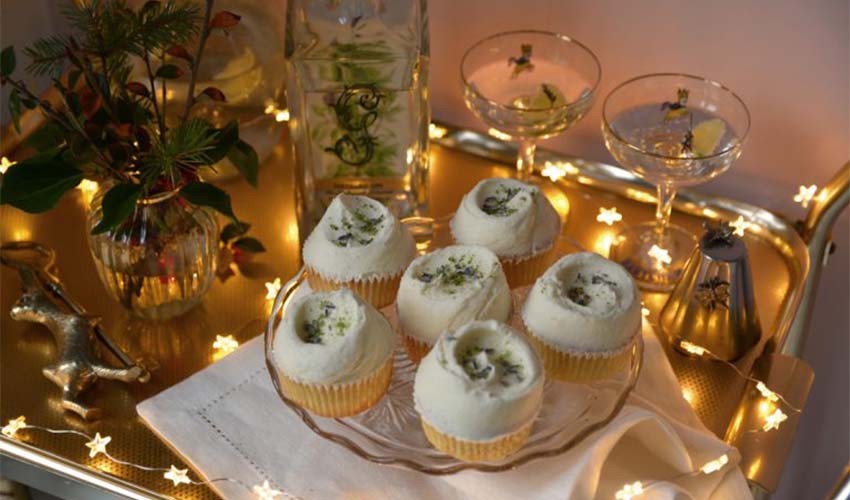 Recipe by Hollie Berries for Gordon Castle Gin.
Ingredients
310g caster sugar
240g plain flour
80g unsalted butter, softened
1 tablespoon baking powder
200ml milk
2 large eggs
half a teaspoon of vanilla extract
100ml Gordon Castle Gin
1 lime, zest grated and juiced
For the Frosting
500g icing sugar
160g unsalted butter
4 teaspoons Gordon Castle Gin
4 teaspoons milk
1 teaspoon lime juice
1 teaspoon lime zest
1 teaspoon dried lavender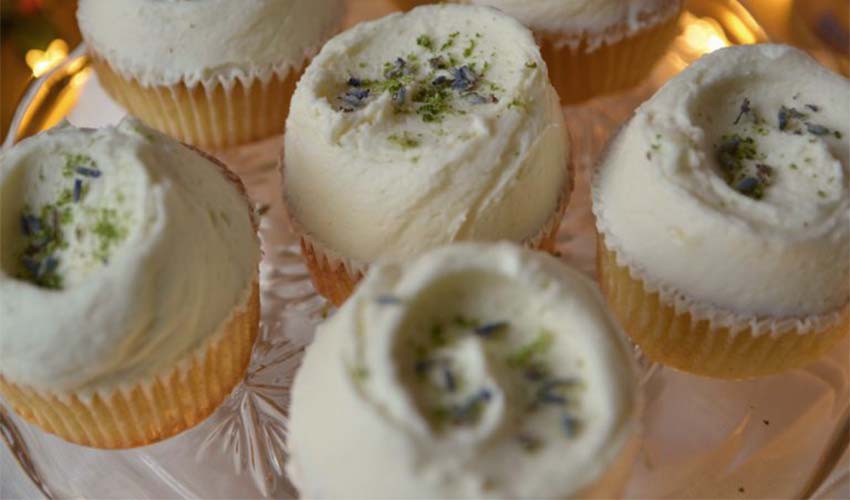 Method
 Preheat the oven to 180 degrees and line a muffin tin with paper cases. Place 30g of the sugar and 100ml of gin in a saucepan and bring to the boil. Let simmer for around 5 mins then remove from the heat and set aside. In a freestanding electric mixer or with a whisk mix together the remaining sugar, butter, flour, baking powder and half of the lime zest until the mixture resembles fine breadcrumbs.
In a jug beat together the milk, eggs and vanilla. Slowly pour into the mixture whilst on a slow speed until everything is combined, then increase to medium speed until the mixture is smooth. Spoon the cake mixture into the cases, filling each about a third, then bake for 20mins until the tops are golden and springy.
Remove the cakes from the oven and whilst they are still warm carefully pour a teaspoonful of the gin and sugar syrup mixture over the top of each cupcake for it to soak into the sponge. Set aside to cool.
To make the frosting, mix together the icing sugar and butter until they reach a crumby consistency. Mix the milk and gin together with a teaspoon of fresh lime juice then slowly add into the icing mixture until smooth and fully incorporated.
Place a spoonful of icing onto each  cupcake then swirl the frosting with a large pallet knife to ice. Complete with a sprinkling of the remaining lime zest and some dried lavender to decorate your botanical gin cupcakes. Wash down with a fresh Gordon Castle gin and lemonade garnished with a slice of lime and a sprig of dried lavender.