Thunderflower Gin is an earthy, spicy, juniper-led hidden gem of a gin that needs to be tasted and discovered. 
If you would like to win a bottle for yourself, head over to our Competitions Page until 7 April 2020.
A Little Bit of Background
Distilled in the Devon coastal town of Teignmouth, Thunderflower Gin is a passion project created by Dominic and Anicca O'Nions. After a year of experimentation and development in 2016, the recipe for an unamed London Dry Gin was born.
In January 2018 after attending another gin festival that didn't feature any local gins, Dominic and Anicca decided to press on with their plans and get some opinions on their creation.
The name was chosen from a local legend and after some positive reviews Thunderflower Gin was officially launched. Today Thunderflower gin is made in very small batches of just 100 signed bottles.
Botanicals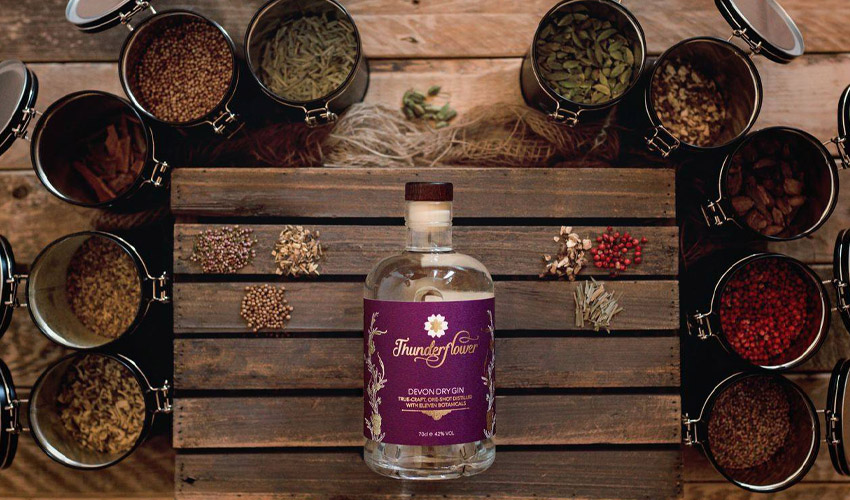 Rather than boil the botanicals, the Thunderflower team only use delicate vapour infusion to extract the flavour of the botanicals. This results in a smoother spirit and preserves the delicate flavours.
The botanicals included in the gin are:
Macedonian juniper
English coriander
Green cardamom
Pink peppercorns
Liquorice
Angelica Root
Elderflower
Sage
Cassia bark
Heather
The Bottle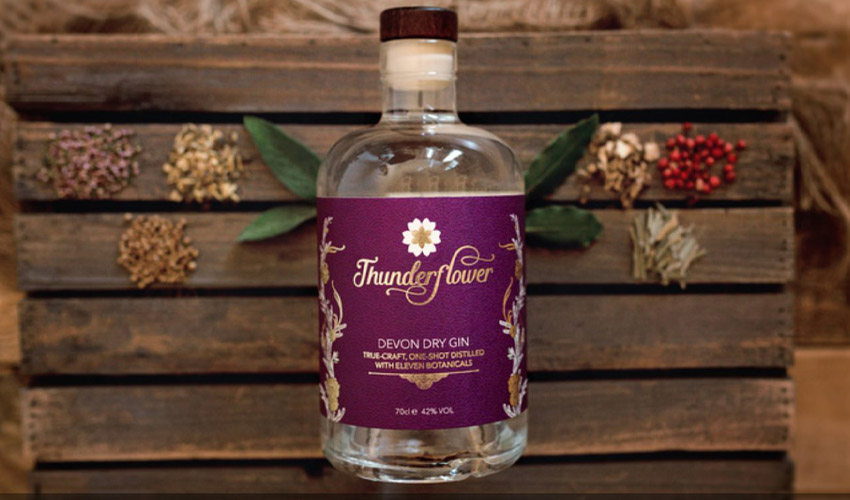 The clear glass bottle is adorned with a very pretty and almost regal-looking label. It's one of the more elegant and inviting gin bottles on the market for sure.
The gin's emblem, the thunderflower – according to Devon legend said to ward off witchcraft and lightning wherever it grows – acts as a lucky charm, positioned above the classy gold lettering.
The Gin
On the Nose
Because of the name, emblem and story behind it I was expecting to smell an English meadow upon popping the cork but no, the spice kicks through, fighting with the juniper for dominance but settling for a score draw.
Straight
Tasted neat the gin was a delight. A tang here, a kick there; lots going on to keep me interested. Whilst certainly being juniper-lead, earthy notes and smoky spices permeate through the palate.
With Mixer
I tried the gin with two combinations which brought out very different results. With Mediterranean tonic the spices remained and reformed, reappearing at the finish rather than straight off the bat.
I chose not to garnish to keep those gorgeous savoury, dry earthy tones as realistic as possible.
I also sampled it with a lemon tonic water and a lemon slice garnish, which deliciously simplified the complexity and added a bit of zest that complimented and balanced the now-dulled spices nicely.
Either way I chose to drink the gin it was somehow complex yet smooth and dry; easy to sip and savour, yet with the botanicals seemingly dancing around my tongue and palate competing for attention.
The Perfect Serve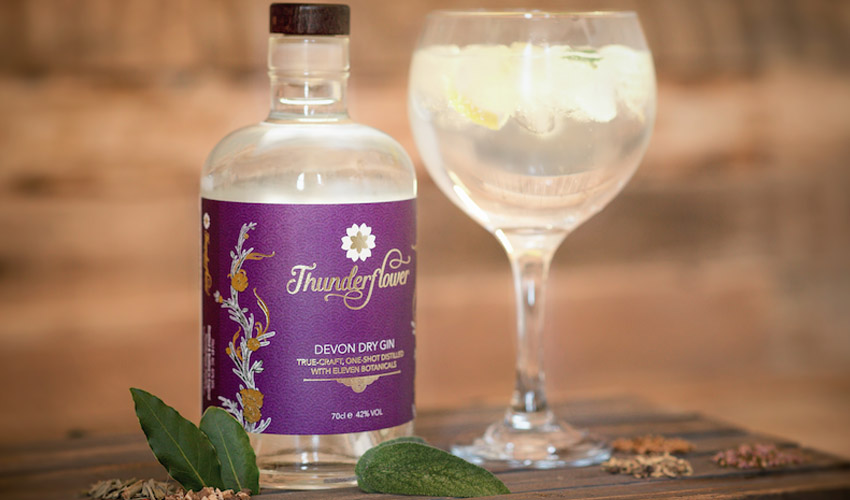 The makers suggest a perfect serve of 40ml Thunderflower Gin, 100ml premium plain tonic, a slice of lemon and lots of ice.
Lasting Impressions
If you're a London Dry fan, you're going to love this. It's juniper-led, with elements of spice just like a good London Dry should be – but it's much more than that.
There's so much going on here and yet it doesn't overpower the senses. This suggests a level of attention to detail and patient recipe development that is at the top tier of the gin tree.
It's an all-round fantastic product that gin fans are going to want to try – if only for the satisfaction when you recommend it to a friend who loves it too.
Thunderflower Gin (70cl) 42% ABV, is available to buy from the Gin Kin Shop, priced at £38.