Now, more than ever, it's never been more important to support local, small distilleries. Here, we spotlight one of the UK's smallest distilleries behind Devon-based Thunderflower Gin, and hope you join in with us by pouring your favourite serve at home.  
Launched in 2018, the award-winning Thunderflower is truly a small-batch gin to cherish. Lovingly crafted with only 100 bottles at a time in production, the gin is based on an old legend about tiny white flowers that grow on thatched cottage roofs.
"We came up with the name Thunderflower whilst doing research for local gin botanicals," Managing Director Annica O'Nien explains.
"We came across an old Dartmoor legend that the little white stonecrop flowers that sometimes grew on thatched cottage roofs could ward off both lightning and witchcraft and we thought these were fine qualities for a drink to possess. Thus Thunderflower was born."
---
The Perfect G&T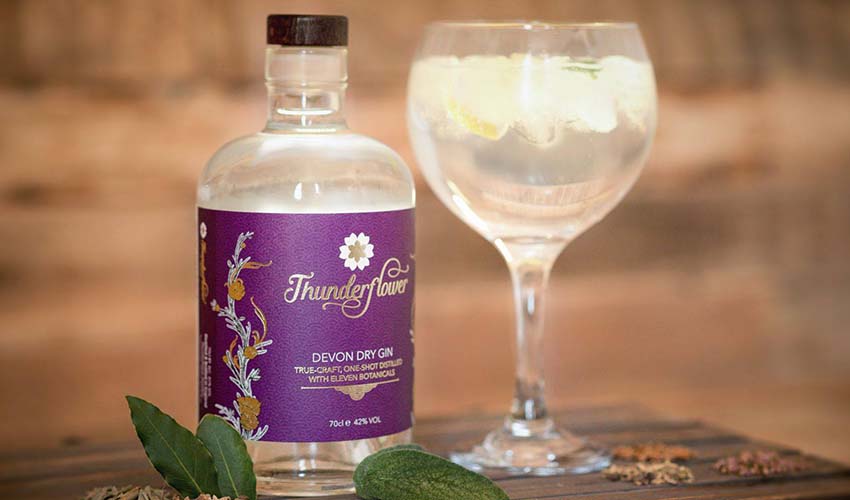 For the perfect G&T: Pour 40ml Thunderflower Gin and 100ml premium plain tonic into a generous gin glass. Add plenty of ice and garnish with a slice of lemon.
---
A passion project created by Dominic & Anicca O'Nions, the London Dry finds juniper in balance with spice and earth notes, with a 42% ABV.
After a year of experimentation and development, the recipe for an unnamed London Dry gin was born – designed to meet the distiller's taste for a full-bodied and spicy London Dry gin that would hold its own against any tonic water.
The gin is made at the Thunderflower Distillery in Teignmouth, Devon, using a traditional 'one-shot' pot-still distillation run, with botanical flavours extracted by vapour infusion only.
The 11 botanicals in total include juniper, coriander, green cardamom, black cardamom, pink peppercorns, liquorice, angelica, elderflower, sage, cassia and heather.
Finally, Dartmoor spring water is added to the final spirit.
---
Bramble Thunder Cocktail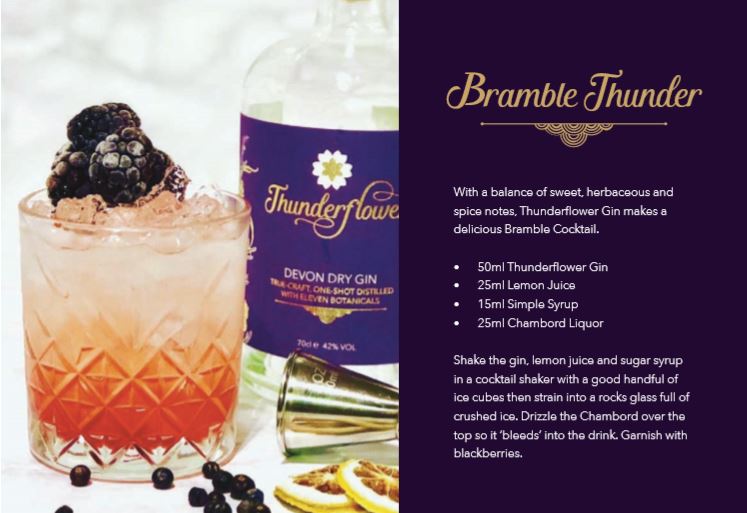 Create the perfect Gin Bramble:  Simply add 50ml Thunderflower Gin, 25ml lemon juice, 15ml simple syrup, and 25ml of Chambord Liquor and follow the method above.
---
What makes Thunderflower gin truly special, however, is not just its complex flavour profile nor simply its quality distillation methods, but its local, community spirit.
Although 100 bottles are made, in fact Dominic & Anicca keep one bottle for themselves to enjoy and share 99 with the world.
Be sure to grab your very own slice of local gin magic!