Now, more than ever, it's crucially important to support local, small distilleries. Here, we spotlight Henley-on-Thames-based Mr Hobbs Gin, and hope you join in with us by pouring your favourite serve at home. 
Hobbs of Henley is a business that is celebrating its 150th anniversary this year, but gin is only a recent addition to the business' portfolio.
Boasting the largest hire fleet on the River Thames, Hobbs of Henley owns over 60 boats which range from rowing boats to luxury passenger vessels. So with all this success, why turn to gin?
Archive records suggested that business founder, Mr Harry Hobbs, had been distilling his own gin back in the day and this inspired the present directors of Hobbs of Henley, Jonnie and Suzy Hobbs, to follow in his footsteps.
Mr Hobbs Gin – today's incarnation – is distilled in batches of no more than 200 to maintain its high quality and refreshing properties.
---
The Perfect G&T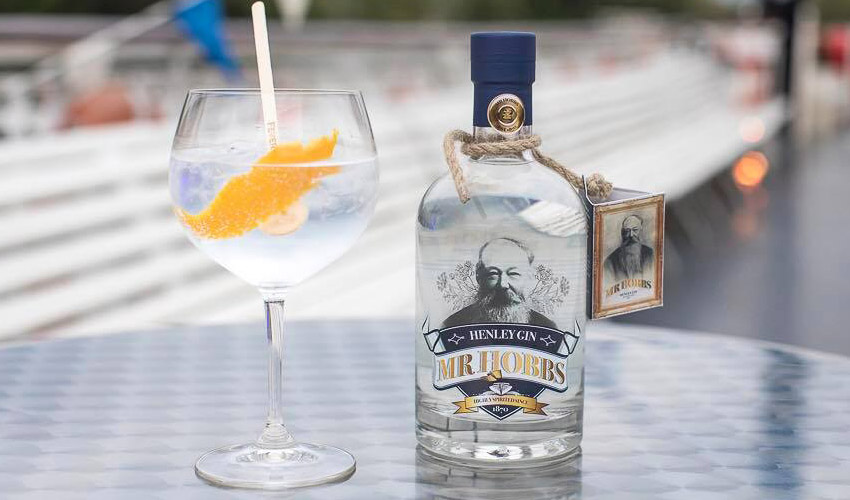 For the perfect G&T: Pour 50ml Mr Hobbs Henley Gin over plenty of good quality ice, pair it with a premium Mediterranean tonic water and finish with a curl of orange peel to garnish.
---
Sustainability is Key
For the Mr Hobbs Gin team, sustainability is a very important part of how they want their business to run, and indeed how they would like to the drinks industry as a whole operate.
As suppliers for drinks events and tastings they have moved away from all single use plastic, opting rather for recyclable material.
Mr Hobbs Gin bottles are made from glass and 100% recyclable. For deliveries, plastic bubble wrap is no longer used; instead a more eco-friendly and recyclable brown paper keeps the bottles securely packaged.
If you want to be a little kinder on the environment as well as your bank balance, Mr Hobbs Gin offers a gin refill service. If you bring your empty bottle down to Hobbs of Henley Ltd Boatyard (Mon-Fri 9am-5pm) they will refill it for £31 (RRP £36).
---
From Grace to Flourish Cocktail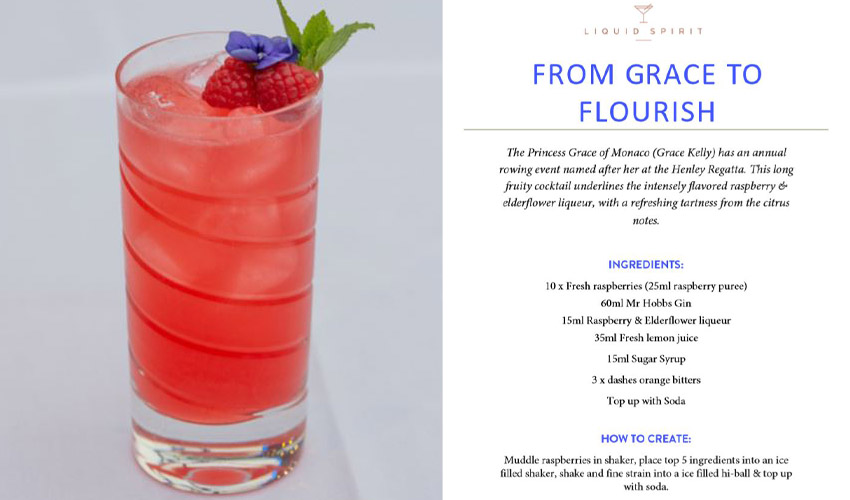 Create the Grace to Flourish Cocktail: Muddle 10 fresh raspberries in a shaker and place the top 5 ingredients (pictured above) into an ice filled shaker. Then fine strain into an ice-filled highball glass and top up with soda.
---
Gin Tasting Cruise
If you fancy combining the prestige of the Hobbs of Henley family business with the delicious taste of Mr Hobbs Gin then you're in luck.
You can set sail on a Mr Hobbs Gin Tasting Cruise hosted by The Gin to My Tonic. They'll take you on a gin tasting experience whilst cruising along the River Thames on the Hobbs of Henley flagship vessel 'The New Orleans'.
A tailored gin tasting menu consisting of 5 courses is offered, including, of course, Mr Hobbs gins. Each carefully selected gin will be introduced and presented with its backstory, botanical make up and tasting notes.
You can buy a Gin Tasting Cruise voucher on the Mr Hobbs Gin website. Once purchased, you'll receive an email, with a code, that'll allow you to head over to Hobbs of Henley's booking platform and book your cruise when the service is available.
A fantastic and fun way to support a local business in style!
Mr Hobbs Gin and Gin Liqueurs are available to buy from the Gin Kin shop.