So vibrant and fresh, Edinburgh Gin Raspberry is a truly terrific addition to the range that builds upon the legacy of its liqueur in all the right ways. 
To win a bottle for yourself, head over to our Competitions page until April 14 2020. 
A Little Bit of Background
Renowned flavour pioneers, Edinburgh Gin offers the biggest choice of premium gins and gin liqueurs on the market.
The distillery is especially well known for their light and lovely liqueurs, which includes the popular Rhubarb & Ginger Liqueur.
The brand has recently been creating full-strength versions of these, which now includes a 40% vol Raspberry Gin, launched simultaneously alongside a new Gooseberry & Elderflower Gin.
Botanicals
Edinburgh Gin Raspberry is distilled with five traditional gin botanicals and a combination of fresh Scottish raspberries and raspberry leaves.
The Bottle
Edinburgh Gin Raspberry comes presented in the trademark glass bottle for the brand. It's made from sturdy glass embossed with the brand logo to the top and groove detail to the bottom. Botanical illustration adorns the label giving it a luxe feel.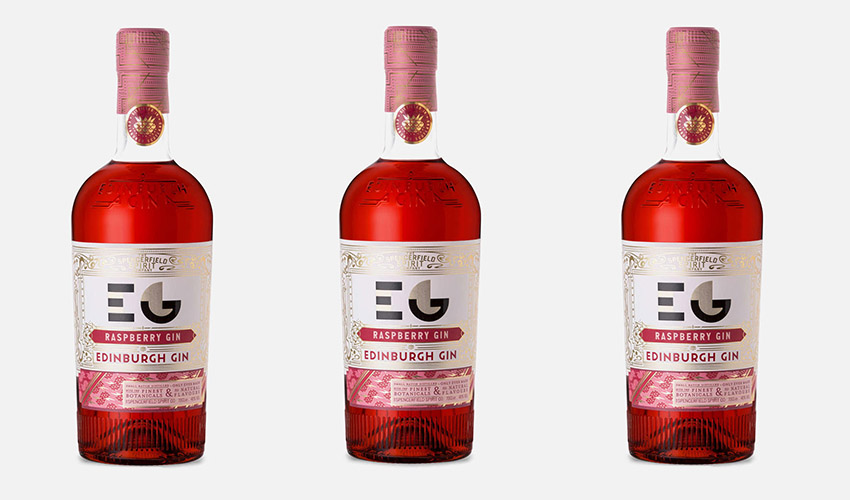 The Gin
On the Nose
The gin is immediately fruity and inviting. There's a real burst of fresh, seeded raspberry here that's so pleasant you may end up spending a good chunk of time just inhaling its delightful scent.
Straight
You may expect an immediate soft raspberry freshness on the palate, but it actually packs quite a punch in contrast to its liqueur counterpart. Still, it's a great excuse to own both liqueur and full-strength.
While full-strength shines with a mixer, the liqueur is perfectly lovely straight.
With Mixer
It's incredible just how much depth there is to the flavour of the full-strength Raspberry. Edinburgh Gin have distilled with both Scottish raspberries and the leaves and it really shows.
No dull, berry-like flavour here, at times it feels as if you are actually biting into a raspberry and can almost taste the seeds. It's a bright, delicious quality through and through we've come to expect from the brand.
The Perfect Serve
Edinburgh Gin recommend serving your gin with a fresh basil and a raspberry or two. I tried mine with a few fruit garnishes, with lemon coming out on top. The tart sharpness of citrus truly complements the brightness in the raspberry.
Lasting Impressions
Here's a secret. I may actually prefer Edinburgh Gin Raspberry as full-strength over its liqueur counterpart. It's just so zingy and full-flavoured, you will not be disappointed.
Edinburgh Gin Raspberry Gin (40% ABV, 70cl) is available to buy from the Edinburgh Gin Shop for £28.