Now, more than ever, it's crucially important to support local, small distilleries. Here, we spotlight Aberdeenshire-based Raven Spirits, who make Hrafn Gin, and hope you join in with us by pouring your favourite serve at home.
The story of how Hrafn Gin came to be involves a whisky-fuelled conversation inspired by a trip to a gin distillery and a chance meeting with a raven. Brothers Callum and Peter Sim took a tour around the Bruichladdich Distillery, home to The Botanist Islay Dry Gin, where they were inspired by the remarkable smell of botanicals in the air.
Later that night, drinking whisky on Islay, after seeing a Raven up close on the journey back from the distillery, the brothers wondered if they could make a gin with the depth and finish of a Single Malt. All the pieces of the puzzle seemed to fall into place from the events of the day and Raven Spirits was born.
---
The Perfect G&T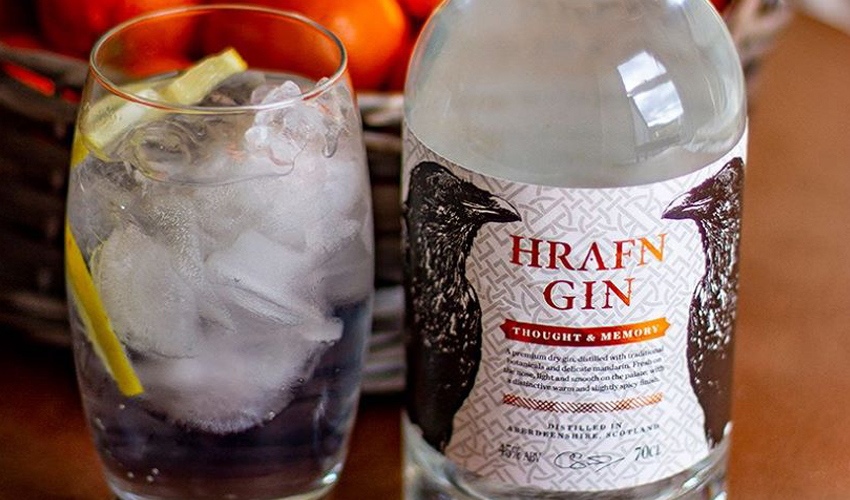 For the perfect G&T: Fill a glass with ice and pour over 50ml of Hrafn Gin 'Thought & Memory' and mix with premium tonic. Garnish with a twist of lemon.
---
The combination of the botanicals and the process makes Hrafn Gin unique. Firstly, there is the use of mandarin as one of the botanicals . It gives Hrafn Gin a deep and resonant citrus note that overlays the juniper. Then, there is the warming spice that develops into a tingling sensation in the mouth. The combination of these two gives the depth of taste.
Secondly, there is the long slow distillation which allows the botanicals to release their flavours into the spirit slowly and to distil individually. This gives the gin a lengthened taste that allows the principal botanicals to be enjoyed in seperation.
---
Flight of the Raven Cocktail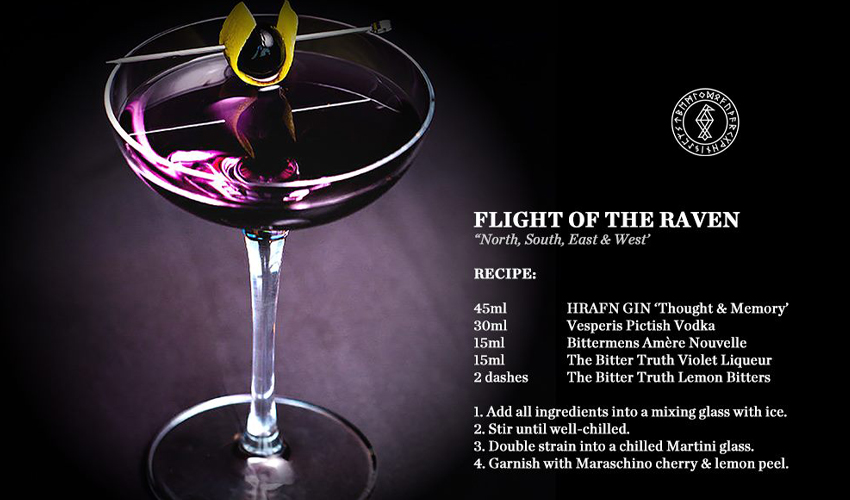 Create a Flight of the Raven Cocktail: Add all the ingredients listed above into a mixing glass with ice. Stir until well chilled. Double strain into a Martini Glass and garnish with a Maraschino cherry and lemon peel.
---
Just six weeks after launching, the first ever Raven Spirits gin, 'Thought & Memory' was awarded a Gold Medal at the International Gin Masters Competition (July 2018) in the highly challenging London Dry category.
The sucess didn't stop there. More gold medals were awarded at various international spirits for the range of Raven Spirts gins, cementing them as top quality gin producers in the UK and international markets.
The full range of Raven Spirits products are available to buy from the Gin Kin Shop.