If you've always wanted to dabble in the gin-making world but don't have the expertise, equipment or space to distil your own gin, then gin making kits could be just the tonic.
Firstly, gin making kits are completely legal. They are simply to help infuse botanicals in alcohol, nothing is being made from scratch.
You won't require any additional equipment to make gin this way. A good base spirit such as vodka is all that's required along with a bottle (which some of the kits provide) in which to infuse botanicals into your gin.
So if you want to create your own brand of gin without all the equipment and licenses that are necessary for gin distillation then gin making kits are the fun and easy way to do it.
Best Gin Making Kits
Sandy Hill Farm Gin Making Kit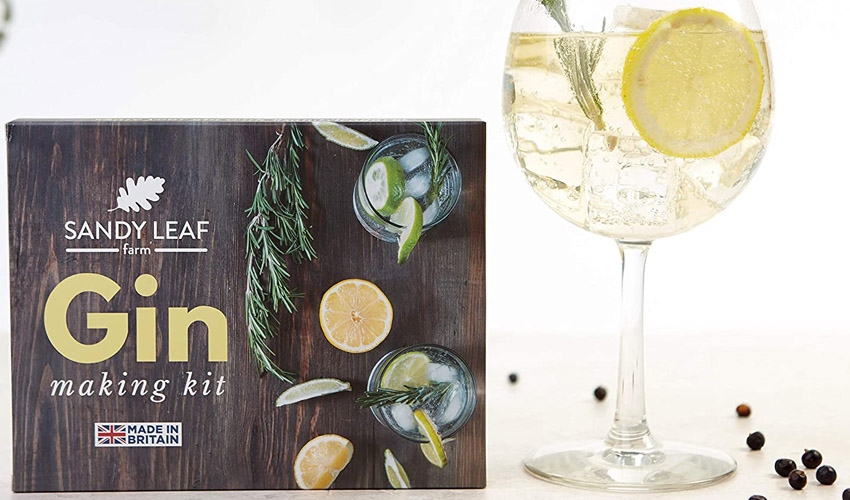 This kit claims to "turn boring old vodka into delicious artisan gin in under a week." Sandy Leaf Farm spent months obsessively testing the spice blend and recipe to make the whole experience as easy and tasty as possible.
Inside the box you'll get an instruction booklet, juniper berries, spices, an eco-friendly cotton filter bag, kraft paper bottle tags and a testing pipette. Just add vodka and you're good to go.
All the ingredients inside are natural, GMO free and are ethically sourced.
The Sandy Leaf Farm Gin Making Kit is £7.99 from Amazon.
---
Nutley's Sloe Gin in a Tin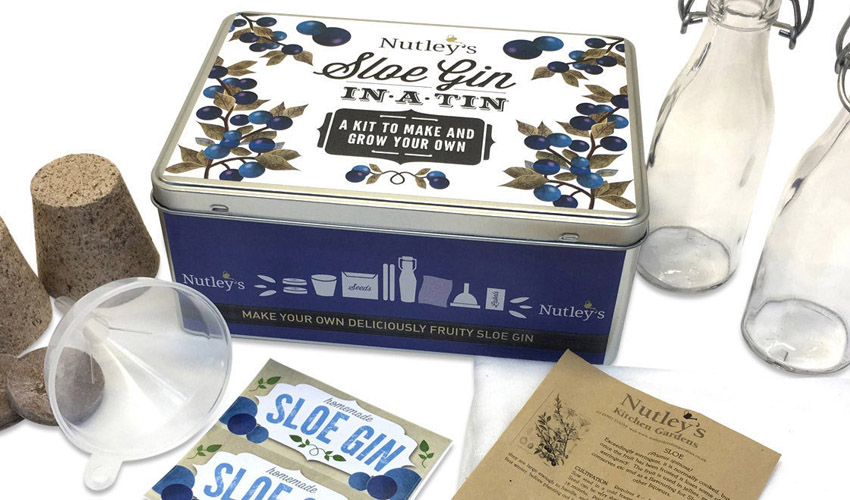 This is one for the green-fingered – and the patient – among you. If you've ever fancied not just making your own sloe gin, but growing it, now you can.
A beautifully decorated tin is filled with all the equipment you need make fruity and delicious sloe gin including two 200ml glass bottles, a cotton muslin straining cloth and a bottling funnel.
You'll also get some seeds, compost and pots so you can grow your own sloe bush! A lovely gift for anyone who enjoys a good tipple or just as a little present for yourself.
Nutley's Sloe Gin in a Tin is £19.95 from Etsy.
---
Bespoke Blend Gin Kit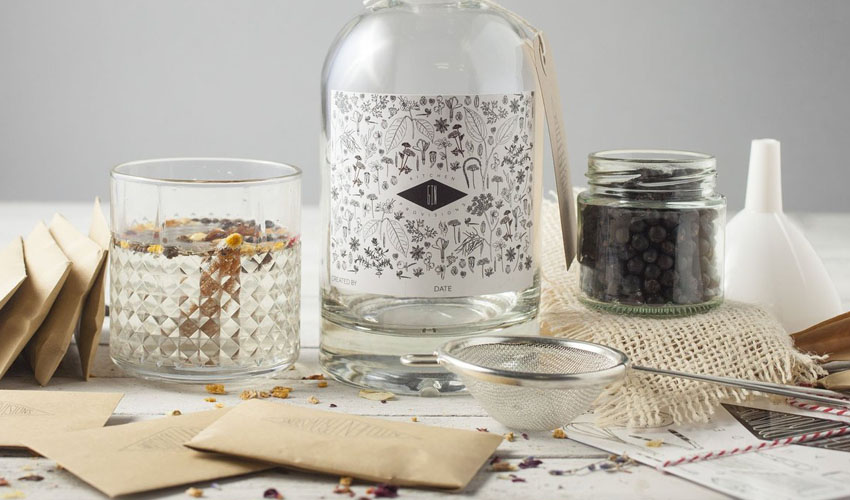 This kit will make two 750ml bottles of homemade gin. One bottle can be made with the Kitchen Provisions Botanicals Blend. The range of botanicals can then be mixed to your preference to create your own unique blend.
All you need to do is to follow the instructions and add 750ml of vodka (not included). For £6 extra you can add even more flavour variety to your handmade gin; a selection of eight new botanicals (four spicy and four floral).
Bespoke Blend Gin Kit is £30 from Yumbles.
---
Makester Gin Making Kit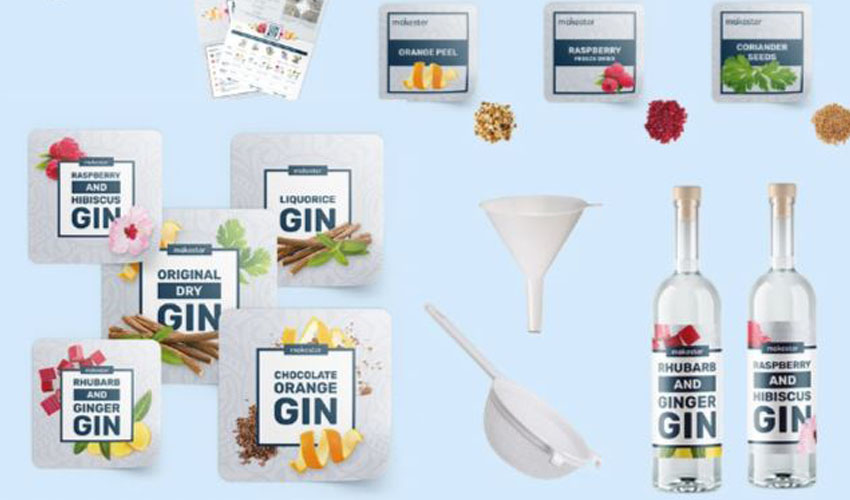 If you're looking for slightly more modern flavours in your gin making kits then this could be the one for you.
With the 9 botanicals included in this kit you'll be able to make hundreds of potential flavour pairings such as Raspberry & Hibiscus, Rhubarb & Ginger and Chocolate Orange.
Enough botanicals are included to make 12 bottles of gin. Just add vodka, choose your flavourings and you're a gin maker.
£29.99 from Makester.
---
The Ultimate Gin Making Set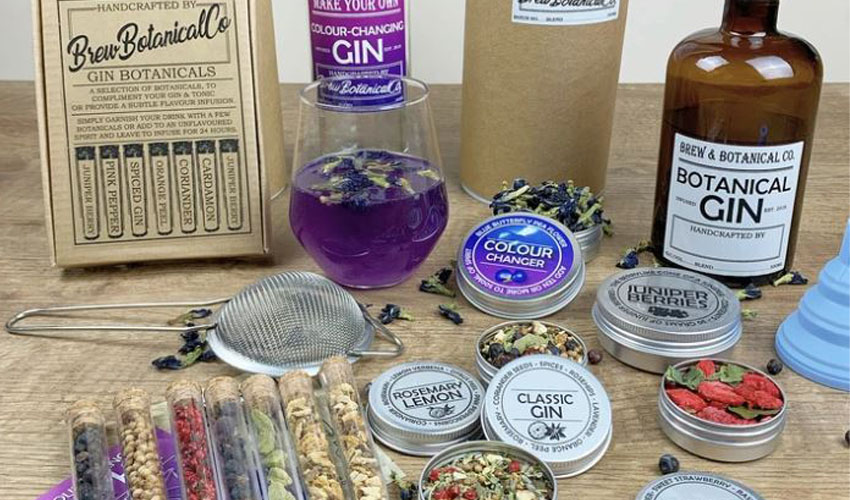 This kit really does push the boat out in terms of what you can do to personalise your own distinct gin. It includes hand-blended tins of Strawberry & Kaffir Lime, Rosemary Lemon and a Classic Gin blend.
You'll also be able to infuse a few blue butterfly pea flowers with your preferred spirit, then add an acidic mixer to watch the colour change from a deep blue to a bright pink.
Lastly, the set contains fragrant botanicals, perfect for a variety of gin cocktails, presented in an eco-friendly Kraft box and natural cork stoppers.
£41.99 from Brew Botanical Co.
---
Colour Changing Gin Infusing Kit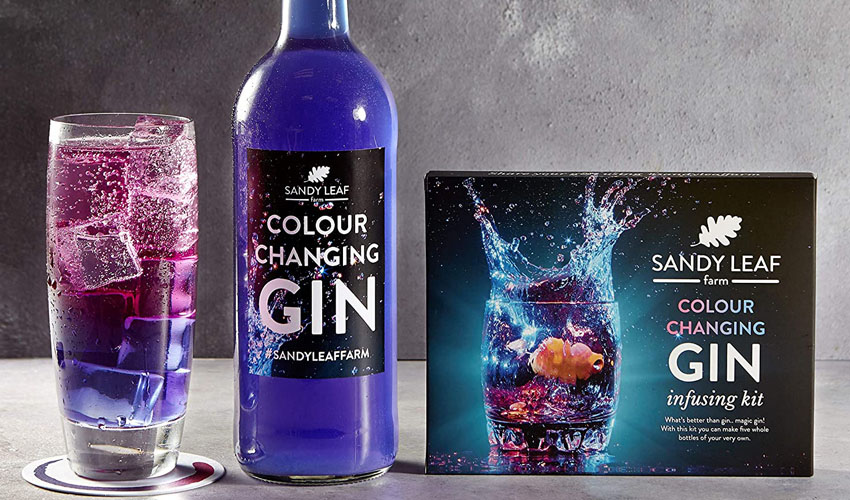 For those looking to have a bit of fun with their gin making, this set will allow you to make five bottles of colour changing gin that will magically turn from a blueish purple to pink when added to tonic water.
The set includes an instruction booklet, blue pea flowers, eco-friendly cotton filter bag, bottle labels, tasting pipette, earl grey infusion. Just add 750ml inexpensive gin per batch.
£7.99 from Amazon.