Now, more than ever, it's crucially important to support local, small distilleries. Here, we spotlight Isle of Bute Gin and hope you join in with us by pouring your favourite serve at home.
Isle of Bute Gin Head Distiller Simon Tardivel worked all over the world as a multi-award-winning brewer and alcohol expert, before falling in love with the Isle of Bute while living there. The landscape of the island has been the driving force behind the small batch Isle of Bute gins, which include locally foraged botanicals from the island.
Gorse Gin, Heather Gin and Oyster Gin are the three gins inspired by the island. Simon said of the island, "The Isle of Bute is a magical place, and it has inspired very special recipes for exciting craft gins that capture the essence of the place."
---
The Perfect G&T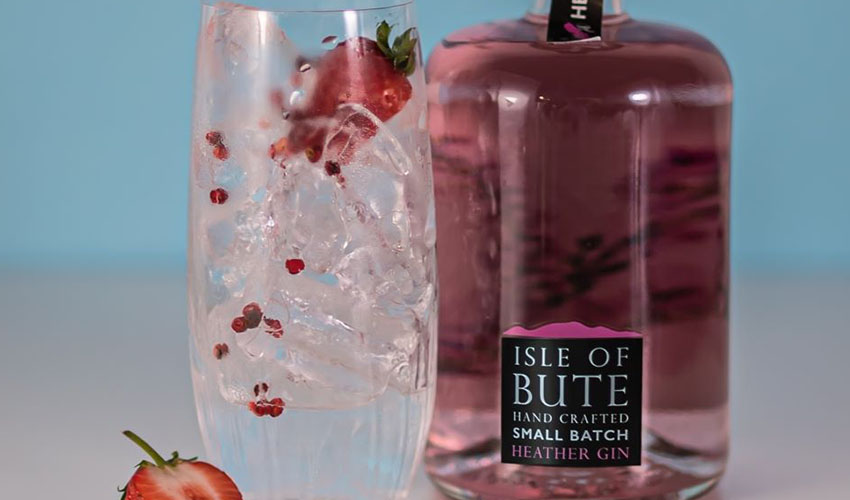 For the perfect G&T: Pour 50ml Isle of Bute Heather Gin into a glass with ice. Top up with premium tonic and garnish with fresh strawberries and pink peppercorn.
---
Heather, the wild purple flower, is synonymous with Scotland and is the headline botanical of Isle of Bute Heather Gin. The distillers aim to showcase Bute's floral beauty which has a rugged, wild quality.
Although the flower is found all over the UK it has a certain authenticity growing wild in Scotland and it's proper Scottish heather, hand-picked from the Isle of Bute, that is contained in Heather Gin.
---
Bute 75 Cocktail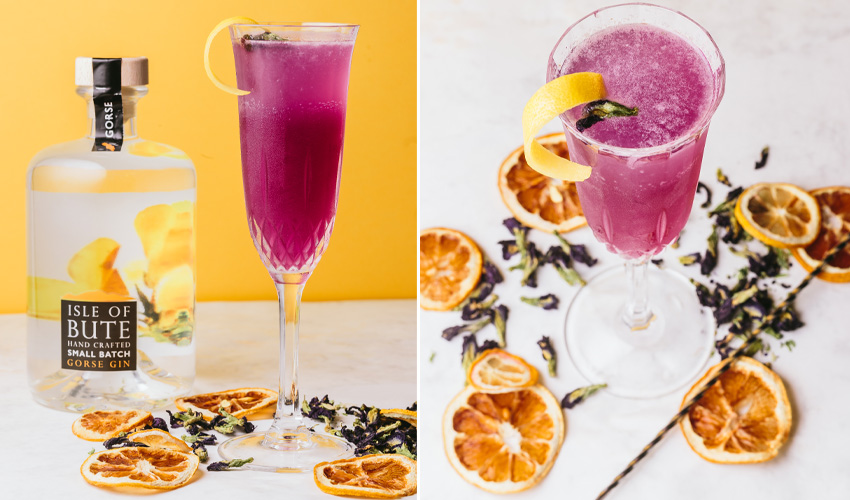 Create a Bute 75 cocktail: Shake 37.5ml of Isle of Bute Gorse Gin, 25ml lemon juice, 12.5ml sugar syrup and 37.5ml butterfly pea tea in a cocktail shaker. Fine strain into a flute without ice. Then top up with sparkling wine and garnish with a lemon twist and butterfly pea tea flower.
---
Gorse Gin is made with hand-picked gorse from the island, and a mix of other botanicals carefully selected from around the globe.
Botanicals such as hand-picked gorse, juniper, coconut, vanilla, coriander, aniseed and lemon help to give this gin a delicate coconut and vanilla aroma, backed up with a distinct pine and juniper flavour.
The full range of Isle of Bute gins are available to buy from the Gin Kin Shop.