Bloody Mary Gin contains hints of the famous cocktail, preferring a classic taste that screams quality with every sip.
If you would like to win a bottle for yourself, head over to our Competitions Page until 21 April 2020.
A Little Bit of Background
Saf and Nick, the founders of Top Beverages, set themselves a mission: to create superior tasting craft spirits with clean ingredients, daring flavours and premier CBD infusions.
They travelled to more than 30 countries over four continents to finalise the perfect combination of ingredients, realising that their CBD infusions worked best when each spirit was a Navy Strength 54.5% ABV.
The Top Beverages mantra is that it's possible to live and drink well; that's why there are no added sugars, no essences, and no artificial flavours or colours in any of their gins.
The company have generously decided to donate 100% of the profits on every gin bottle sold to the NHS, until the end of the Coronavirus-induced lockdown is announced.
Botanicals
In Bloody Mary Gin you'll find:
Juniper berries
Coriander seeds
Angelica root
Orris root
Elderflower
Fresh chery tomatoes
Fresh valencian orange
Red chilli pepper
Celery
Black pepper
50mg of premium full spectrum CBD
The Bottle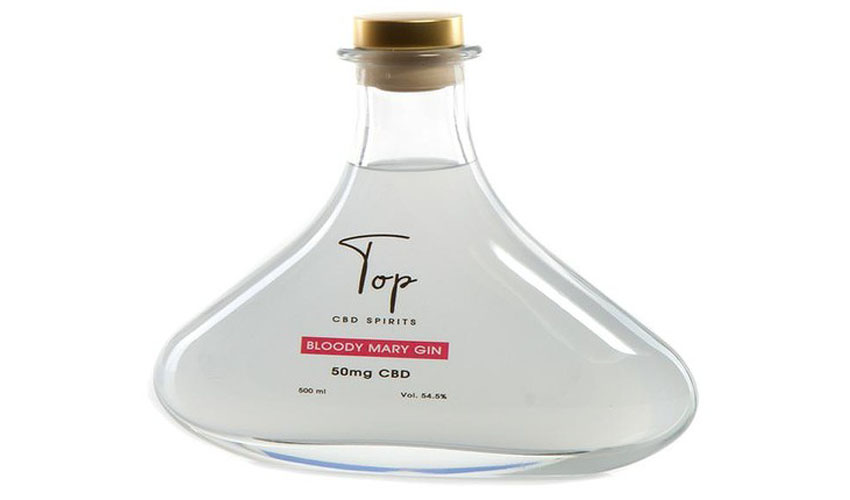 The bottle is very shapely -quite unusual compared to standard gin bottles. You might expect to see a shape like this in a science laboratory rather than a drinks shelf
The very striking design fits with the ethos of Top Beverages to stand out from the crowd and do something a little different from other gins on the market.
The Gin
On the Nose
I wasn't sure what to expect upon popping the stopper – the gin looks cloudy in the bottle yet the Bloody Mary flavour would suggest a rush of tomato, or spice. None, of these jumped out. Surprisingly, pleasing citrus notes came to the fore, with juniper present too.
Straight
Again, given the Bloody Mary label, the taste was suprising; but excellent nonetheless. Rather any deep tomato flavour, little hints of bloody mary ingredients are dotted around, citrus, sweetness and spice all dancing on the palate.
Because of the high strength of the gin I was expecting a harshness when drinking straight but, no, every step of the way this gin surprised me. It's a lovely, smooth sipper with beautifully balanced botanicals making this perfect for on the rocks.
With Mixer
I had Fever-Tree Mediterranean Tonic to hand and it worked a treat! The fresh chery tomatoes and fresh valencian orange botanicals seemed to be brought to life by the tonic.
The extra sweetness made for a wonderful contrast with the spice of the black pepper and red chilli pepper.
The Perfect Serve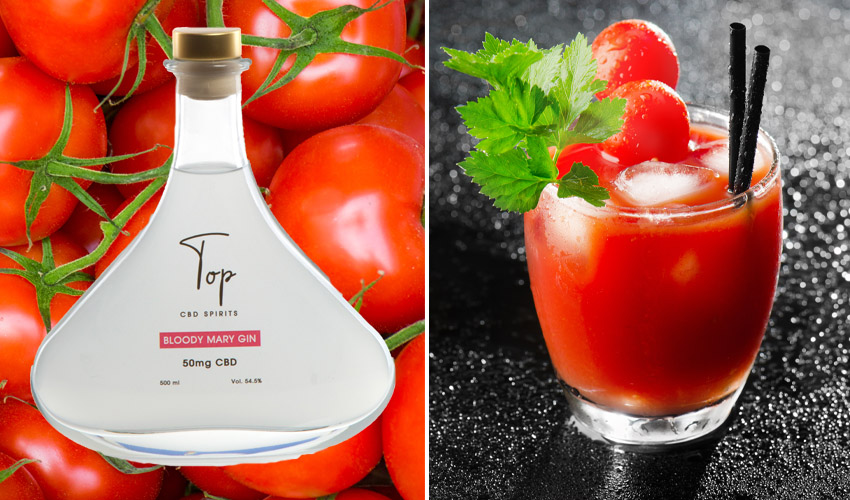 Top Beverages suggest a perfect serve of Bloody Mary Gin served with a slice of fresh tomato in an herbacious tonic.
You could also try a Gin Bloody Mary, which is 50ml Bloody Mary Gin, 50ml tomato juice, 10ml lemon juice, 10ml Worcestershire Sauce and three dashes of hot sauce – all mixed and strained into a glass, garnished with some cherry tomatoes.
Lasting Impressions
I was expecting more of a tomato-based Bloody Mary flavour to shine through in the gin before I tried it, but what I tasted I loved. The little hints of a bloody mary were just perfect, allowing for a classic gin taste to dominate.
This is a premium gin through and through, and it really does stand out from the crowd. Those looking for something a little different won't regret purchasing Bloody Mary Gin.
And as for the CBD? I have to say after I couple of glasses I was feeling more relaxed but whether that was the gin, the CBD or a combination of both I'm not sure. More experimentation required!
Top Beverages' Bloody Mary Gin (50cl) 54.5% ABV is available to buy from the Gin Kin Shop priced at £39.95.