The simplest flourish in a G&T is a herb fresh from your garden or window box but, if you really want to go all out, these unusual gin garnishes are simply showstopping.
Created by Norfolk-based writer Sue Telford, author of How to Make Drink Gin: Make It, Mix It, Master It, these step-by-step guides are based upon using herbs to release maximum flavour.
Of course, garnishes aren't just a pretty face, they often complement or completely enhance the flavour profile of the gin itself.
Sue recommends releasing the essential oils by slapping herbs against the palm of your hand. In doing so you break the cell walls in the herb to let out all that aromatic herbiness.
This extract from her book will show you how to create some easy but effective garnishes you can create at home.
Unusual Gin Garnishes: Build Your Own Garnish Garden in a Glass
Strawberry Rose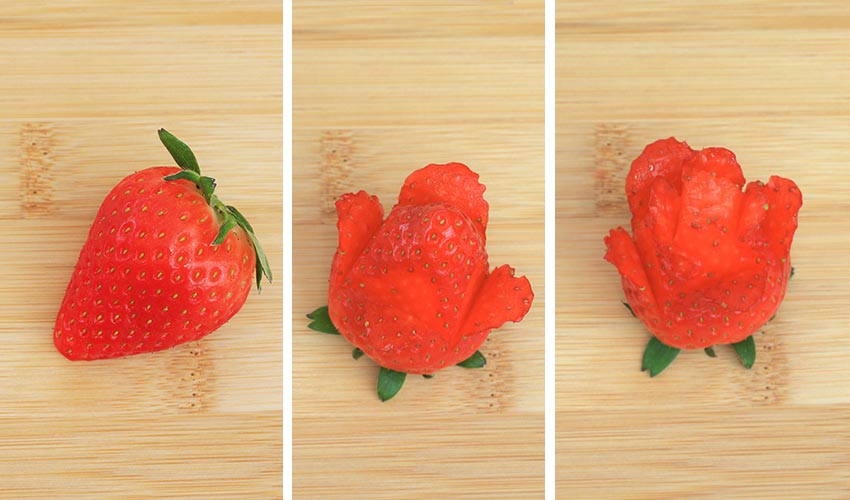 Creating a rose from a strawberry can be a little fiddly but it looks spectacular. You need a steady hand, a sharp paring knife, a little patience and a strawberry, of course.
Make four incisions in the strawberry down the four 'sides'. It helps if you chill the strawberry in the fridge first. It will firm up and keep its shape, making cutting easier.
Then, in between the first four cuts, make four more incisions downwards. Finally, carve out a small hole in the centre and gently turn back the petals of the rose without breaking them.
---
Lime Leaf
A cute easy to carve leaf shape out of a strip of lime zest. Just peg it to your cocktail glass. unusual gin garnishes
---
Cucumber Dahlia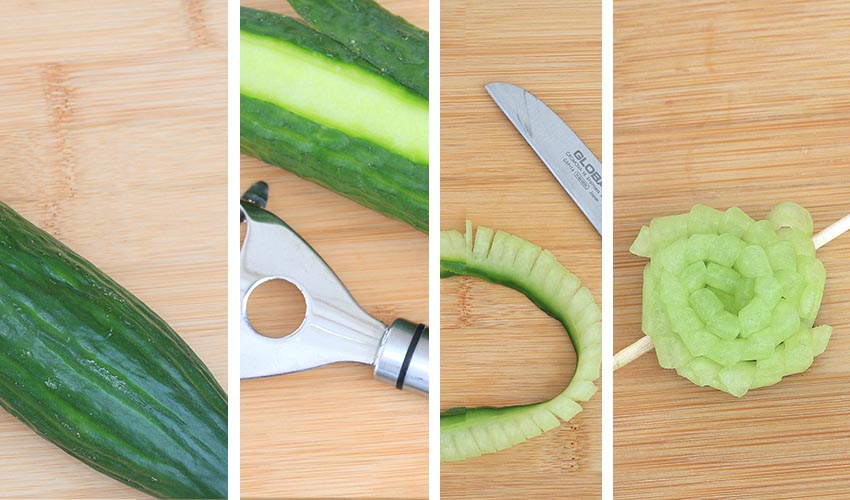 You might not want to fiddle around making a cucumber dahlia to put in your G&T when a simple slice of cucumber is so much easier and tastes the same. But do it, just once, for fun.
---
Chilli Flower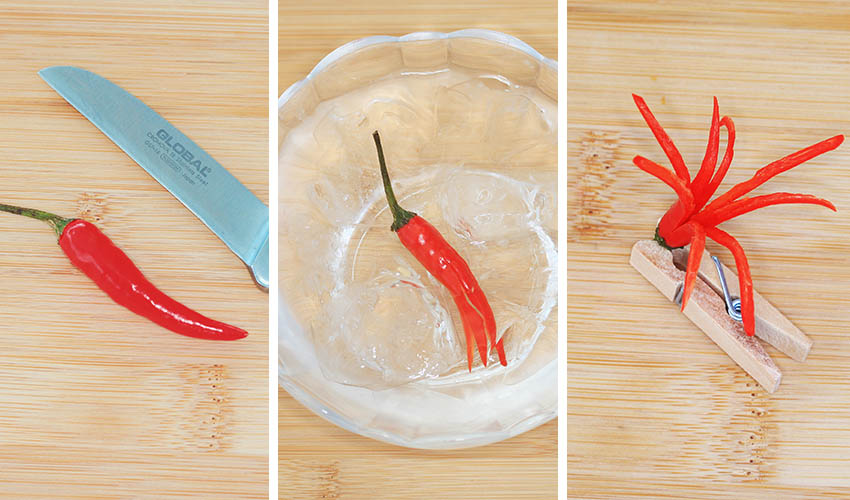 Take one small red or green chilli, a bowl of iced water and a paring knife and in a few minutes you will have a pretty chilli flower to put in your G&T – if you dare.
---
Sprigs and Twists
A simple and effective way to create inventive garnishes in a flash, these twists and sprigs typically use a cocktail or chopstick to get that twisted effect.
Lime and Raspberry Twist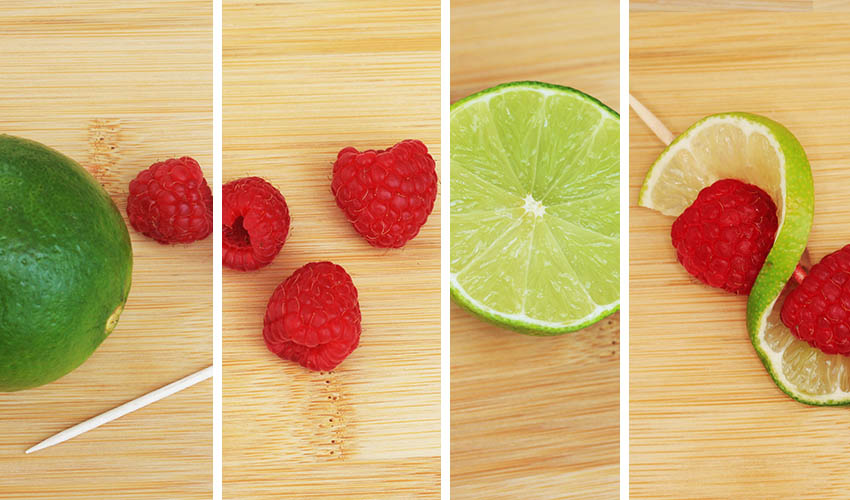 One of the easiest and most colourful garnishes to make. All you need is a lime, fresh raspberries, a cocktail stick and a sharp knife to slice the lime with.
---
Flamed Lemon Twist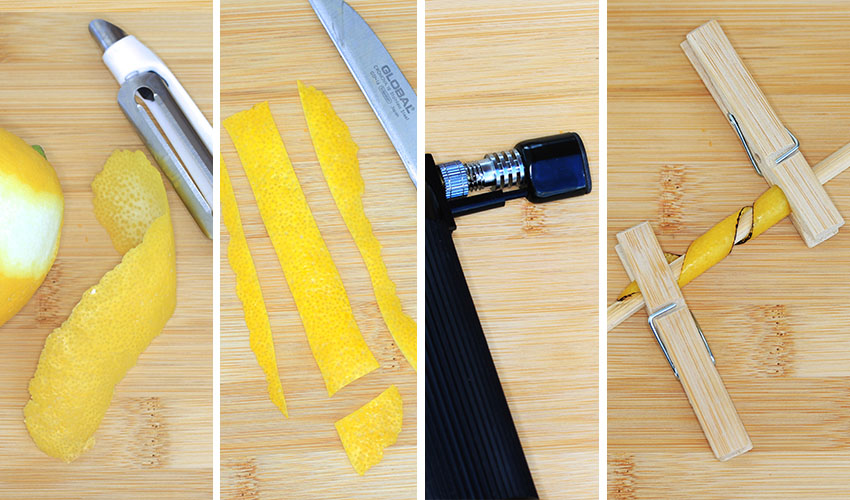 This lemon twist can be achieved without flaming it. But flaming citrus zest brings out a whole other dimension of flavour. Using metal tongs gently hold the strip of zest over a naked flame for a few seconds only.
Then twist round a chopstick or similar and hold until the lemon twist 'sets'. Use a couple of pegs to make this easier.
---
Orange Zest and Rosemary Sprig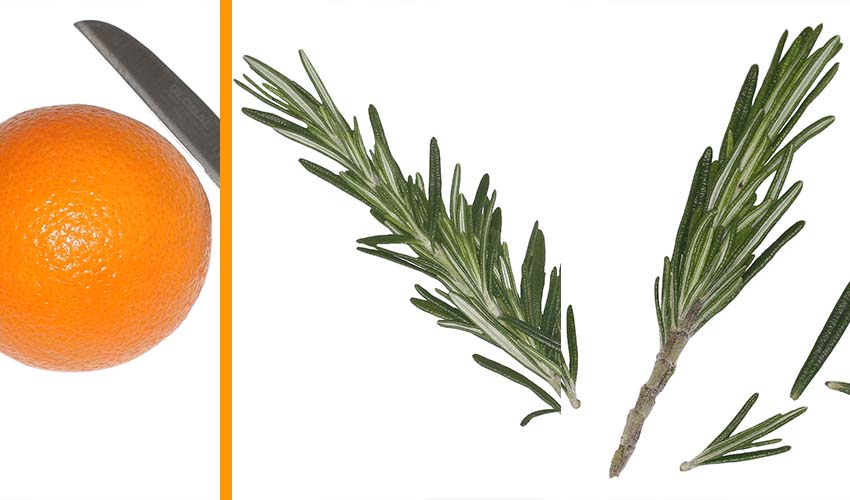 This lovely combination goes a treat in savoury gins. Simply use a knife to peel strips of orange and use your rosemary sprig to pierce through the peel to create a wave effect in your glass.
How to Make Drink Gin: Make It, Mix It, Master It, by Sue Telford, is available now at WH Smith and all good book stores.