Wonderfully light and fresh, Eight Lands might not be 'reinventing the wheel' but it's a solid, quality addition to a classic gin lover's collection. 
A Little Bit of Background
A relatively new Scottish gin on the scene, Eight Lands Organic Speyside Gin was launched in 2019. It's created by the team at Glenrinnes Distillery, a family-owned and run business producing super-premium white spirits from the finest Speyside spring water and 100% organic ingredients.
The estate's farming activities have been wholly organic since 2001, driven by the simple belief that less chemicals in the food chain is better. Its ingredients that are grown without pesticides, and sustainably sourced.
Eight Lands is named after the eight different counties that are visible from the top of Ben Rinnes on a clear day.
Botanicals
Eleven botanicals give this London Dry gin its unique flavour, including sorrel and cowberries, which grow wild on the Glenrinnes Estate.
The Bottle
Simple yet elegant, Eight Lands features a crisp and clean white label, complete with touches of green. The words "The land shapes the people, the people shape the land" adorns the neck of the gin.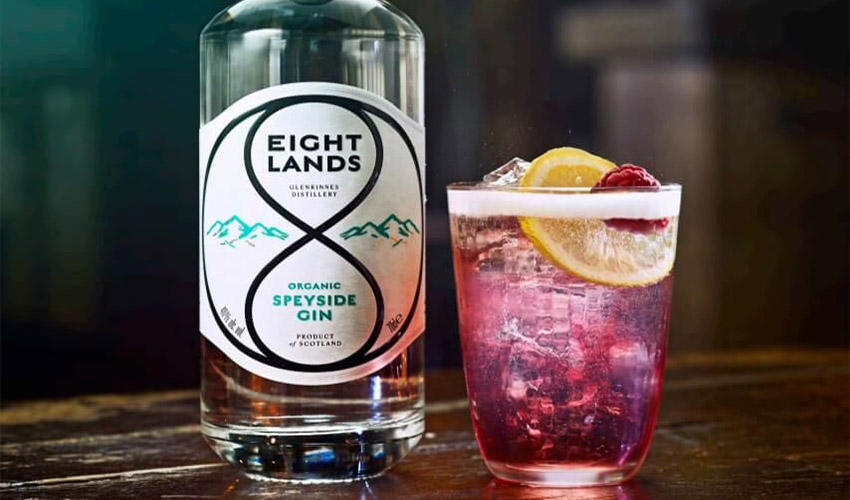 The Gin
On the Nose
Eight Lands pulls no punches. It's a traditional juniper-driven gin from the get go with inviting undertones of fresh citrus and a little spice.
Straight
Once on the palate, Eight Lands unfurls a few more hidden botanicals. The punchiness of big juniper is joined by lingering berry and citrus notes.
With Mixer
Make no mistake Eight Lands packs quite a punch with its juniper content, but there's also a wonderful light, freshness in the glass. The gin tastes bright and citrussy with the addition of a classic tonic. So much so, I personally would choose to pair it with a slice of orange.
The Perfect Serve
Pair Eight Lands Organic Speyside Gin with ice, a classic tonic and some fresh summer berries. Alternatively, match with raspberry tonic and garnish with raspberries and an orange wheel.
Lasting Impressions
Eight Lands is a real crowdpleaser for classic gin lovers. It features big juniper hits in bucketspades, complemented by a lovely light freshness. In a market where flavoured gin often rises to prominence, Eight Lands treasure is in its simplicity.
Eight Lands Organic Speyside Gin (46% ABV, 70cl) is available to buy from the Eight Lands Shop for £35.10.