Whether you're looking for a fun gin-based recipe to while away the hours or the perfect way to beat the heat, gin and tonic ice lollies are a creative way to make your G&Ts go even further.
They look impressive but actually are oh-so-simple to create at home. All you really need are ice lolly moulds, some fruit or herbs and your favourite gin and tonic on hand and you're ready to give it a go.
Gin and Tonic Lollies, with a Mojito Twist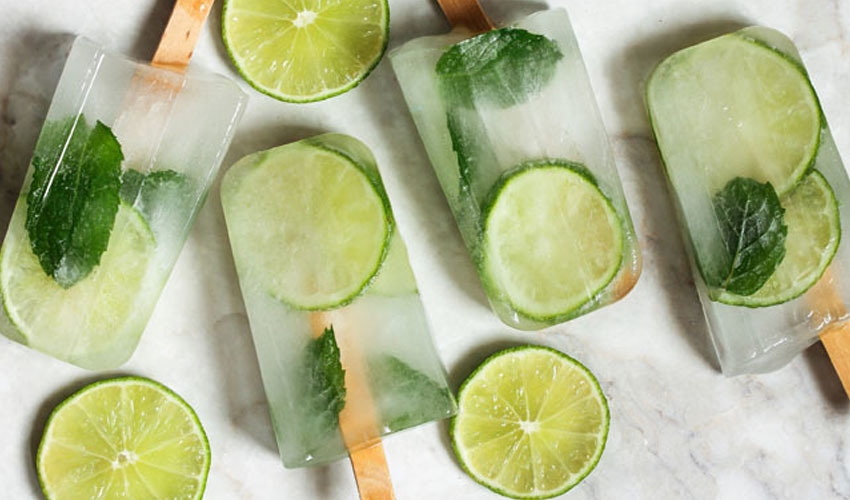 Adapted from a recipe by Kathryn Hawkins for The Gin Kin
Infused with a special mojito twist, this recipe includes lime and mint that resembles a Southside cocktail. Essentially the mojito's ginny cousin, it is made from a combination of mint, lime, gin and sugar syrup.
With real slices of lime and fresh mint leaves actually infused inside the lolly, these could make for the ultimate visual spectacular for your next outdoor event.
Ingredients
75ml Gin
100g Caster sugar
225ml Tonic water (optional)
Juice of 3-4 limes
6-12 Slices of fresh lime
12-18 Fresh mint leaves
Method
Place the sugar and 100ml water in a saucepan over a low/medium heat until the sugar has dissolved – be careful not to let it boil. Leave to cool completely.
When cool, pour the syrup into a jug and add the lime juice, gin and tonic water and stir well.
Take six 80ml lolly moulds and add a slice or two of lime and 2-3 mint leaves to each, then top up with the lolly mixture. Add the sticks and freeze until solid – overnight is best.
---
Pink Gin and Tonic Lollies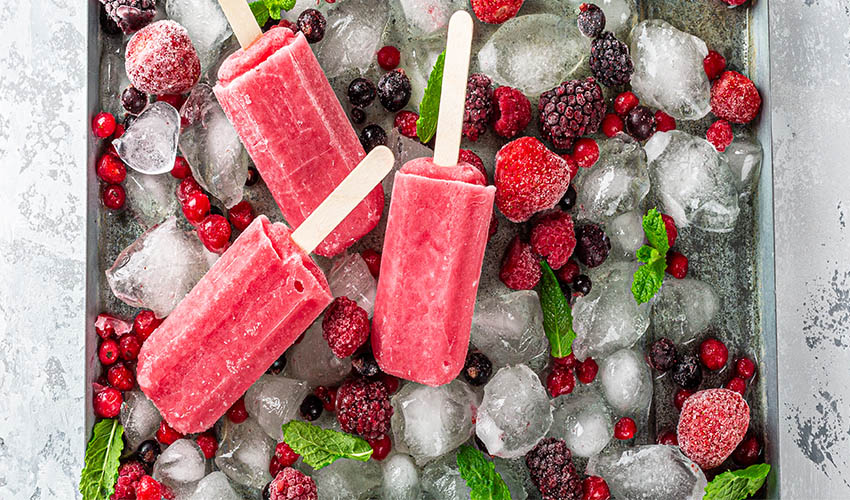 Recipe adapted via PR 
Pink gin fans will love these berry-inspired gin and tonic ice lollies. Their perfectly pink colouring depends on which gin you use, while your choice of red berries can really switch up the flavour profile.
Ingredients
75 ml Pink gin
250 ml Tonic
50g Caster sugar
Handful of berries
Ice lolly moulds
Method
In a jug, stir the gin, tonic and sugar until the sugar dissolves and the tonic loses its fizz.
Divide between the ice lolly moulds, adding some berries to each.
Push the lolly sticks and freeze at least four hours, or preferably over night.
---
Gin & Tonic Ice Lollies with Basil, Lime & Strawberry
Recipe via Gousto 
If you like your sweetness with a little tang, these gin and tonic ice lollies are the perfect balance. It includes herby notes from the basil, tart lime and delicious strawberry to really mix things up.
Ingredients
Makes around 4, depending on size of moulds.
100ml Gin
25g Sugar
16g Strawberries
2 Limes
4 Basil leaves
2 Cans of tonic
Method
Boil a small amount of water in your kettle. Put the sugar into a jug with a splash of boiled water and stir until the sugar is dissolved.
Slice the strawberries length ways, cut one of the limes in half and squeeze the juice into the sugar water.  Cut the other lime into slices.
Add the gin and the tonic to the jug as well. Give everything a good stir.
Pop a basil leaf in to each mould, along with some strawberry slices and a couple of lime slices
Fill the moulds right to the brim and push a stick in each
Freeze overnight