Eden Mill's new portable hand sanitiser spray is now on sale to the public. Every bottle that is sold pays for another bottle to be donated to a list of chosen charites curated by Eden Mill.
An initial batch of 2,000 bottles of sanitisers have been produced and 1,000 have already been donated to a small group of front-line charities who are in urgent need of the hand cleaner.
The other half of the batch is on sale to the public, priced at £5, which covers the cost of the customer's bottle and the donated bottle.
Whilst the main priority is clearly to keep hands clean and virus-free there is the added benefit of the spray containing a refreshing G&T scent. Juniper, lemon and orange have all been used to create the gin-like fragrance.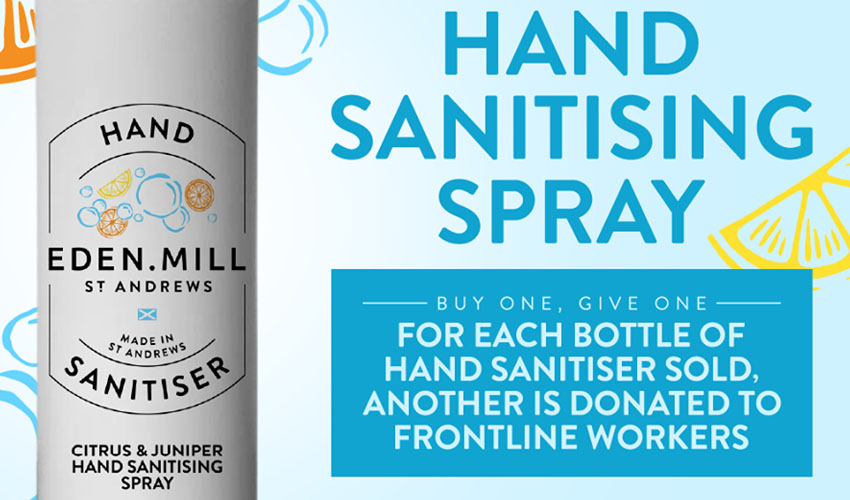 The Eden Mill hand sanisiter has been made in response to the recent outbreak of COVID-19, which has caused a shortage of hand sanitiser within the UK. The hand sanitising spray has been made according to the World Health Organization's recommended formula guidelines.
The 'buy one donate one' scheme allows for for a sunstainable production of hand sanitiser, helping the public to buy affordably and to assist in the donatation of bottles to charities and services.
Eden Mill will continue the scheme for as long as it will be required throughout the COVID-19 crisis, pledging: "for every hand sanitiser batch we create going forward we will continue to donate these sprays 'one for one' to front line charities and organisations."
Due to demand there a limit of a maximum one bottle per order.
To buy a bottle of Eden Mill hand sanitiser and to see a list of the chosen charities please visit the Eden Mill website.