Smoky and alluring on the palate, Piston Dry Gin retains a bright citrus quality while being unique with every sip.
If you would like to win a bottle for yourself, head over to our Competitions Page until 12 May 2020.
A Little Bit of Background
Piston Distillery was founded in 2019 at The Old Royal Worcester Porcelain Works on the banks of the River Severn. This world famous canal network was once responsible for bringing spices from all over the world to the Midlands and its exotic influence can be tasted in the gin.
The distillery creates a range of spirits that are both created in a time honoured classic style, and that are modern and rebellious.
Alongside their Distinguished Dry Gin, there's also Coffee Infused, Strawberry & Hibiscus, Douglas Fir Infused, Oak Aged and Foret Noire in the range.
Botanicals
Coriander
Fresh Lime
Lemongrass
Grapefruit Peel
Blackberries
Hibiscus Flowers
Liquorice Root
Burdock
Mellow
Grains of Paradise
Seaweed
Ancho Chillies
Chinese Rhubarb Root
The Bottle
Piston Distillery are inspired by classic engineering and mechanics and this really shows in the bottle design. Simple yet sleek, the sculpted industrial bottle features a stainless steel cap.
The bottle is made using heavy, quality glass and feels solid in the hand.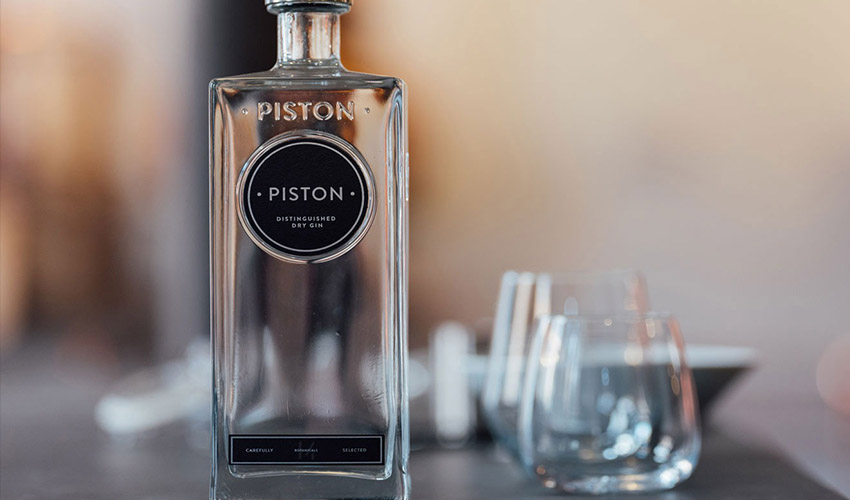 The Gin
On the Nose
Piston Distinguished Dry is light, bright and citrussy on the nose, with big, bold hits of juniper.
Straight
Light and lovely citrus notes follow the initial hit of juniper leaving subtle hints of lemon and lime on the palate.
With Mixer
Once mixed with a quality light tonic water, the gin becomes earthy on the palate, with an almost woody quality to the taste. There's a hint of spice but the overall taste is smoky rounded off with bold citrus notes.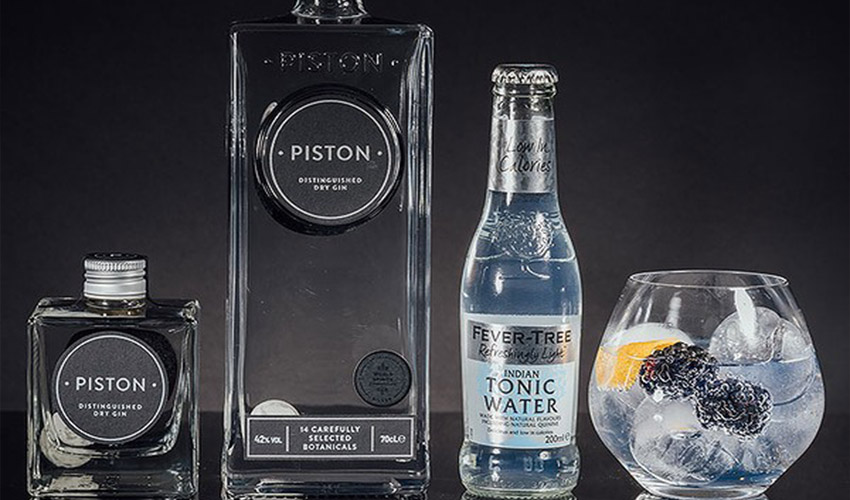 The Perfect Serve
Pair 50ml Piston Gin with Fever-Tree Refreshingly Light Tonic over ice and garnish with blackberries or a dried orange wheel.
Lasting Impressions
If you're a classic gin lover who appreciates a smoky layer to your gin, then look no further than Piston Distinguished Dry Gin. Earthy yet bright and citrussy, it's a quality addition to your collection.
Piston Distinguished Dry Gin (42% ABV) is available to buy from Gin Kin Shop for £40 (70cl) or £15 (20cl).