Edinburgh Gin Gooseberry & Elderflower is a gorgeous, refreshing gin, perfect for summer cocktails and G&Ts in the sun.
If you fancy winning a bottle for yourself, head over to our Competitions Page before 19th May 2020.
A Little Bit of Background
Edinburgh Gin are one of the most well-known gin brands in the UK. Based in Edinburgh, they've turned a small craft distillery into a booming gin business, with their products available in many establishments throughout Scotland.
You could say that Edinburgh Gin were pioneers of the flavoured gin liqueurs, with their large range inspiring a number of distilleries to follow in their footsteps. They've now taken a bold new step into the world of full-strength flavoured gins. We reviewed their new Raspberry Gin last month and this month we're reviewing the Gooseberry and Elderflower
Botanicals
Gooseberry & Elderflower Gin is a tangy and refreshing marriage of tart gooseberries and sweet, fragrant elderflower built atop a juniper-forward London Dry base.
The Bottle
Edinburgh Gin Gooseberry & Elderflower comes presented in the trademark glass bottle for the brand. It's made from sturdy glass embossed with the brand logo to the top and groove detail to the bottom. The label is also adorned with attractive illustrations of the botanicals contained within, in complementary shades of green.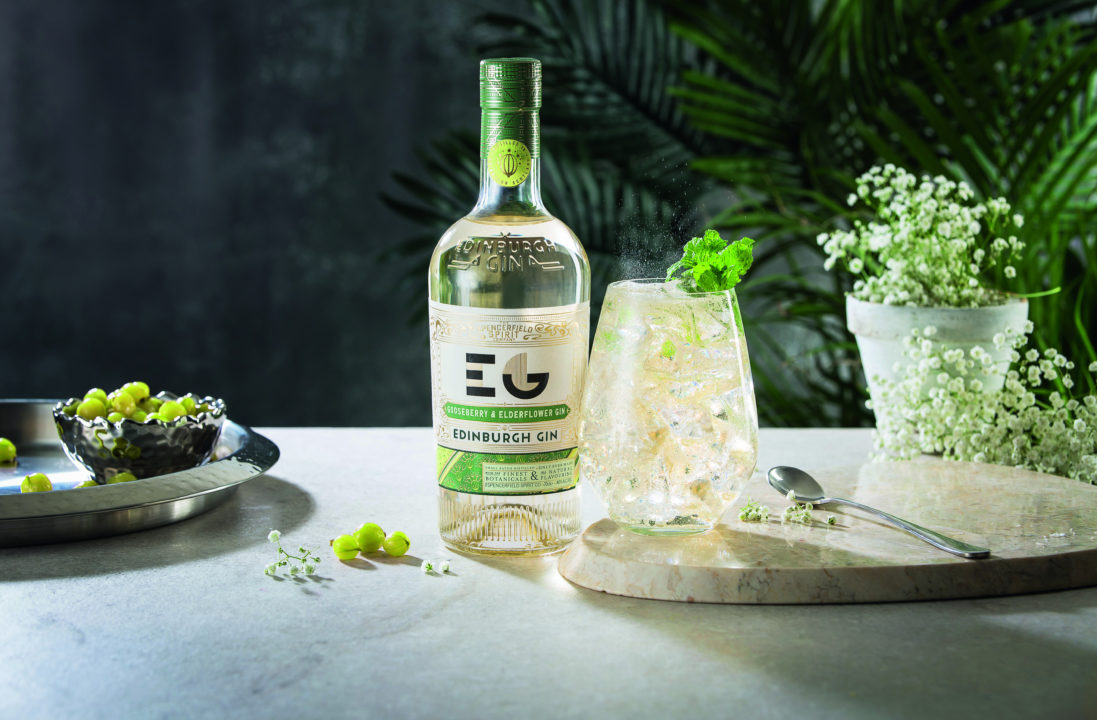 Perfect Serve
The signature serve for this gin is as follows:
50ml gin
150ml light tonic
Handful of ice
Sprig of mint
The Gin
On the Nose
This gin really does smell amazing. Lovers of Edinburgh Gin's Elderflower Liqueur will recognise the sweet, floral scent of elderflower wafting from the bottle. However, this gin smells more complex. The fruitiness of the gooseberry comes through, as does a subtle hint of juniper. It smells like summer in a bottle.
Straight
For a full-strength (40%) gin, Edinburgh Gin Elderflower & Gooseberry is very easy to drink without a mixer. In fact, if I didn't know its strength, I could have been convinced it was a liqueur.
It has a sweet, almost syrupy texture and is bursting with fruity flavours. Tangy gooseberry blends perfectly with sweet, floral elderflower. There are also some citrusy notes, and a piney juniper finish.
With Mixer
I served this gin with Schweppes slimline tonic water, which is usually my go-to (unless I'm feeling fancy). An addition of tonic really mellows out the intense sweetness of this gin and actually makes for a completely different drinking experience.
With tonic, this becomes a highly refreshing G&T, with well-balanced, subtle flavours. Of course, the elderflower and gooseberry are still present, but don't feel overpowering.
Lasting Impressions
Edinburgh Gin Gooseberry & Elderflower is a triumph of a gin. Not only does it make for a delicious gin and tonic but it would also be fabulous sipped neat, over ice.
This is a must try for fans of their Elderflower Liqueur, or any of their gins for that matter!
You can pick up a bottle of Edinburgh Gooseberry & Elderflower Gin on Edinburgh Gin Shop for £28.