No one can deny we all need a bit of sparkle in our lives right now and thankfully Marks & Spencer is on hand to provide it.
The retailer has announced the release of Elderflower Gin Liqueur Glitter Globe and it looks incredible. The bottle is presented with a range of swirling coloured patterns, but what's even more pretty is what glitters inside.
Flecks of 23 carat gold leaf float in the spirit creating a mesmerising glitter show reminiscent of a snow globe.
In fact, we normally have to wait until Christmas time to enjoy such delights with the seasonal release of the M&S Clementine Gin Liqueur Snow Globe.
Christmas really has come early, this time in the form of an elderflower gin liqueur that is sure to put a smile on faces.
Elderflower is a popular pairing with gin; the sweet and floral taste pairing perfectly with gin's traditional botanicals.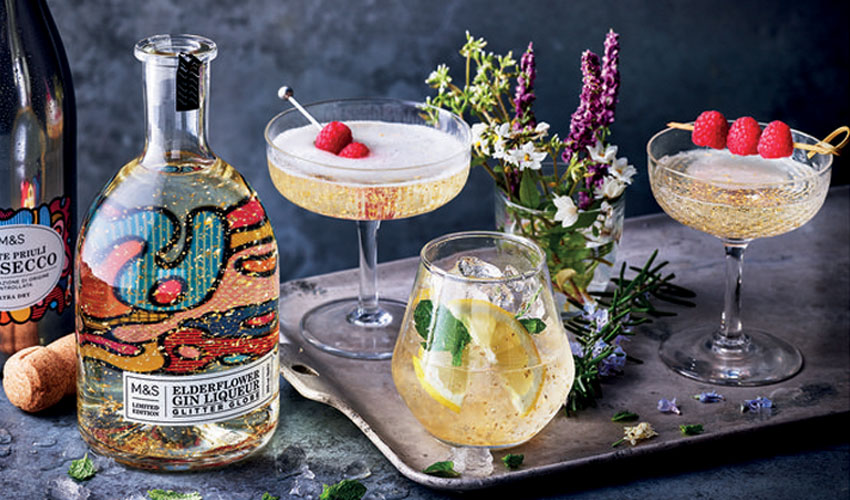 The refreshing taste combined with the stunning presentation means this is one bottle you're going to want in your drinks cabinet for inclusion in summer spritzes and pimping your favourite cocktails.
M&S recommend serving the gin liqueur on the rocks or with soda and mint. They also recommend pairing with Prosecco for a glittering  'We're all gin this together' cocktail, which is 25ml of Glitter Globe liqueur mixed with 150ml of Prosecco and garnished with fresh raspberries.
Elderflower Gin Liqueur Glitter Globe is available now in-store at Marks & Spencer.