It's not often that something stops you dead in your tracks with pure desire, but that's exactly what happened when we came across this Gin and Valencian Orange Tonic Chocolate Tart.
The recipe was created by Hello Cuppies, a fantastic food and travel blog, in partnership with premium mixer brand Fentimans.
As if it wasn't irresistible enough already, the thick layer of gooey chocolate contains glorious gin – perfectly balanced by the zesty Fentimans Valencian Orange Tonic Water.
We recommend you stop, rearrange your plans and make baking with gin the top of your to do list.
Gin and Valencian Orange Tonic Chocolate Tart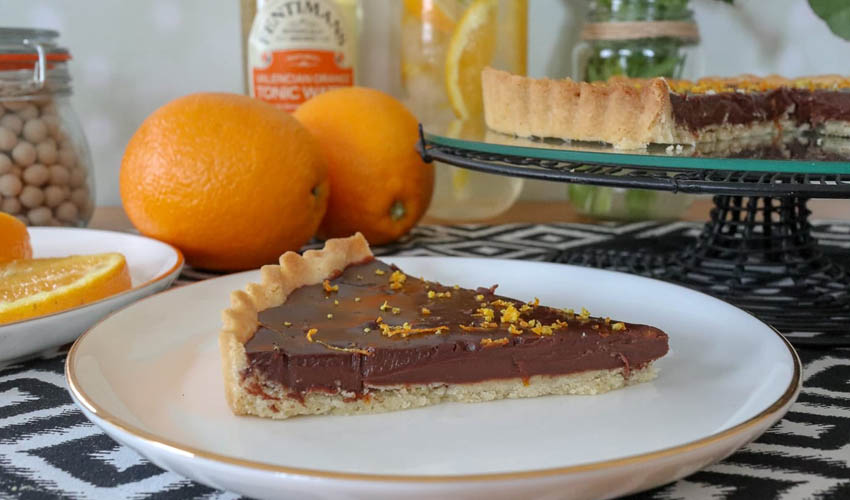 Ingredients:
Pastry Base
175g plain flour, plus extra for dusting
100g cold butter, diced
1tbsp icing sugar
1 egg yolk
OR 1x pack (350g) sweet shortcrust dessert pastry
Chocolate Filling
300 ml double cream
10g caster sugar
50 g unsalted butter, (at room temperature)
250 g dark chocolate, (70%)
2 large oranges (and the rind)
20ml of Valencian orange tonic
20ml of gin
2 pinches of fine sea salt
Method:
Preheat your oven to 180C/160C Fan/Gas 4.
Roll out the pastry to around the thickness of a £1 coin and use it to line a 24cm greased tart tin. Fix any patches or gaps with excess pastry making sure it's all smooth and neatly trimmed to the top of the tin.
Cover with parchment paper, fill with dried beans and blind bake for 12 to 15 minutes, remove beans carefully and bake again for around 15 minutes, or until golden brown.
Put the cream, sugar and 1 pinch of sea salt into a pan and slowly bring to the boil.
As soon as you see bubbles forming and the cream starts to boil, remove off the heat, add the butter and break in the chocolate. Stir until blended and smooth.
Leave to cool for around 10 minutes, add the gin and tonic, the juice of the two oranges, and keep stirring till shiny and combined.
Pour into the tart shell and leave at room temperature for 4 hours to set.
Sprinkle sea salt flakes and orange rind lightly all over.
Chill for 30 minutes before serving with with a scoop of ice-cream or fresh cream.
For more baking recipes with Fentimans visit their official website.